What's been a very special season for the Ipswich High volleyball team isn't over yet.
Winning the Division 3 North championship last Saturday with a three-set win over defending champ Austin Prep was a brand new experience. Likewise, capturing the South title was a first for the Tigers' next opponent, Rockland.
The two sectional champs meet in the state semifinals Wednesday at Newton South High School (6 p.m.).
Rockland was the No. 1 seed in the South with a 23-1 record. The Bulldogs knocked off Nantucket, Westport, and Fairhaven in three straight before defeating Case, 3-1, in the sectional final.
The Tigers (16-6) were the No. 7 seed in Division 3 North and defeated Lynn Tech, Essex Tech, Greater Lowell and Austin Prep all in three straight sets. It's safe to say that as the season went on, the Tigers got stronger and played together as a unit.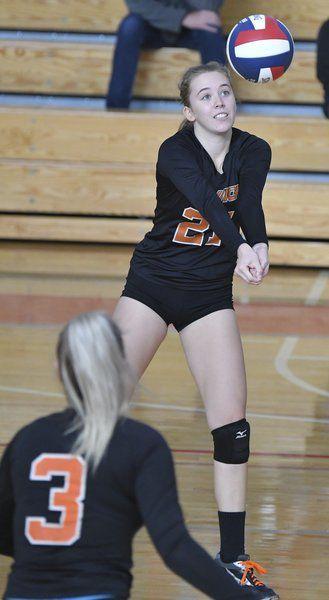 Now, they'll face their toughest test to date against Rockland, with the winner advancing to the state finals against the winner of Advanced Math and Science Academy Charter School or Frontier Regional in the West-Central semifinal.
Ipswich captain Haley O'Connor will sign a letter of intent accepting a lacrosse scholarship from Old Dominion in Virginia. She described how proud the volleyball team is to represent their school, and how they are looking forward to adding another banner to the collection hanging on the gym walls.
"It's going to be nice to see our banner up there with the others," said O'Connor, a setter and second team Cape Ann League all-star. "We're humbled to be playing in the states. We've been pushing ourselves to keep going as far as we can at every practice.
"Working as a team is how we win; we utilize all the players on the court because we all bring unique things to the team. It's going to be fun to play for the right to go to the state finals; we welcome the challenge."
Captain Emily Davidson, a middle hitter, said it means a lot to have all the support they've been getting.
"The whole school is behind us," she said. "Ever since we won the North title last Saturday, people have been congratulating us and telling us they'll be at the game. That spirit gives us such a good feeling, and our fan bus (to Newton South) is full. Honestly, we're all so happy to keep practicing and playing. 
"It's great to know we'll have a banner, too. I remember my sophomore year one of the seniors said the whole motivation for winning was getting a banner. We knew we couldn't play scared in the North finals, and that's true again. If we keep playing our game, we'll come out OK."
Tiger coach Kerri O'Connor has been trying to learn everything she can about the next opponent in preparation for Wednesday's match.
"We found a few videos on Rockland and have read some newspaper articles," said O'Connor. "We know that we're both in a similar situation, making the semis for the first time and having a team with drive and ambition to want to be in the state final.
"We know Rockland has a strong setter who is quick on her feet, a tall, powerful middle, and a strong outside hitter. We're working on our blocking skills and defensive strategies. We're also going to capitalize on the fact we have multiple hitters in each rotation who can hit with power and versatility. Ours is a very scrappy defense that has only improved with each game."
The Bulldog captains are setter Jessica DeMarco, outside hitter Carolne Elie, and middle hitter Hannah Wylie.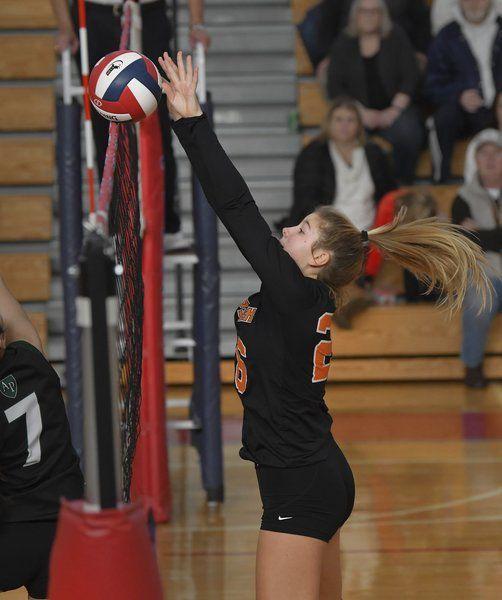 In the win over Austin Prep, Davidson (8 kills) and O'Connor were outstanding serving. Fellow captain Abby Stanicek, a CAL First Team all-star and having been named to the All-State Division 3 team, had seven kills, while senior outside hitter Kyleigh Larson finished with 17 assists and O'Connor had 11 assists along with 17 digs. Libero Lou Roesler had 13 digs, and Lilly Sheridan chipped in with nine for a total team effort.
Claire O'Flynn, a sophomore middle hitter, has power and is tough at the net. There are seven senior leaders and 13 girls on the varsity, all contributing to the success.
"Our goal all along was to win the states," said Stanicek, who wants to continue to play at Emerson College next year. "We'd been close two times before, and going on to the state semifinals is a great bonus. We're treating this one the same way as always. Before every game we stress that if we play our game and make our own points, not relying on the other team's mistakes it will work out."
||||