FOXBOROUGH -- This was an historic win.
Head coach Brian St. Pierre and his band of Eagles brought home another Division 1 state championship trophy after St. John's Prep handed Catholic Memorial its first setback of the season, 21-14 in a rematch of last year's Division 1 Super Bowl Saturday night at Gillette Stadium.
It marks the first time in the long history of the sport at St. John's Prep that the Eagles have won back to back state titles.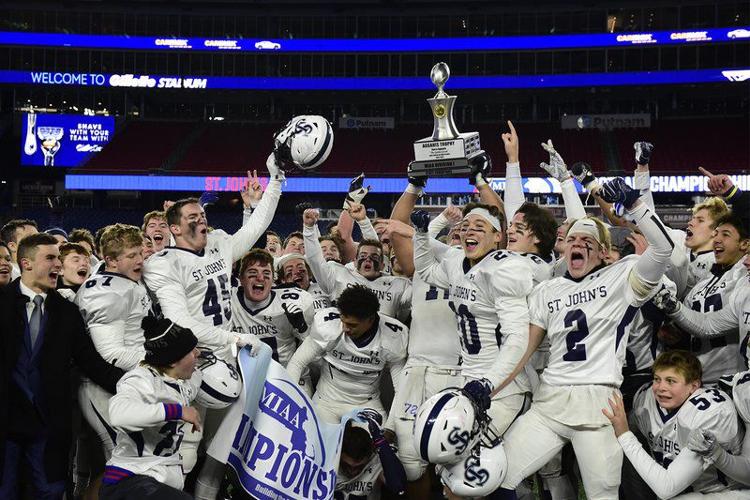 The beautiful new trophy named after the great Harry Agganis will take its place in the Wellness Center beside last year's plaque, both coming at the expense of their Catholic Conference rival CM. Team 113 made history (along with Team 112).
"I'm really proud of these guys, they gutted it out," said St. Pierre after the trophy presentation on the field at Gillette Stadium in the final game of the day before the players and coaches were ushered off to allow workers to prepare for the Patriots big game with Kansas City the next day. The coach didn't escape the tradition soaking by his happy players that must have felt like the Ice Bucket Challenge of former football great Pete Frates' fame.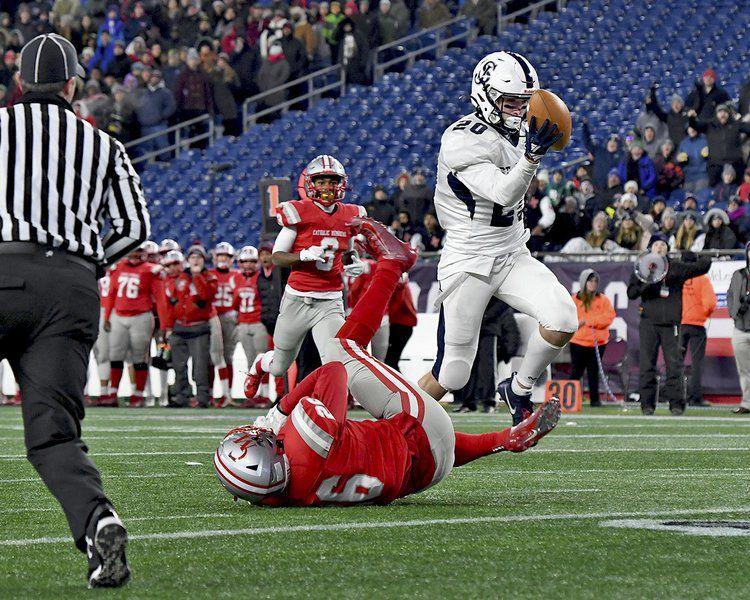 "Back to back feels really good. I've got a lot of respect for them (Catholic Memorial). They don't like us much and we don't like them much but it's a great rivalry. I'm so proud of my guys, especially this group of seniors because they made history."
The lone loss for the Eagles this season (11-1) was by two points to the Knights back in October. The Prep fell behind in that game, but it was a different story as they shot out to a 14-0 lead in the first quarter and never looked back this time around. Sophomore James Guy was the workhorse with 24 carries for 90 yards and a pair of touchdowns.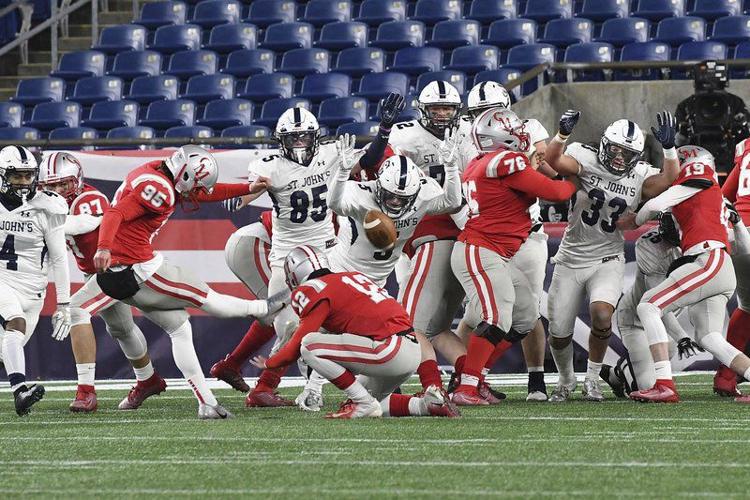 "It feels great, Super Bowl weekend is special," said Guy. "Coach told us to start off fast, and that's what we did. I just went out and gave my team whatever I had. This one feels so good because I was able to contribute."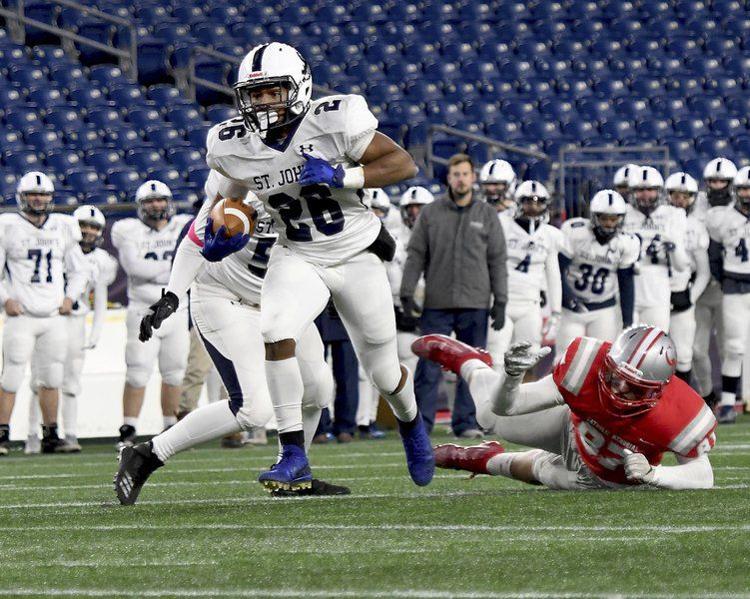 The teams traded fumbles early in the first quarter. Matt Duchemin, who had five catches for 119 yards and a touchdown, snared a 37-yard pass from quarterback Matt Crowley (6-12-145 yards) but fumbled the ball in the red zone. CM recovered but on the first play from scrimmage Shiloh White was hit by Mike Fionda, who knocked the ball loose and Nick Baldini recovered it.
Two plays later Guy broke loose for a 14-yard touchdown run, and Liam Fabbri added the extra point to put St. John's on the board.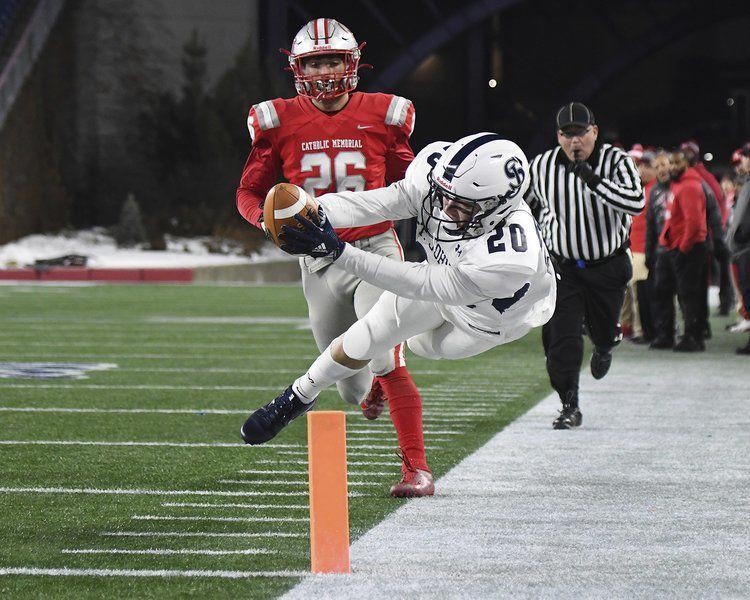 "It feels incredible to win it again," said Baldini, a senior linebacker. "We were the underdogs this time; everybody expected CM to win, but we knew we could do it. I love playing with these guys; how can I go wrong when I have Tripp Clark beside me making plays."
Guy scored again from 3-yards out on his team's next possession, capping a 55-yard, three play drive. The key plays in the drive were back to back catches of 20 and 28 yards by Duchemin.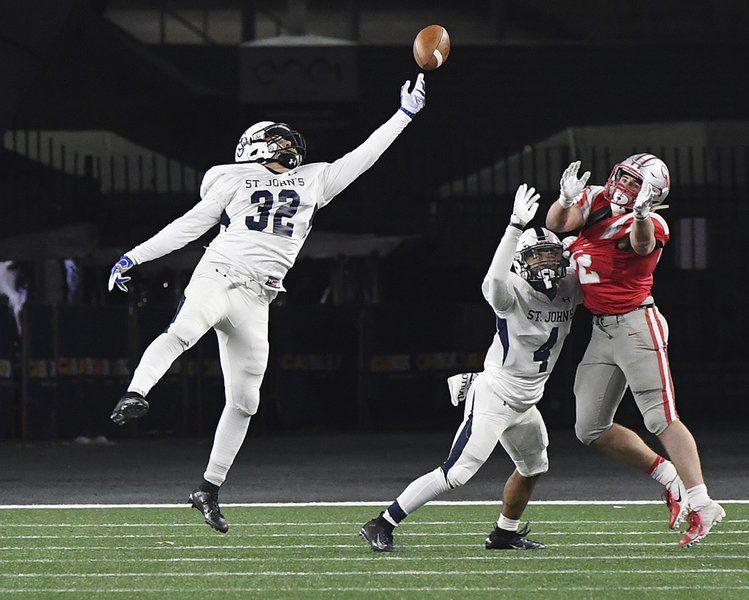 The Knights threatened to get on the board in the opening minutes of the second quarter, but White fumbled again at the Prep 12-yard line, and Clark recovered. The Eagles' defense, which was stellar all night, caused a three-and-out on CM's next possession, followed by an interception by Duchemin, who picked off two Barrett Pratt passes (9-26-92 yards, a touchdown and two interceptions). The Prep senior from Haverhill was named Player of the Game for his team.
"Our defense kept standing up all game," said St. Pierre. "They did an outstanding job. The first time we faced them this season I felt we should have played better. We've improved since then."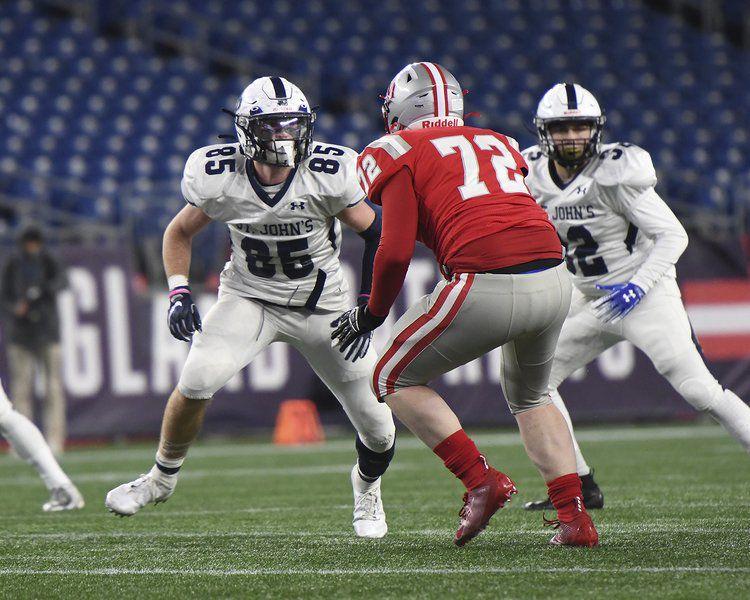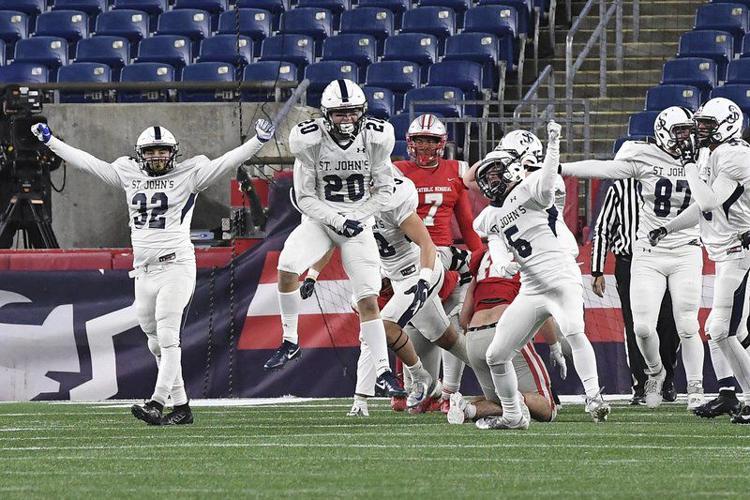 The Knights threatened before halftime, but once again Duchemin, who plays both ways so effectively, picked off another Pratt pass at his own 25-yard line and the Eagles had a 14-0 lead at intermission. But midway through the third quarter Catholic Memorial capitalized on a Prep fumble which was recovered by Zach Goodwin and set up the Knights first score three plays later. Owen McGowan crashed in from a yard out, 14-7.
The Knights were on the move again at the end of the quarter, but the Eagles' defense dug in and stopped them on fourth down at their 30-yard line. White was thrown for a loss, and then Pratt's fourth down pass fell incomplete, nearly picked off by Clark.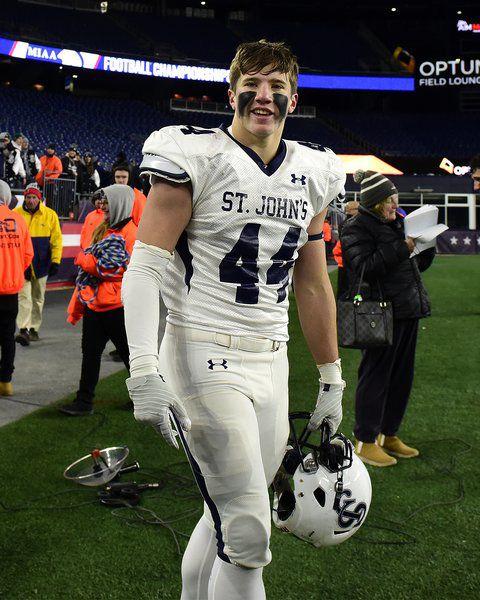 The Eagles took over and marched 68 yards behind the running of Guy and Crowley's passes to Joenel Aguero, Jackson Delaney for 23-yards, and a 33-yard touchdown throw to Duchemin with just over five minutes remaining in the game.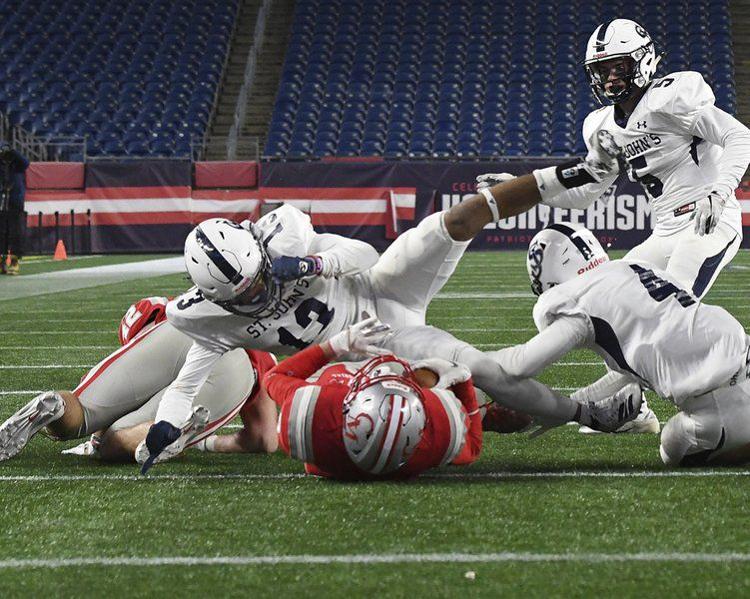 That turned out to be the game winner because the team from West Roxbury made it very interesting in the late going. After the Eagles kept them out of the end zone when McGowan was thrown for a two yard loss by Pat Nistl and Clark on fourth and goal, St. John's took over only to fumble two plays later.
Pratt threw a 5-yard touchdown pass to Zach Mitchell that tipped off Duchemin's body and into the hands of the receiver to make it 21-14 with just over a minute remaining.
The on-sides kick by Matthew Sokol was recovered by Prep freshman Santiago Quiceno, and it was time for victory formation.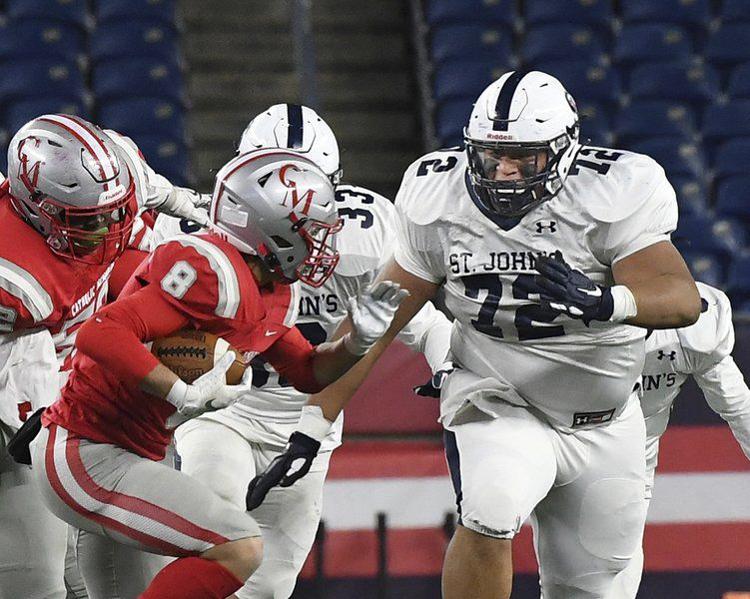 "This is amazing," said Prep captain Anthony Fagan. "We worked so hard all year; nobody thought we'd come this far after winning it last year, but we knew we could do it. Our coaches worked so hard, and we had a lot of young guys, who stepped up and kept getting better."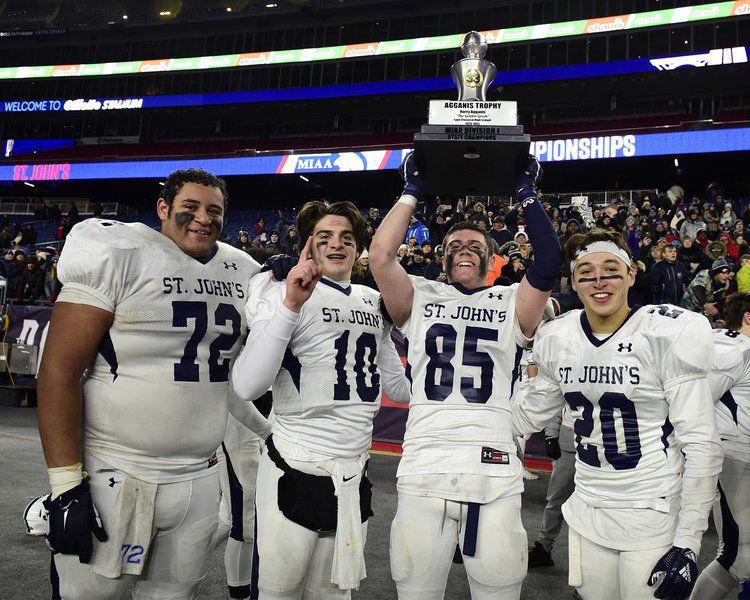 "We were there at six o'clock in the morning for lifting; we never stopped working," said outstanding junior defensive end Collin Taylor. "I'm so proud of every guy on this team; I feed off how good my teammates do. Winning two Super Bowls is great, but this one is ever better because I was able to contribute more."
Last year SJP was favored; this time they were the underdogs and relish the upset even more.
St. John's Prep 21, Catholic Memorial 14
Division 1 Super Bowl
at Gillette Stadium, Foxborough
St. John's Prep (11-1)........14 0 0 7 -- 21
Catholic Memorial (11-1).....0 0 7 7 --14
SJP -- James Guy 14 run (Liam Fabbri kick)
SJP -- Guy 3 run (Fabbri kick)
CM -- Owen McGowan 1 run (Matthew Sokol kick)
SJP -- Matt Duchemin 32 pass from Matt Crowley (Fabbri kick)
CM -- Zach Mitchell 5 pass from Barrett Pratt (Sokol kick)
INDIVIDUAL STATS
RUSHING: St. John's Prep -- Guy 24-90, Crowley 8-7; Catholic Memorial -- Darrius LeClair 14-71, Shiloh White 7-20, McGowan 6-4, Jamall Griffin 1-2, Mitchell 1-(-1), Pratt 2-(-10)
PASSING: St. John's Prep -- Crowley 6-12-145-1-0; Catholic Memorial -- Pratt 9-26-92-1-2, Jack Lawn 0-1-0-0-0
RECEIVING: St. John's Prep -- Duchemin 5-119; Jackson Delaney 1-15; Joenel Aguero 1-11; Catholic Memorial -- McGowan 4-52, Mitchell 4-31, Daniel Lopes 1-8