Boxford native Chris Kreider took part in a Zoom video with three Massachusetts-born NHLers on a Patriots Day conference call Monday afternoon.
Kreider, the 28-year-old left wing for the New York Rangers, was on the call with fellow Bay Staters Chris Wagner of the Bruins, Kevin Hayes of the Philadelphia Flyers and defenseman Keith Yandle of the Florida Panthers.
He opined on everything from what he's been doing during the coronavirus pandemic to his post-game beverage of choice.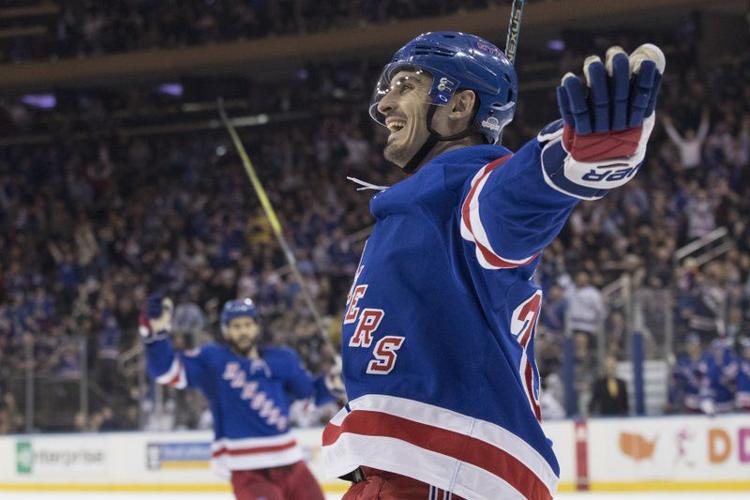 "(Being here) gives me an opportunity to get outside a bit, but I haven't seen many people," said Kreider, who recently signed a $45.5 million contract with the Rangers for the next seven seasons. "I'm slowly losing my mind. I'm trying to do things to keep busy."
Dressed in a dark grey National Hockey League Players Association top with a black knit hat, Kreider took part in the call from his in-season residence outside of New York City in Connecticut. With his dark mustache and goatee, Yandle scoffed "Kreids, you look like you're trying a prison break here."
The Rangers' alternate captain, who played for two seasons at Masconomet Regional High School before finishing at Phillips Andover, revealed that a foot injury that had kept him out of New York's last six games prior to the NHL pausing due to COVID-19 was "fully healed" and he'd be ready to go if and when the season resumes.
Kreider, who has 24 goals and 45 points in 63 games for the Rangers this season, told stories of how he played in the Beantown Classic and other select tournaments with Wagner as his teammate; recalled how he was back in Boston on an off day during the 2013 Boston Marathon bombings; described his hometown as "kind of in the boonies; my dad likes to joke the town bird is the mosquito"; and that his hockey idols growing up included ex-Bruins Joe Thornton, Bill Guerin and Ray Bourque.
It was also revealed that Kreider can speak five languages, including Russian (where he's engaged in some trash talk with Russian-born NHLers), can play the guitar, piano and saxophone, and enjoys the occasional Guinness when returning home after a game.
At the end of the 45-minute video call, Kreider urged everyone to remain isolated to help defeat the spread of coronavirus.
"Stay home, stay safe," he said. "Hopefully we're back soon; we miss playing as much as you guys miss watching. But if we go about it the right way, hopefully it'll happen sooner."