He has coached 534 varsity high school hockey games over the last 26 years. He's probably scouted at least that many opponents, run thousands of practices and still has the same infectious love for teaching the game as he did when he was first hired as the junior varsity hockey coach at Peabody High almost three decades ago.
So if Mark Leonard had to wait an entire year to formally be inducted into the Massachusetts State Hockey Coaches Association Hall of Fame, due to the COVID-19 pandemic, that was all right by him.
The 55-year-old Leonard, the head boys hockey coach at Essex Tech, will be accompanied by his wife, Colleen, and their children Abby, 17, and Brady, 14, when he is inducted into the MSHCA Hall at its banquet this Sunday afternoon at Nonatum Post 440 in Newton.
"It's nice to get in after having been recognized by your peers," said Leonard. "I don't think anyone gets into coaching saying, 'I plan on coaching this many years' with a specific date in mind. I can only speak for myself that I got into it because I love the game and love teaching it."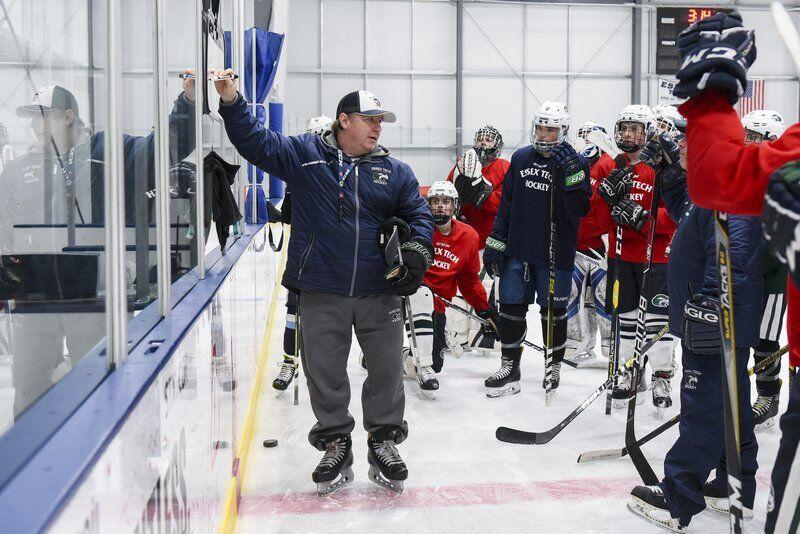 Leonard, a member of the MSHCA Board of Directors, coached for 24 years at his alma mater, Peabody High, before moving over to Essex Tech two seasons ago. His teams have won 234 games and tied 46 others, and he's gone 17-10-6 with a share of the Commonwealth Athletic Conference and a playoff appearance (there were no MIAA this past season because of the pandemic) the last two winters with the Hawks.
Mike Nanartowich, who recently retired after a 31-year career guiding Hudson High School, will induct him into the Hall of Fame Sunday afternoon. From first meeting Leonard in 2012, when their teams played in the Newburyport Bank Tournament, and getting to know him better through the Coaches' Association (where Nanartowich served as president for three years), the two became fast friends. 
He's accompanied Leonard to Minnesota a half-dozen times to help with Team Massachusetts, which the latter started up to allow high school players to skate against top competition from Minnesota, North Dakota, Wisconsin and Michigan each year.
Nanartowich likes to dig at his friend that his teams never lost to Leonard's in their four meetings, but in reality has the utmost respect for him as a person and a mentor.
"Mark's drive is incredible, and the reason why is twofold," said Nanartowich, a 2013 MSCHA Hall of Famer whose Hudson squad won the Division 3 state title the previous year. "He's always striving to be the best coach he can be, always looking to improve himself and his team. The passion he has for the game and the success of his kids, both on the ice and in life in general, is evident. 
"Also, Mark's always been the type of guy who's willing to learn. He'll adapt, look for more efficient ways of doing things, ways that will improve his team. I'll be honest; he sparked that in me, too. I was kind of set in my ways, but Mark challenged me a bit and I saw how it worked. He's just so passionate to be the best coach and role model he can be."
Tanner triumphs
Now the owner of the North Shore Coyotes hockey program, Leonard was a standout high school player in his hometown of Peabody before matriculating to the University of Connecticut, where he put up 14 goals and 35 points as a freshman, a program record. After four years with the Huskies, he went on to play professionally in Europe for several seasons. 
Two days after returning stateside, he ran into Harry Beckett at the gas station that the latter owned. Beckett was the assistant coach to Peabody High head coach Kenny Gill, and asked if Leonard might be interested in coaching the Tanner JVs. He jumped at the chance ... and has never looked back.
"I owe a ton to both Kenny and Harry," said Leonard, who spend two years with the jayvees. "Kenny really took care of me, retiring a week before the first varsity game my third year with the program (1995-96) so I could get the head job. George Smyrnios (Peabody's AD at the time) liked what I had been doing, so that worked out well. The rest, as they say, is history."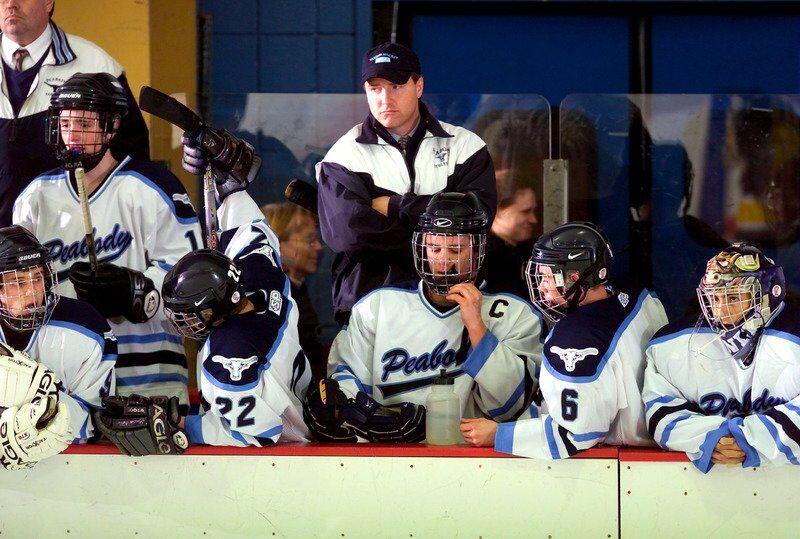 Peabody hadn't been to the postseason since 1981, so Leonard began the task of building the program back up. He emphasized skating and having a winning mindset, and the team made the state tournament in his fourth season led by captains Dennis Magarian and Brian Gravel.
That began a streak of 11 qualifications in 12 years for the Tanners, along with four Greater Boston League Division 2 titles and the 2010 Northeastern Conference crown, in which the Tanners set a school record for wins with 18.
Leonard said a 2004 victory over favored Danvers and its head coach whom he idolized as a youngster, Kevin Flynn, was like a "coming out party" for his team after its 9-4 victory at  at Salem State. "I felt like we had reached a new level," he said.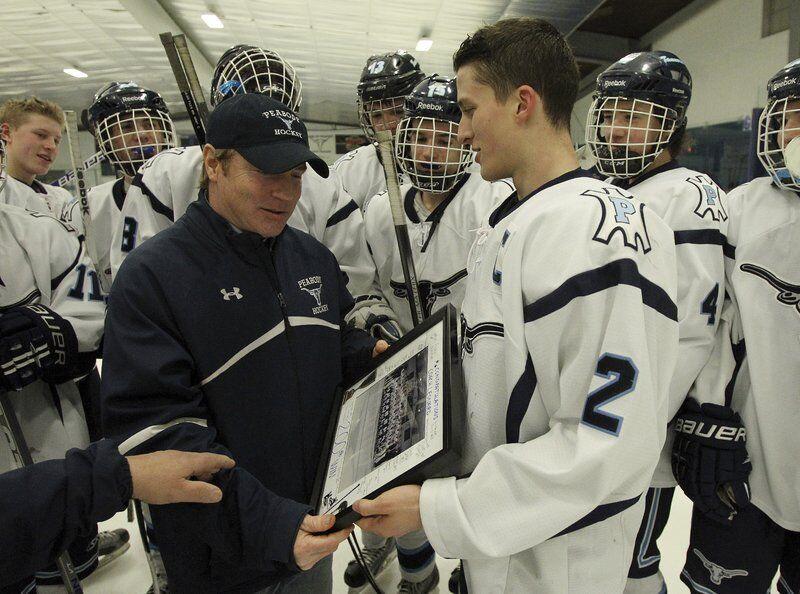 That sucess continued for much of the 2000's, culminating with an appearance in the Division 2 North title game. Players like Elijah Cohen, Mike Broughton, Michael Kravchuk, goalie Derek Savage and 'The Three Amigos' — Matt Rodgers, Derrik Pereira and Andrew Bucci — were among the standouts who played for Leonard during that time. His teams played in 24 playoff games, 14 more than the program had before or since.
Recharged at Essex Tech
Paul Costa, who has served as Leonard's assistant coach since 2008, used to coach him at Peabody High under George Kinnaly in the early 1980s. Costa has also assisted some of Massachusetts hockey's greatest minds like Eddie Burns in Arlington, Beverly's Mike Gilligan, Andy Heinze with the Junior Warriors and Kinnaly, and said Leonard sits apart from them in one regard.
"Mark's as prepared, or more prepared, than anyone I've ever been associated with," said Costa. "I'll give it to you in a nutshell: he understands the game as well as anyone I've ever coached with. 
"What Mark was able to do as a player, in high school, college and over in Europe, he brought that into his coaching. He prepares a new session for our guys each day at practice, which over the course of a long season prevents boredom from seeping in. He always keeps it interesting for the players while continually teaching them new ways to get better."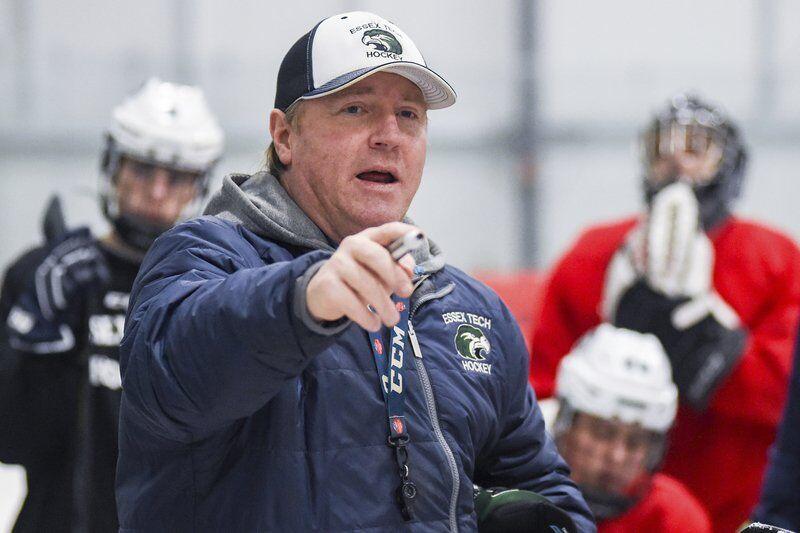 Leonard, who praised former Peabody athletic directors Bob Danish and Phil Sheridan, along with current Essex Tech athletic director Farah Lalli for their constant support of both him and the hockey program, was dismissed from the Tanners after 24 years and back-to-back winless campaigns. He was quickly hired by Essex Tech, though, and said he's been given a new lease on his coaching life.
"Absolutely it recharged my batteries," he said. "It's been a new group of kids that I'm trying to send the message of teamwork and emotion, loving the game and putting in the necessary work. I feel extremely fortunate to have gotten this chance and have been excited with what we've done so far ... and what we'll do in the future."
Leonard will get the chance to coach his son Brady, an incoming Essex Tech freshman, this coming winter.
"The school is growing, the hockey program is growing and I don't see myself going anywhere," said Leonard. "I'm still very passionate about the game and teaching and coaching it."
||||