BOSTON — Five quick takes after the Bruins opened the playoffs in dominant fashion by hammering the Maple Leafs, 5-1, in Game 1 of their Eastern Conference quarterfinal series: 
1. Drought over? 
Scoring five-and-a-half minutes into the game was huge for Brad Marchand not only because it gave Boston an early lead, but got a huge goal-scoring monkey off the left winger's back. Marchand had a grand total of one goal in his last 26 playoff contests — dating back to Game 2 of the 2013 Eastern Conference finals — before slipping a backhand underneath Frederik Andersen Thursday night.
2. No easing back into it
Right wing Rick Nash, who missed the last 12 games of the regular season with a concussion, did not exactly tread lightly on his return to the lineup. He put three shots on net in 17 minutes of ice time and laid out three big hits, including stapling Toronto's top defenseman, Morgan Rielly, into the back corner glass behind Andersen.
3. Missin' Maple Leafs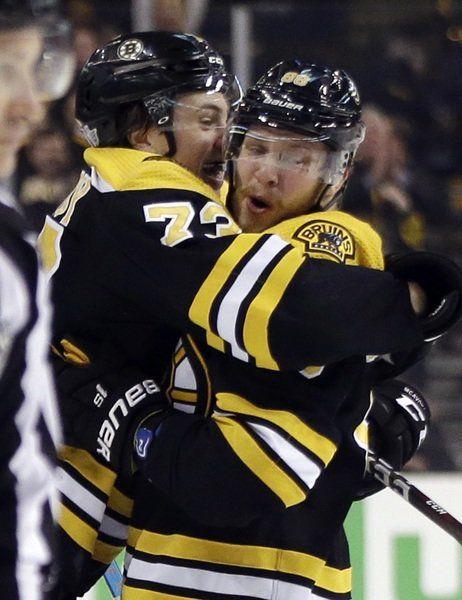 Toronto certainly had chances to increase its production, particularly on the power play. They had up to a half dozen near misses. Instead of burying those chances, though, pucks jumped over sticks, shots were blocked or turned aside by Tuukka Rask (26 saves), leaving the visitors frustrated at their man-advantage ineptness.
4. Hand-eye coordination.
Fourth-line center Sean Kuraly displayed that with his third period goal, knocking a puck out of mid air while in the goal crease and following up David Pastrnak's bid, which had hit the post.
It was Kuraly's third playoff goal in his last three games dating back to last spring's 2-goal performance (including the game-winner in OT in Ottawa.
5. Power of Pete
Beverly's Pete Frates, the worldwide face in the battle to knock out ALS, was wheeled onto the ice last night as one of the honorary "Fan Captains" along with Hall of Famer Johnny Bucyk. Frates received a rousing ovation.