David Sacco, who played two years of hockey at St. John's Prep, has been included in the final rankings of the NHL's Central Scouting as it pertains to draft-eligible players for 2020.
The 18-year-old Sacco, who lives in Middleton, is ranked as the 141st North American skater in the Central Scouting rankings.
"It's an honor to be on that list, with all the talented players also on the list," Sacco said Wednesday afternoon. "It gives me confidence. But I also know that the work doesn't stop, because I still need to prove myself."
A 6-foot, 187-pound forward who can play either center or right wing, Sacco played his freshman and sophomore years of high school at St. John's Prep, compiling 20 goals and 14 assists.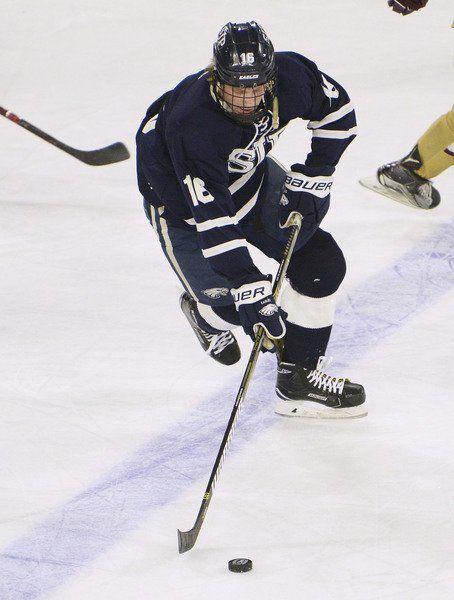 Sacco transferred to Lawrence Academy in Groton for his junior season and put up solid 31-38-69 in his two seasons skating for the Spartans. He was second on  the team in scoring this past winter (17-23-40 in 24 games) and averaged a team-leading 1.67 points per game. He helped lead Lawrence Academy to a spectacular 22-2-2 record, the ISL crown and the top seed in the Elite 8 prep school postseason draw before they were upset by No. 8 seeded Berkshire in the playoff quarterfinals.
A University of New Hampshire hockey commit, Sacco will spend the 2020-21 season with the Trail Smoke Eaters of the British Columbia Hockey League (BCHL) before matriculating to UNH.