Like most of us, Brian Pinho had gotten bored.
It was May 11, nearly two months into the COVID-19 pandemic. Pinho was at home in North Andover staying as active as possible, eating right and filling his time by reading books or sharing golf shot videos with his buddies from his alma mater, St. John's Prep. But with the American Hockey League season, like the rest of the sports world, on pause, the Hershey Bears forward was missing that huge aspect of his life.
On that day, he found out the AHL was cancelling the rest of its season.
Soon after, the Washington Capitals reached out to their 6-foot-1, 190-pound prospect and let him know that if the NHL returned this season that Pinho would be joining them.
"That was great to hear," said the 25-year-old Pinho, a former captain at both St. John's Prep and Providence College. "So I did whatever I could to stay ready for when the league was coming back."
Having been in the D.C. area for the last week-and-a-half, Pinho has practiced with his Washington teammates at their MedStar Capitals Iceplex in Arlington, Va. the last two days as the NHL holds its revamped 'training camp' as part of Phase 3 in its return to play. He's been part of the first of two groups of players, joining fellow forwards Alex Ovechkin, Nicklas Backstrom, Tom Wilson, Evgeny Kuznetsov, Carl Hagelin, Lars Eller, Garnet Hathaway, Shane Gersich and Philippe Maillet.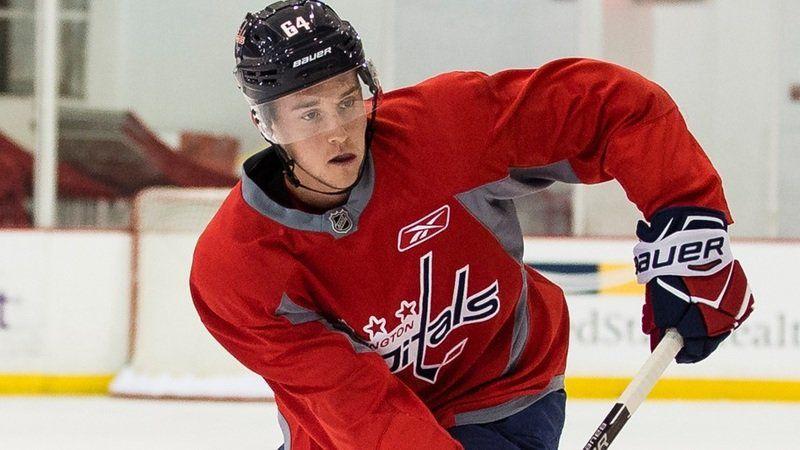 Though he has yet to play in an NHL game, Pinho has certainly impressed his bosses in two years of pro hockey. He was second on Hershey in goals (20) and plus-minus (+16) this season while finishing with 37 points, good for fourth best on the squad. He also had a team-high three shorthanded goals for a Bears team that was 37-18-3-4, just one point behind first place Providence in the Atlantic Division when the season was paused, then ultimately cancelled.
Pinho had also been hot before the season was abruptly stopped in early March, with 5 goals and 8 points in his previous seven contests.
"I was definitely more comfortable this past season, for sure," said Pinho, who had put up 4-8-12 numbers in 73 games with Hershey as a rookie in 2018-19. "It's such a different game coming from college, where you're facing guys who have been there for a while and are really good at what they do. At this level, you have to be really good at not just one thing, but several different things — that's what separates guys.
"I wanted to take what I learned from my first year and come back as a really reliable PK guy and contribute more offensively. I think I was able to do both."
While he has skated with Capitals superstars such as Ovechkin, Backstrom, Kuznetsov, defenseman John Carlson and goalie Braden Holtby the last two years at September training camp, Pinho knows this time is much different — for everyone. As winners of the Metropolitan Division, the Capitals will forgo the play-in round and instead take on the Bruins, Flyers and Lightning in three round-robin games up in Toronto in early August to determine their playoff seeding in the East.
Working on getting puck touches, flow drills and 2-on-2 battles with his teammates, Pinho is aware he's working with many of the same players who won Washington its first Stanley Cup in 2018.
"You just see how diligent and prepared they are all the time, how detail-oriented they are," he said. "Every pass is in the right spot and they know what they're doing before they get the puck. It's fun to watch them and how they play.
"I want to see Washington go on a long run and be a part of it. No one knows what could happen with this virus; that's why they have a few extra guys around and depth is so important."
With the teams sequestered in their bubbles in Toronto and no fans in the stands, these playoffs will be like no other. But if and when his name gets called, Pinho said he'll be ready.
"Being prepared and detailed will only help me," he said. "That's what I try to do every day at the rink: keep my head down, work hard, take in what I'm learning from the older guys, keep plugging away and having fun." 
||||