DANVERS —An outstanding group of 13 athletes and one highly successful coach were inducted into the St. John's Prep Hall of Fame Saturday, marking the school's 28th such class.
In addition, Dr. John Duff (St. John's Prep Class of 1945), a former athletic team doctor, received the prestigious Crystal Eagle award for 20 years of service.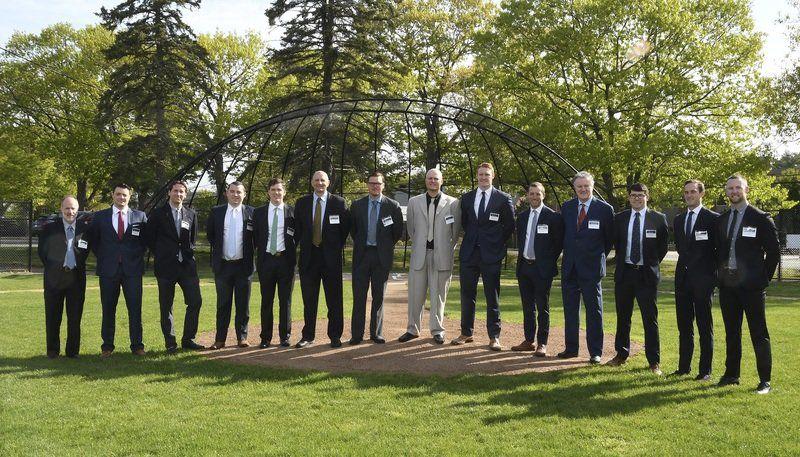 "This is not the Hall of the good or very good, but the Hall of the very best," said Larry O'Neill, chairman of the Hall of Fame committee and Saturday's master of ceremonies.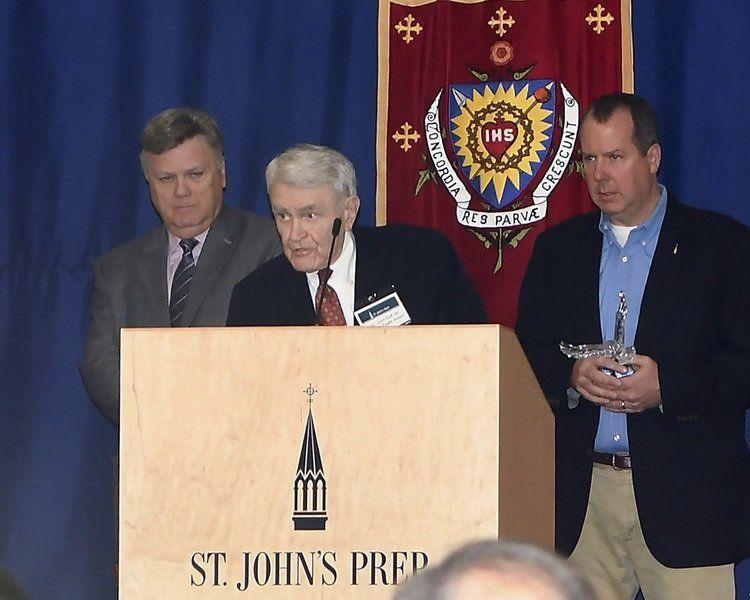 Fencing coach Jim Carter, who has an overall record of 251-57 in his 21 years at the school, was one of Saturday's inductees. He has led the Eagles to among the top three teams in the state 16 times and captured 11 state championships. Mike Capozzi (SJP 1998) was on hand to support his old coach along with some current fencers including Jack Guster from Swampscott (Class of 2020), who came with his parents.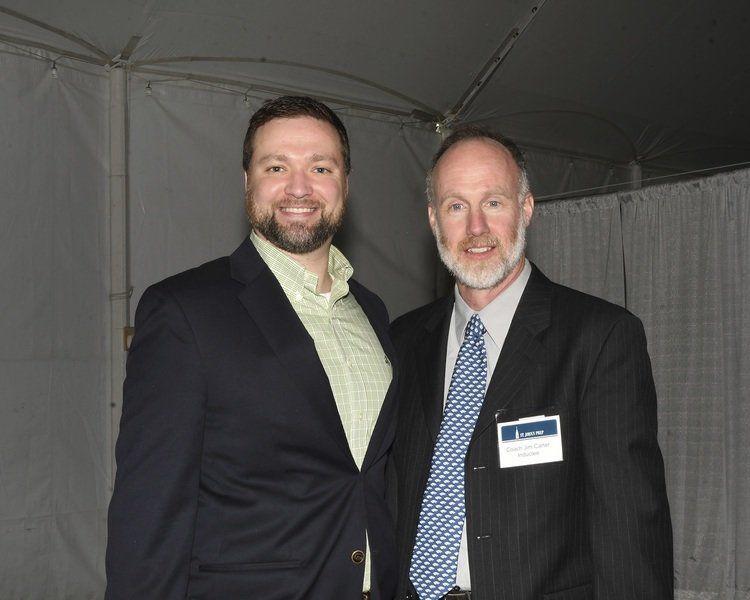 "The program was floundering when Coach Carter was hired," said Capozzi, who went on to fence at Boston College. "He saved us and turned the program into one of the very best in the state."
Dr. Edward Hardiman, the school's principal, told the inductees they were being honored for their leadership.
Mark Sullivan, SJP Class of 1973, was the oldest Hall of Fame inductee while Sean Bishop, Ryan O'Connell and Mark Scalise from the Class of 2008 were the youngest.
Sullivan was the first to take the podium and recalled living on campus for four years before going on to Notre Dame. His room was only two doors away from Brother Linus, who amazed him with how many teams he helped coach along with other duties.
"This is a terrific honor," said Sullivan, who lives in Chicago and was a track and basketball star for St. John's "We have around 100 former Prep guys living in the Chicago area, and Ed Hardiman comes out to some of our get-togethers. It's great to be back — and I'm looking forward to a tour of that Wellness Center everybody is talking about."
Ryan Malo (Class of 2007) and Kyle Ayer (Class of 2005) were both Division 1 wrestling champs while at St. John's. Malo was first in Massachusetts to do so both as a junior and a senior.
A two-year captain, Malo won New Englands, was a National High School Coaches Assocation (NHSCA) Academic All-American, and a Wrestling USA All-American as a senior. At Williams College he was a three-time All-American and two-time national finalist. Malo continued to wrestle at the University of Virginia as a graduate student, and now coaches at Doughboys in Lowell when he can.
"This is a surreal experience," said Malo, who is now at Rutgers law school. "Each year (head coach) Manny Costa puts out a record book, and you realize what a great wrestling tradition he's built. To play a small part of it means a lot to me. Wrestling has taken me all over the world and helped me make many friends."
Ayer was also a two-year captain who posted an amazing 120-32 record, winning two Division 1 titles. He also wrestled at Williams College.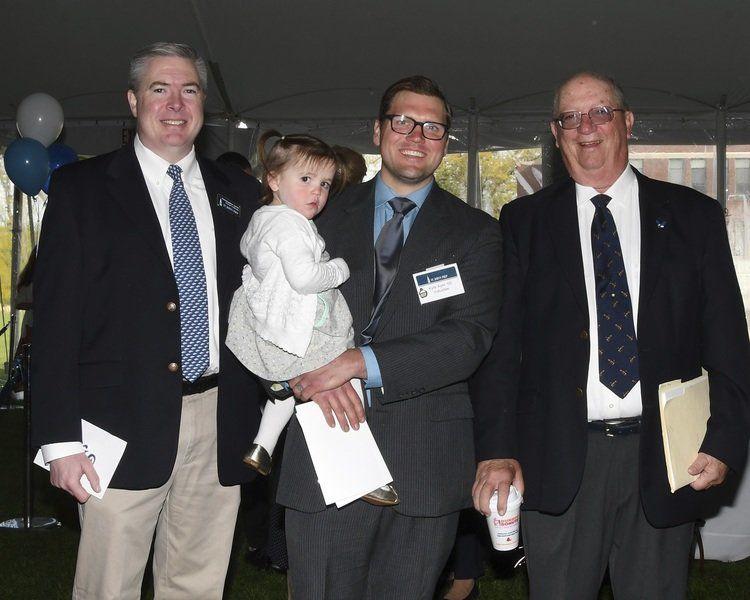 "To be included in this group with such quality athletes, including professionals, is incredible," he said. "I still remember jumping up into Manny's arms after winning my first state championship as a junior."
Tim Prior did it all in soccer and track. The 2007 Eagles' graduate was captain of the undefeated Division 1 state champion soccer team and scored both goals in the North final, then produced two assists in the state championship game. He also captained both the indoor and outdoor track teams at St. John's, specializing in middle distance and relay events.
"I've always hoped to go into the Hall of Fame, but I didn't think it would come so soon," said Prior, who went on to finish second on the all-time Bowdoin College men's soccer scoring list. "This is a dream come true."
Another member of that undefeated state champion soccer team, Bishop, also went on to play at Bowdoin, where he was a captain and team MVP his last two years. Bishop was also a terrific volleyball player for the Eagles and named captain and MVP in his senior season.
Scalise, who excelled in both swimming and lacrosse, was also inducted the first year he was eligible. He swam on two state championship teams, winning the individual state crown in the 50-yard freestyle, and was on three state champion relay teams. He was a high school lacrosse All-American, scoring 106 points in his senior season, and continued his career at Harvard.
Another swimmer honored was Jamie Mannion (Class of 2007), who was 200 and 500 freestyle individual state champ. Mannion tore his ACL in his senior year, but came back before the state championships and delivered two big wins. He also was a four-year member of the school's water polo team. He went on to swim at Harvard and is now a swim coach for Charles River Masters.
O'Connell was a high scoring basketball star at St. John's and Bowdoin, where he ranks third all-time in 3-pointers and was a 1,000 point scorer. He is also second in all-time scoring for the Eagles with over 1,300 points. Grateful for his tim at St. John's, O'Connell is applying to St. John's Seminary.
Mike Pitt (Class of '04) was one of the best linebackers to ever play for the Eagles, a captain and team MVP who went on to play at Northeastern University. Pitt grew up in Manchester and now lives in Quincy, working in medical sales.
"It's awesome I got to play with such an elite group of guys like Nick Borseti and Chris Zardas, who went in last year. I'm honored to join them," said Pitt. "I come back for anything honoring Pete (Frates); it's so nice the baseball field is named for him."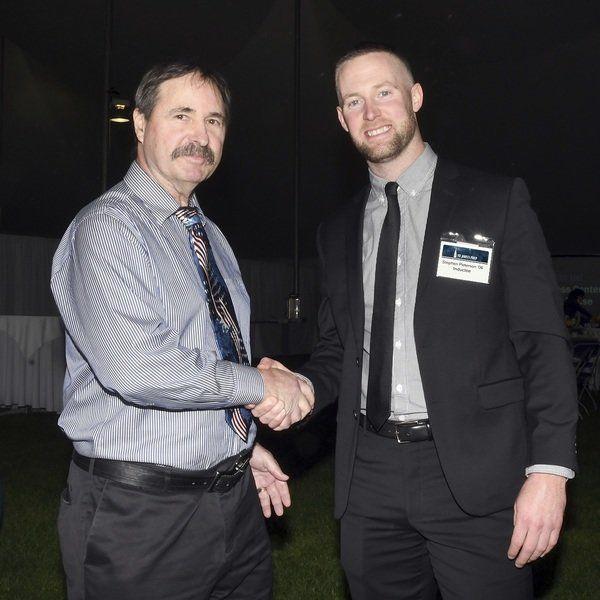 Steven Peterson (Class of 2006) took his baseball talents all the way to the pros, spending seven years in the Milwaukee Brewers' system. Remarkably, he never lost a game at any level at St. John's and threw two no-hitters as a senior.
"It's an honor to be back here and see so many old friends," said Peterson. "I try to get back as much as I can. I really enjoyed playing for the Brewers; St. John's helped prepare me. We had such a tight knit group of guys my senior year, and we're still friends. I stay in touch with coach (Dan) Letarte and help out once in a while."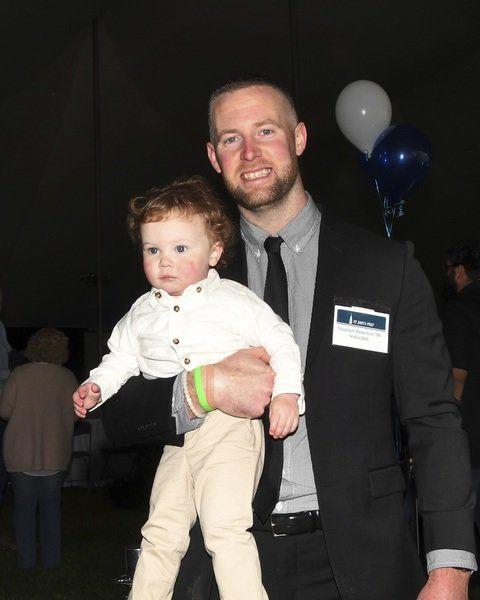 The Class of 2003 was represented by Benjamin Goldberg, a volleyball MVP and member of a state champion and runner-up team; and Kenneth Haskell, who made his mark on the golf course. He was captain and on three state championship teams, leading the Eagles with lowest score in state championship winning rounds in all three title years before going on to play at Salem State.
From the Class of 1990 Neil Penttinen was a four-year lacrosse player, and two-year football starter. He captained both sports and was the starting center at Fordham University. Penttinen now plays in the Old New England Lacrosse League (over 40) and refs high school games in New Hampshire.