The flight from California landed in Grand Rapids, Mich., and all 25 members of the Bakersfield Condors minor league hockey team switched their phones from airplane mode back to its regular settings.
They soon received the same news on their respective devices, and the enormity of the situation hit them collectively.
"We all found out the NBA had suspended its season while we were in the air. It was surreal," said Jake Kulevich, a Condors defenseman from Marblehead. "We all looked at each other and were like, 'Whoa'. It was truly a spectacle.
"I had a feeling before we even left for Grand Rapids that we might not end up playing that game," he added. "But to have that come into being reality, it was a shock to everyone."
The coronavirus pandemic that has gripped the country — and the world — has put a halt to many things we associated with everyday life, including any and all athletic endeavors. The day after the NBA's announcement, both the National Hockey League and its top minor league affiliate, the American Hockey League (which Bakersfield is a member of) also put their seasons on pause for the foreseeable future.
Whether or not any professional league will resume play at any point in the near future is unknown. All these athletes can do is self-quarantine, stay abreast of the news ... and wait.
Kulevich and his teammates were told to do so as soon as the team flew home from O'Hare in Chicago to Los Angeles International Airport.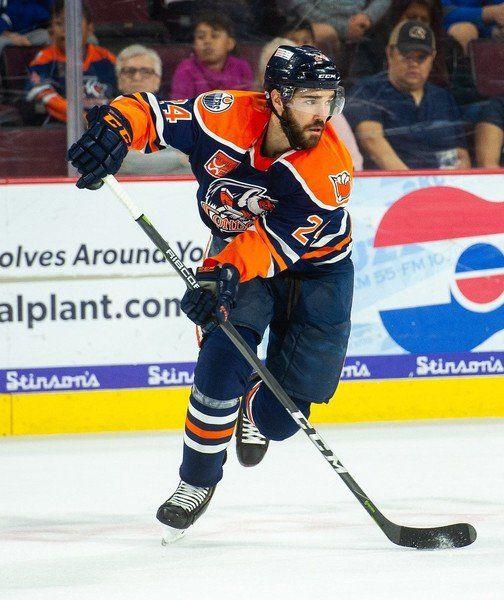 "We had to hang tight for a week while the team waited for further news from the AHL," said the 6-foot-3, 210-pound defenseman. "All of a sudden we're stuck in our apartments, and guys were starting to anticipate we'd be sent home. But the reality was we couldn't commit to that at that time; it was just go to the grocery store, go back home and try to pass the time. I don't think I've ever followed the news so much in my life."
A group chat among Bakersfield players and management made clear what many of them had expected: they were being told to return to their respective homes around the globe. For Kulevich and four other Bay Staters, that meant a trip across the country. For others such as fellow defenseman William Lagesson (Sweden) or forward Markus Granlund (Finland), that meant flying back to Europe.
The Condors (owned and affiliated with the NHL's Edmonton Oilers) still talk every day on their group chat, wondering what will become of their season as they remain in self-lockdown with their families and loved ones.
"They haven't cancelled our season yet, so we're kind of in limbo," said the 27-year-old Kulevich, who captained Marblehead High to a 2011 Division 3 state championship and later served as a captain at Colgate University.
"Things don't look good right now, but we have to stay ready. There's no ice or anything, so it's all about getting creative with your workouts and following the news."
For Kulevich, that's been talking early morning walks on Preston Beach in town or shooting hoops in his family's driveway. He's also been using his family's home gym with his younger sister Carly, a freshman gymnast at the University of Pennsylvania.
"She just kicked my butt," Kulevich laughed after finishing a Monday afternoon home workout with his sibling. "She does all kinds of stuff I couldn't dream of being able to do."
The sad irony is that Kulevich was playing his best hockey of the season — perhaps the best of his 3-plus seasons as a pro. He had scored three times in Bakersfield's last four contests, including one in his team's final game before the pause, a 4-3 shootout triumph over the Stockton Heat.
"I was really feeling it," said Kulevich. "It's frustrating, but what can you do? What's happening, it's unprecedented. No one could have predicted this."
In a way, everyone that's hunkered down in an effort to stop the spread of COVID-19 can be equated to a hockey season. It's a long haul, from training camps in September until, for those that reach the championship series, late May or early June, and you have to be able to ride out tough stretches to get to where you ultimately want to go. Although this is no game: this is real life.
"That's the unique thing; no matter what you do, across virtually every profession, we're all affected by this," said Kulevich. "I'm hoping in the long run, we'll come out of all this and it will bring people together.
"It is exactly like one of our seasons in that you hit that point in mid-January, say, where your body is worn down, you're fighting injuries and everyone on the team is fighting something," he added. "The team that buckles down the most at that time is usually able to come out on top in the long run. It's all about the grind — and that's what this is, a grind. We all just have to buckle down, take it day by day and control what we can control."
ACTIVE LOCAL PLAYERS IN THE AHL 
Player Local Connection Pos. Pro Team G-A-Pts.
Ryan Bourque Boxford F Charlotte 5-7-12 *
Logan Day Endicott Coll. D Bakersfield 6-10-16
Jake Kulevich Marblehead D Bakersfield 6-4-10 
Sam Kurker St. John's Prep F Stockton 0-1-1 &   
Brian Pinho St. John's Prep F Hershey 20-17-37
Doyle Somerby Marblehead D Cleveland 1-6-7
* Ryan Bourque was acquired by the Charlotte Checkers from the Bridgeport Sound Tigers on March 2 and has played four games there, compiling one goal.
& Sam Kurker signed with the Stockton Heat in mid-January after playing 32 games in the East Coast Hockey League for the Indy Fuel.
LOCAL PLAYERS IN EUROPEAN PRO HOCKEY 
Player Local Connection Pos. Pro Team G-A-Pts.
Chris Bourque Boxford F Munich EHC 17-30-47 
||||