MIDDLETON — It was exactly the kind of game that the late, great Bob Driscoll would've loved to see his Masconomet Chieftains play.
Now coached by one of his former captains, Andrew Jackson, the Chieftains played air right defense Wednesday, allowing scant few shots and even fewer quality scoring chances. They capitalized at the other end when they had the chance, using their speed and savvy to create goals. The dictated the flow and never let their opponents find any kind of rhythm for the entire 45 minutes.
Driscoll was no doubt smiling from above after the program he coached for more than 30 years shut out Beverly High on this Ash Wednesday, 3-0, at Essex Sports Center in the fifth annual 'Can Do Classic' played in his memory each season.
The triumph, Masconomet's fourth straight in this game since a tie with Peabody in the inaugural Can-Do Classic, allowed Jackson's club to keep the award presented to the winner: one of Driscoll's old skates, bronzed and mounted on a trophy base.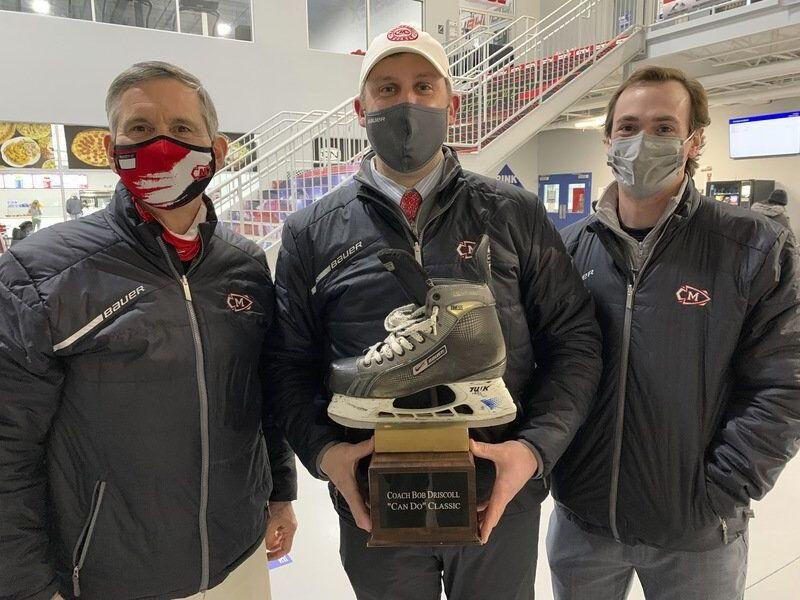 Freshman center A.J. Sacco scored two goals and assisted on the other while senior captain Lucas Canelli had 15 saves in a little under 40 minutes for earn the shutout. Nick Santangelo, a junior, stopped the four shots that came his way over the last five-and-a-half minutes to complete the whitewashing.
Twin brothers Nick and Matt McMillan — the former a left wing on Sacco's line, the latter a steady, push-rushing defenseman — also factored into the scoring, with Nick scoring once and assisting on another while Matt dished out a pair of helpers.
The third member of that Sacco-McMillan line, speedster Chris O'Grady, created a number of chances for himself as well, including a breakaway with three minutes to go that Beverly senior goaltender Brendan Sweeney (28 saves) made one of his best stops on.
"Nick, Chris and A.J. are so fundamentally sound together," said Jackson, whose team improved to 8-2-1 with one game, Saturday in the same barn against Marblehead (7:30 p.m.), remarked. "They have really strong chemistry together.
Defensively, I thought we stood tall and had some guys with good feet back there; we were able to get all six guys time (Tommy Sacco, captain Trevor Currier, Jacob Mair, Parker DeFeo, E.J. Elkington and Matt McMillan). And Lucas, he did a good job controlling his rebounds and made some nice stops during some hairy situations on the power play." 
Beverly, which has now gone seven periods without scoring, didn't put a lot of pressure on Canelli in 5-on-5 situations, getting off more than half of their 19 shots on their four power play chances. They also had difficulty in their own zone, at one point with three skaters behind the net while Masco in possession of the puck out front.
"That was our worst performance of the year," said Beverly head coach Greg Fonzi, whose club fell to 5-6 with one game remaining, Saturday against Winthrop. "We just didn't show up — especially in that first period, which was embarrassing from an effort standpoint.
"For whatever reason, we weren't focused," Fonzi added. "We just didn't have it tonight, and in between periods we didn't find it, either. Now we have to decide if we want to finish up .500 by winning our last game or not."
Alternate captain Gavin Doyle had perhaps Beverly's best scoring chance, getting off a strong backhand shot from 10 feet out that was turned aside.
Senior right wing Tony Tozier, who has missed time this season with injury, did a fine job on this evening, earning the start up from with classmates Aaron Zenus and Jason Hurford. Tozier was noticeable going up and down the wing, carrying the puck into danger areas, and backchecking effectively.
Masconomet 3, Beverly 0
at Essex Sports Center, Middleton
Beverly 0 0 0 — 0
Masconomet 2 1 0 — 3
First period: M, A.J. Sacco (un), 1:42; M, Nick McMillan (Sacco, Matt McMillan), 12:58.
Second period: M, Sacco (N. McMillan, M. McMillan), 14:14.
Third period: No scoring.
Saves: B, Brendan Sweeney 28; M, Lucas Canelli 15; Nick Santangelo 4.
Records: B, 5-6-0; M, 8-2-1.