NEWBURYPORT — If Friday night was any indication, then the Masconomet Regional football team may have a knack for making clutch plays.
The hard-hitting Chieftains had a two score lead on Newburyport in with just over five minutes left with Clipper QB Finn Sullivan trotted back into the huddle after missing some plays with an injury.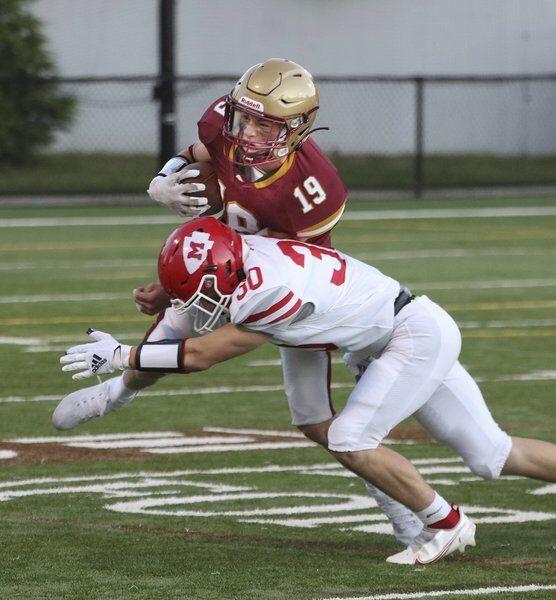 He connected with sophomore Iyobosa Osazuwa for a 26-yard gain, then watched as senior Jack Hadden rushed for 18 more yards to push Newburyport to the opposing 33-yard-line. But on a fourth-and-2, the Clippers fumbled trying to stretch past the line for a first down, and Masconomet recovered to run out a season-opening 26-14 victory. 
The Chieftains leaned heavily on junior dual-threat quarterback Matt Richardson and the brother running back tandem of Mat and Sam Nadworny on offense.  
A 14-14 game at halftime, Masconomet received the second-half kickoff and didn't look back. Richardson hit senior Mat Nadworny for a 24-yard gain to spark the drive, and five plays later the QB kept it himself for an 11-yard TD run. The Clippers used a 35-yard completion from Sullivan to Osazuwa to spark the ensuing drive, but the Chieftans forced a fumble and drove 71 yards on three plays to score on a Mat Nadworny 11-yard rush.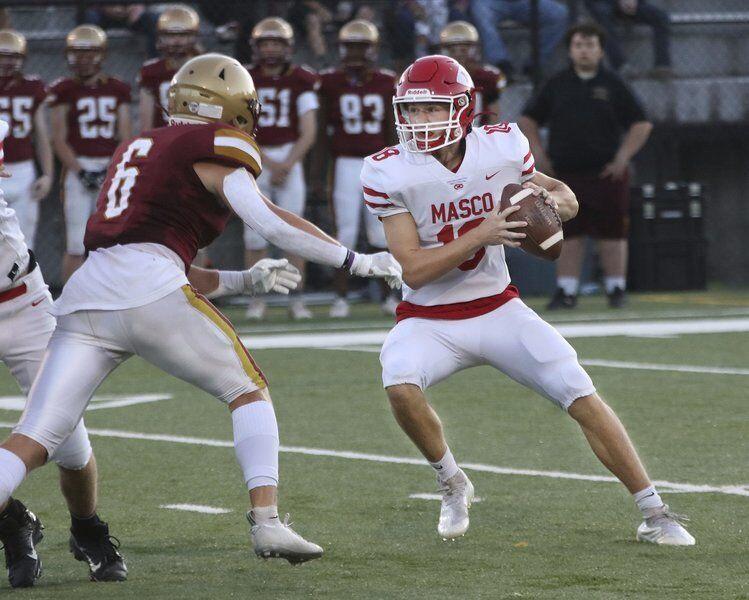 That made it 26-14 late in the third quarter, and Newburyport's ensuing drive ended with a punt after Sullivan's injury.
"I think our depth really helped us tonight," said Masconomet head coach Gavin Monagle. "We played a lot of kids in the first half to tell you the truth, so that was a luxury that we had and I think it paid dividends as the game went along.
"But (the Nadworny brothers) are as tough as nails. Matty, our quarterback, he played great as well. He made some big plays for us."
Sullivan completed 12 passes for 190 yards and two scores to top target Lucas Stallard, but the Clippers really couldn't get the running game going against Masconomet's stout defensive front.
"I just think that they're stronger than us and they pushed us around," said Clipper coach Ben Smolski.
The Chieftains defensive line of Corin Aylwin, Jake Kalapinsky, Alban LaVita, Jeff Pappalardo and Tyler McMahon were surrounding Sullivan all night, and didn't give any breathing room to the Newburyport backs.
"We figured things out as the game went along," said Monagle. "It was a good start for us."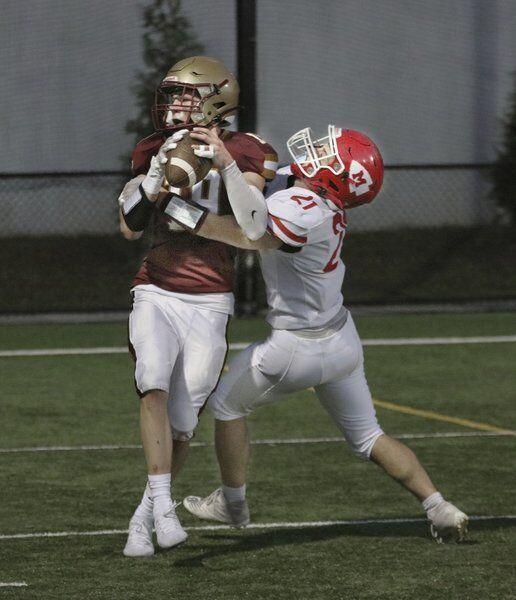 Masconomet struck first midway through the first quarter when Richardson hit Owen Barrett on a 25-yard strike, but Newburyport struck right back when Sullivan hit Stallard on a 20-yard screen that the senior took to the house. An 8-6 game after the opening scores, the Chieftains reclaimed the lead on Mat Nadworny's first TD of the night — a 5-yard burst up the middle — to go up 14-8 after a successful conversion.
But, again, the Clippers responded on their next drive when Sullivan hit Stallard for a 12-yard strike on third-and-goal.
Stallard finished with five catches for 87 yards and the pair of scores.
Masconomet 26, Newburyport 14
Masconomet (1-0): 6 8 12 0 — 26
Newburyport (0-1): 8 6  0 0 — 14
Scoring summary
M — Owen Barrett 25 pass from Matt Richarson (pass failed)
N — Lucas Stallard 20 pass from Finn Sullivan (Sullivan run)
M — Mat Nadworny 5 run (Tyler McMahon pass from Richardson)
N — Stallard 12 pass from Sullivan (kick blocked)
M — Richardson 11 run (pass failed)
M — M. Nadworny 11 run (run failed)
INDIVIDUAL LEADERS
RUSHING: NEWBURYPORT: Finn Sullivan 14-45, Jack Hadden 10-20, Jack Sullivan 2-6; MASCONOMET: Matt Richardson 10-90, Mat Nadworny 11-65, Sam Nadworny 8-45, Rich Guarino 1-1
PASSING: Newburyport — F. Sullivan 12-20-190-2-0; Masconomet — Richardson 9-15-132-1-0
RECEIVING: Newburyport — Lucas Stallard 5-87, Iyobosa Osazuwa 2-61 Ethan Estep 2-32, Grant Mosesian 2-6, Hadden 1-4; Masconomet — Owen Barrett 4-60, Tyler McMahon 2-31, Mat Nadworny 1-24, Sam Nadworny 1-18, Richardson 1-(-1).