At 186 days since the last high school sporting event but somehow closing in on crowing NHL and NBA champions ...
It's impossible to watch Anton Khudobin play goalie and not root for him.
Let's back up a few steps. Lonely Boston Bruin followers wandering through the wilderness that are these 2020 Stanley Cup playoffs are looking for reasons to stay engaged with the National Hockey League after their B's crashed and burned in the second round.
To them I say, look West, young fans, look West. The Southwest, to be exact, where the Dallas Stars have become my favorite team to watch across all of sports in the last few weeks. (OK, the second-favorite next to the green team that's actually from Boston).
It starts with Khudobin, the lovable and affable goaltender who has stolen the show and Monday night stole the Campbell Bowl from the Vegas Golden Knights. You watch the way he moves about the crease, attacks the puck at the top of the blue paint and grins every time he flips up his mask for a squirt of water; there's a joy to his game that makes you want to hop on board.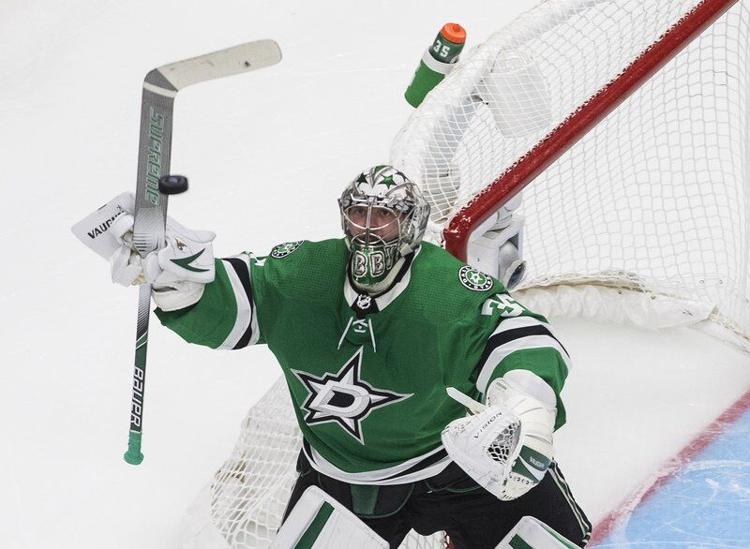 Khudobin, 34, had two stints as the backup goalie in Boston, most recently for two seasons from 2016-18. He was the backup in Dallas, too, where he got a raise to spell big Ben Bishop. The Bruins opted to give that money to Jaroslav Halak, with the feeling the latter would be more equipped to spell the workload and push the buttons of starter Tuukka Rask.
Yet in these bubble playoffs, the tables have turned. Rask left the Bruins to tend to a family emergency and while Halak was dynamite in beating Carolina in the first round, he was rather hapless against Tampa Bay in a five-game gentleman's sweep.
Meanwhile out West, Bishop has been unfit to play with an undisclosed injury and Khudobin has done nothing but win, carrying his team to its first Stanley Cup Final in 20 years over a favored, wagon of a team from Vegas.
For someone who thought the whole 'blame the goalie' narrative with the Bruins collapse was lazy, seeing another team win with its backup goalie is delicious. The Black-and-Gold were uninspired the entire time in Toronto; Rask wouldn't have saved their bacon the way they skated, and Halak was hung out to dry.
Dallas, on the other hand, has proven that if a team commits to defense and plays with an air of togetherness and belief, its backup goalie can win.
That the backup goalie in question happens to be a former Bruin just adds another layer of irony. That it's Khudobin, a guy who made tons of friends in his time in Boston and never seemed to have a bad day or a cross word for anyone, makes it fun.
Of course, Khudobin isn't the only ex-Bruin skating around in a green sweater. Tyler Seguin, the No. 2 overall pick in 2010 who helped Boston win the Cup a year later and was jettisoned after a subpar showing in the '13 Final, is another guy that's become very easy to root for.
Has Seguin lived up to the hype? It's a tough question. He's been a top scorer, but not a tippy-top lead-the-league guy, so it's been easy for B's homers to point at the 'winning' of Patrice Bergeron and David Krejci and say Boston brass made the right call. Yet Seguin, 28, could get his name on the Cup a second time in the next few weeks; what's that say about his pedigree as a 'winning player'?
I think it says he's matured.
Six weeks ago now, Seguin opted to kneel during the Canadian and U.S. National Anthems before a round robin game against Vegas. The Knights' Ryan Reaves, who is a Black Canadian-American, told Seguin he planned to kneel, and Seguin decided to join him to show support. However you feel about the particular gesture, I think Seguin wanting to join a fellow player out on that limb, to see that Reaves didn't feel alone in his statement, is real leadership.
The rest of the Stars are a fun watch. Captain Jamie Benn is a modern Cam Neely, a 210-pound wrecking machine who's rediscovered his scoring touch in these playoffs. Young defenseman Miro Heiskanen looks like the second coming of Erik Karlsson, making magic with the puck on his stick in a way that takes your breath away.
They've got some savvy veterans too. Joe Pavelski, one of the best American-born playoff scorers ever, is seeking his first Cup and Corey Perry is seeking his second. Those two feel like the kind of veteran additions Bill Belichick would make to cement a Patriots title run.
I don't know if Dallas is going to win the Cup. Tampa Bay is the best team in the bubble, the deepest and most talented, and once they polish off the Islanders in the East Final they might make Swiss cheese of Khudobin and the Dallas defense the same way they did Boston. It's pro hockey, though, and we know the best or most talented team doesn't always win.
Personally, I'm hoping the guy that wins is 'Dobby', the goalie with the Harry Potter house elf on the side of his mask. The goalie who seems to be stopping every puck within a mile of his reach and more Gif-worthy waves, smiles and reactions than Michael Scott from 'The Office.'
###
Let Matt Williams know who you're rooting for in the bubble at MWilliams@salemnews.com and follow along on Twitter @MattWilliams_SN.
||||