GIRLS LACROSSE
Marblehead 12, Beverly 5: Maddie Erskine scored her 100th career goal, finishing the day with six goals, two assists, a pair of ground balls and four draw controls to pace the Magicians (now 4-2 overall, 3-1 Northeastern Conference) to victory. Gigi Lombardi (2 ground balls) and Molly Forbes (1 ground ball) each finished with a pair of tallies and one assist, with teammate Hadley Wales picking up a goal and three assists to go along with two ground balls and four draw controls. Goaltender Elizabeth Driscoll stopped 10 shots for the win, while Sydney Langton (goal, assist, 2 ground balls, 4 draw controls), Fehr Gillett (3 ground balls) and Mae Colwell (ground ball) also had strong games.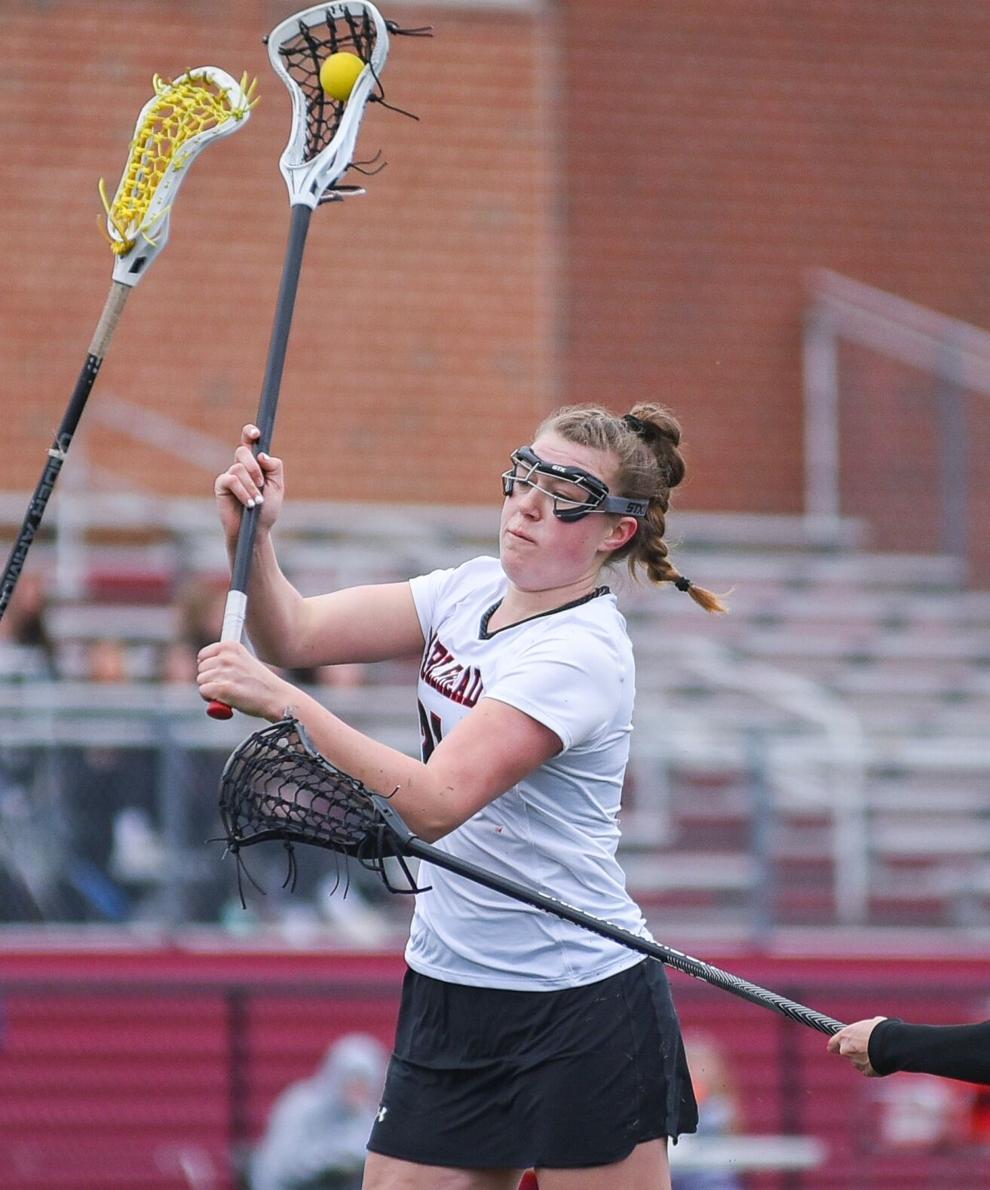 Essex Tech 15, Mystic Valley 4: Sisters Maddie McDonald (5 goals, 1 assist), a sophomore, and senior captain Molly McDonald (4 goals) led the way offensively for the Hawks, who remained unbeaten at 6-0. Katie Comeau, a sophomore, added three goals up front while senior captain Eve Weiss was stellar between the pipes, stopping 13 shots.
Danvers 15, Saugus 1: Abby Sher had a hat trick and Teagan Price scored twice with eight draw controls as the Falcons rolled. Mikayla Shaffaval and Bobbi Serino (five draw controls) had two goals each while Shea Nemeskal, Emma Wilichosko, Shea DiGilio and Abby Sullivan all had one each. Megan McGinnity made five saves for the win in net. 
Gloucester 14, Salem 3: Breanna Stead had all three goals for the Witches in a road loss at Gloucester.
BOYS LACROSSE
Masconomet 16, Winthrop 3: The Chieftains (4-3) got back into the win column as 11 different players scored, led by three tallies and an assist from Keo Kiriakos. Silas McLellan finished with two goals and two assists in the victory, while Will Neuenhaus and Matt McMillan both netted a pair of goals. Single goals came off the sticks of Andrew Saumsiegle (who also had an assist), Andrew Aylwin (plus an assist), Trent Bunker, Carmine DiPietrantonio, Cooper Easley, Alex Gillespie and Nick McMillan. Sharing duties in net were Max Rosenbaum (1 saves), Colin Dillon (3 saves) and Richard Jacavanco (1 save).
Danvers 12, Saugus 0: Nick Tavares netted himself three goals and Christian Burke added two goals and three assists as the Falcons (now ) earned the shutout win. Jack Ryan found the back of the net twice; Christian Harvey had a goal and two assists; Colby Dunham and Lucas Rotker both had a goal and a helper; Jimmy Thibodeau and Dillon Driscoll had single scores; and Sean Rivard picked up an assist in the win.
Marblehead 15, Beverly 7: The Magicians (7-0) scored six straight goals in the second quarter to take a 9-2 lead into halftime and pull away for good. Sophomore Connor Cronin led the way offensively with four goals and two assists, and defenseman Gresham Bosworth came up to score his first career goal. Will Shull and Carter Laramie both had a hat trick and one assist; Matt Thompson netted a pair of goals; Josh Robertson had a two and two assists; and Mark Paquette also scored. J.T. Monahan finished with nine saves, Baxter Jennings again starred in the faceoff circle, and defender Remy Poisson was a force in scooping up ground balls.
Beverly (now 3-4) got two goals and an assist from both D.J. Bachini and Nick Cole, with Gavin Lawrence and Kyle Oliphant getting one of each. James Silva also scored and Quinn Fidler stopped a dozen shots.  
Gloucester 19, Salem 4: The Witches fell to 0-6 on the season with the road setback.
Hamilton-Wenham 21, Amesbury 1: Using both the varsity and junior varsity players equally and running two full defensive lines, three full middie lines, and two full attack lines, the Generals exploded offensively in the road triumph. Captain Andrew Winch had a goal and a career high eight assists; fellow captain Colby Guyer scored three times; and both Charlie Schibli and captain Hunter Bahr each had two goals and two assists to highlight the offense. 
GIRLS TRACK
Marblehead 91, Danvers 44: 
Haley Murphy set a school record for the Falcons (now 2-2) in the 400 meter hurdles with a winning time of 68.9 seconds. She also took first place in the 400 and the high jump as well. Cali Abbatessa was a double winner in the shot put and discus, while Reese Holland prevailed in javelin and was third in the triple jump.
Lynnfield 129, Hamilton-Wenham 11: Grace Roebuck in the high jump (4 feet 4 inches) and Ava Cote in the 800 (2.32) had the first place finishes for the Generals.
Amesbury 79, Ipswich 68: The Tigers (1-4) dropped a close one despite wins from Olivia Novello in the 100 hurdles, 400 hurdles and triple jump. Colby Filosa added a first place in the 400, Lydia Comprosky won the discus, Decha Perron took the long jump, Amelia Stacy won the 2-mile and Amelia Mooradd won the 200.
Masconomet 99, Swampscott 37: The Chieftains rolled on Senior Day behind the performances from their senior captains. Olivia Guerriero won the long jump, 200 and was on the winning 4x100 relay team; Sarah Aylwin won the 100 high hurdles, came in second in the long jump and was also on the 4x100 relay team; Charlotte Losee won the triple jump and was also on the 4x100 relay; Maddy Demers won the mile and anchored the 4x400 relay; Angelina Zepaj won the 400 hurdles; Riley Trodden and Bryn Cohen tied for first in the high jump; Cali Haberland won the javelin; Greta Mowers took the 100 and Ellie Green won the 800. 
BOYS TRACK
Lynnfield 106, Hamilton-Wenham 31: Harrison Panjwani took first place in the mile (4:50) and was the anchor on the 4x400 relay, which included Cooper Blatz, Eli LaBell and Clark Glidden, that also won (3:53). Blatz also finished first in the 800 (2:14) and Cyrus Soleimeni was also first in the 200 (23.8).
Amesbury 95, Ipswich 46: The Tigers fell to 1-4 on the season despite a number of winners. James Robie took the 110 hurdles, Colin Hansen won the 800, Paul Wertz claimed the 400, Finn Russell won the 2-mile and the 4x400 relay team of Wertz, Hansen, Dom Morello and Rex Geller also won. 
Danvers 82, Marblehead 48: The Falcons remained undefeated at 4-0 thanks to double wins from Ryan McHale (110 hurdles, long jump), Will Sheehan (400 hurdles, 400), Luke Lllewellyn (mile, 4x400 relay), Jacob Reardon (100, 4x100 relay) and Jonathan Leventhal (javelin, 4x100 relay). Danvers also got scoring performances from Jacob Westcott in the 100, Aidan Smith in the 200, Sean Marmen in the 400, Nick Goodwin in the javelin, Mack Eon in the 800, Kevin Rogers and TJ Glowick in the 2-mile, Colin Kelter and Jake Ryan in the triple jump, Reardon and Freddie Poussard in the high jump, Aidan Drislane and Paul Canning in the shot put and Nick Homze in the discus. 
SOFTBALL
Masconomet 13, Swampscott 0 (5 innings): Amber Goudreau fanned eight in a complete game shutout and Eliza Reimold had three hits including a solo homer. Liv Filmore also doubled and tripled for the Chieftains, who improved to 3-5.
For Swampscott, Tiara Teel had the lone hit, a fourth inning double. 
Medford 16, Beverly 3: Nikki Erricola had a 2-for-4 effort to lead things for the Panthers.
BASEBALL
St. John's Prep 6, St. John's Shrewsbury 0: Senior righty Sam Belliveau was masterful on the mound, striking out seven in a complete game shutout as the Prep (6-1) made it four straight wins. Pat D'Amico had an RBI double while Eric Wing drove in a pair of runs. Payton Palladino, Chris Dirks and Shane Williams also drove runs home for the Eagles.
Marblehead 1, Gloucester 0: Speedster Godot Gaskins had his team's only hit and scored the game only run on an RBI by Schuyler Schmitt as Marblehead (6-2) extended its win streak to five. Lefty Jacob Sherf threw six scoreless for the Magicians and Liam McIlory induced a game-ending double play to earn the save. Gaskins had four stolen bases on the day.
Georgetown 5, Hamilton-Wenham 2: The Generals (6-2) suffered an upset on the road. Nick Freni had two hits and an RBI for H-W and Will Cooke had a pair of extra base hits with a double and a triple. Ryan Monahan, Luke McClintock and Ryan Hutchinson also hit safely for the Generals, who saw Shane Metternick fan five in two innings of relief.
Masconomet 10, Saugus 0: Senior Aaron Zenus played the stopper for the Chieftains, striking out 10 over five shutout innings to end a two game mini-skid. Sean Moynihan, Nick Cantalupo and Matt Golini led the offense for Masco, now 5-3.
BOYS TENNIS
Ipswich 5, Pentucket 0: Aidan O'Flynn (6-1, 6-0), John Werner (6-2, 7-6) and Jack Totten (6-0, 6-0) took care of business in singles play and the Tigers swept with doubles wins by Matt Lear/Jack Vanderbilt (6-2, 6-2) and Brian Milano/Wes Lathrop (6-1, 6-0).
Marblehead 4, Masconomet 1: Magicians' senior co-captain Daniel Farfel won an incredible three set match at third singles (7-5, 5-7, 6-3) after trailing 2-5 in the first set, Mike Garber won at first singles (6-4, 6-0), the first doubles tandem of Kipp Schauder and Dwight Foster won 6-4, 6-4 and the second doubles duo of Thomas Dack and Aidan Ryan won 6-2, 3-6, 10-2 to give Marblehead the team win. 
For Masco, Matt Aronson earned his team's lone victory with a 6-3, 3-6, 6-2 triumph over Jack Donovan. 
GIRLS TENNIS
Fenwick wins two: The Crusaders (5-1) beat St. Mary's twice by identical 5-0 scores. Winning were Nora Elenbaas (8-0 and 8-1), Madelyn Leary (8-1 and 8-0), Sam Summa (8-1), Liz Champagne (6-5), Kristina Rusha/Julianna Camozzi (8-2), Lily Brown/Sabrina Bothof (8-2), Lacey Murphy/Anna Strazulla (8-4) and Aisling Hinchey/Ari Summa (8-1).
Ipswich 4, Pentucket 1: Mackenzie Rokes won her first varsity match in three sets, 3-6, 6-1, 6-4 and the Tigers got straight set wins from Anastasiya Kozak (6-3, 6-2) and the teams of Ella and Ava Borgman (6-0, 6-1) and Jillian Gregory/Ava Doran (6-4, 6-4).
Hamilton-Wenham 3, North Reading 2: Sky Jara's 6-2, 6-4 win at first singles along with a doubles sweep by Lisette Leonard/Libby Collins (6-3, 6-2) and Chloe Gern/Nora Gamber (6-2, 6-1) enabled the Generals to move to 5-2.
Masconomet 5, Saugus 0: Kendall Skulley (6-1, 7-5), Nina Klink (6-0, 6-1) and Shaylee Moreno (6-0, 6-0) picked up singles wins for the Chieftains, while Ella Gharabegian and Chloe Ahern (6-0, 6-0) and Lauren Calabrese and Taylor Mastrogiovanni (6-1, 6-0) completed the sweep at doubles.
 
  
 TODAY'S SPORTS
HIGH SCHOOL
Softball — Amesbury at Ipswich (3:45); Georgetown at Hamilton-Wenham (3:45); Danvers at Marblehead (4); Bishop Fenwick at Bishop Feehan (4); Essex Tech at Northeast (4)
Boys lacrosse — Hamilton-Wenham at Amesbury (4:45); Salem at Gloucester (6:30).
Girls lacrosse — Salem at Gloucester (4); Masconomet at Winthrop (4); Bishop Feehan at Bishop Fenwick (4).
Boys tennis — Bishop Fenwick at Arlington Catholic (3:30); Beverly at Gloucester (4); North Reading vs. Hamilton-Wenham at Danvers High (4:30).
Girls tennis — Danvers at Salem (4); Beverly at Saugus (4); Danvers at Salem (4); Masconomet at Marblehead (4); Gloucester at Peabody (4:30).