No high school football head coach in North Shore history has ever won 100 of the first 128 games that he has coached.
Jim Rudloff could become the first Saturday afternoon when his unbeaten Marblehead Magicians host Masconomet at Piper Field.
Think about that for a minute. Since Rudloff and his staff came on board in 2009, Marblehead has gone 99-28 with nine Northeastern Conference titles, 11 playoff wins and a pair of Super Bowl appearances in this, his 12th season on the MHS sidelines.
Incredibly, in the 12 years prior to Rudloff's arrival, it was paradoxical. Marblehead went through four head coaches from 1997-2008 and went a combined 26-99, with zero NEC crowns or postseason berths.
In other words: a .208 winning percentage for 12 seasons, followed by a .780 winning percentage during the same time frame (with four games remaining in this 'Fall 2' season) under Rudloff and his staff, which include a number of great football minds: Mike Giardi, a three-year starting quarterback at Harvard, plus Tommy Walsh, Nick Broughton and Steve Lewis, among others.
Remarkable.
The Magicians won 12 games between 1997 and 2004 — that's one fewer than the 2016 Super Bowl squad. Nine of Rudloff's first 11 squads won at least eight games.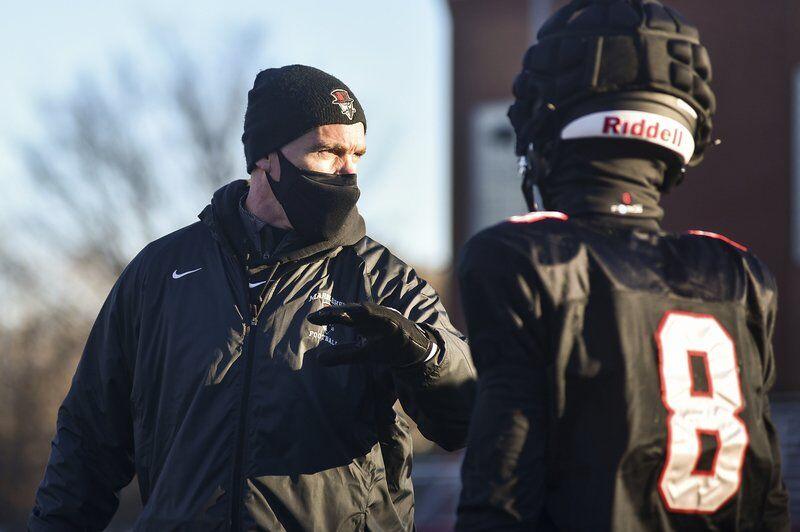 Because football teams sometimes played eight, nine or 10 games for many decades prior to the 1990s, Rudloff will reach the century mark for wins faster than any of his contemporaries, whether that happens Saturday against Masco (1-1) or sometime later this season.
What we can measure, though, is how quickly his teams were able to approach this hallowed mark in terms of games played.
Only two other gridiron greats are even close to the mark that Rudloff is close to setting, and they're arguably the two greatest football coaching minds the North Shore has ever seen.
Stan Bondelevitch, the patriarch of the phenomenally talented Swampscott High teams of the 1950s, '60s and '70s, needed 136 games to capture Victory No. 100 with the Big Blue. It came in his 16th season, one in which the all-time legend Dick Jauron was the team captain and his squad posted its second straight 9-0 season. Swampscott won the second of its seven consecutive NEC crowns and with it the Class B state title. The triumph that gave Bondy his triple-digit triumph was a Week 7 21-0 whitewashing of Lynn Classical.
A little over 23 miles to the north, Jack Welch was building his own powerhouse at Ipswich High. Taking over the Tiger reins in 1964, Gentleman Jack's teams also had a plethora of success during his 37-year career with eight Cape Ann League crowns, two Class D state championships and three Super Bowl triumphs. He won the 100th game in his IHS tenure in his 16th season as well, with the Tigers going up to Billerica on opening day of the 1979 campaign and emerging with a 22-15 triumph.
There are other coaches who, with the benefit of more contests played per season in more recent times, have reached 100 wins faster than Bondelevitch and Welch, albeit taking more games to do so. Former Swampscott head coach Steve Dembowski won 100 of his first 146 games, taking 13 years to accomplish the feat. Bishop Fenwick's David Woods took home Win. 100 in his 163rd game (coming in his 14th season).
Long-time Salem High coach Ken Perrone took 143 games with the Witches to earn his 100th win there, a 17-14 decision over Saugus in Week 7 of the 1987 season. That was his 15th year on the Salem sidelines, preceded by 97 wins he earned in his home state of Maine coaching at three different high schools.
Jim O'Leary led St. John's Prep to 100 triumphs in his first 148 games, taking home his 100th in his 15th season with the Eagles. It also took Peabody's Ed Nizwantowski just 148 games to reach the century mark, one his Tanners easily achieved in a 1996 pounding of Somerville, 41-6. That came in his 15th year coaching his alma mater.
There's also current Hamilton-Wenham boss Jim Pugh, who was victorious for the 100th time as a high school head coach when he roamed the sidelines at Masconomet in his 16th season; Game No. 168, to be precise.
Legendary coaches, all of them. But none have approached this three-figure milestone as quickly as the Magicians (currently 3-0) have under Rudloff's watch. Should they do so against the Chieftains Saturday afternoon, it'll be a history making event.
###
Researching the above-mentioned numbers also got us to thinking: what other current North Shore football coaches might be able to join the fraternity that is 100 wins at one local high school?
Having spent time on the sidelines at both Hamilton-Wenham and Beverly High (the latter school at which he's a Hall of Famer as a three-sport athlete), Andrew Morency has a combined 82 wins dating back to his first season with the Generals in 2006. He's currently in his fifth season with the Panthers and will coach his 50th game with the Black-and-Orange next week at home against Peabody.
Brian St. Pierre is halfway there, having compiled a 50-21 mark at St. John's Prep while guiding his alma mater to Division 1 Super Bowl championships in each of the last two seasons. As one of just three head coaches the Eagles have employed in the last 53 seasons (Fred Glatz, 1967-83 and the aforementioned O'Leary, 1984-2013), St. Pierre, in just his eighth year, has already cemented his spot in local coaching lore.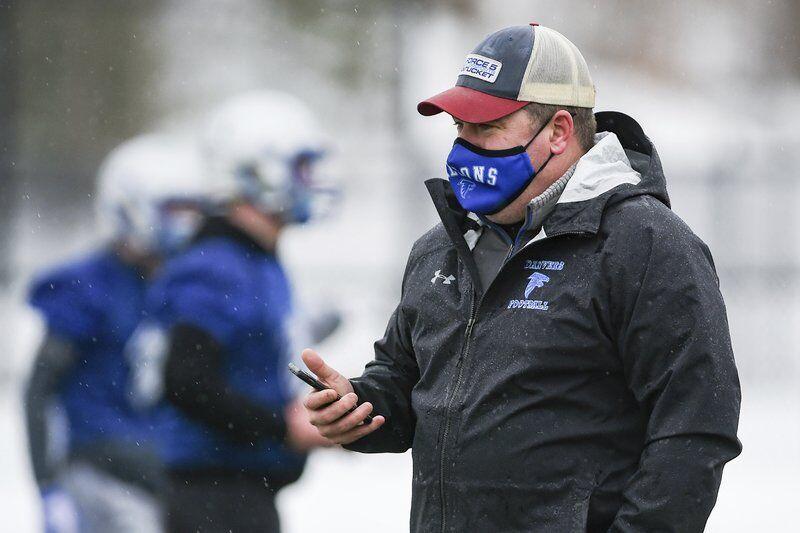 In just his fourth season, Ryan Nolan is one win away from reaching 25 wins with the Falcons faster than any other coach in school history; he's currently at 24-14 overall. Should he plant long term roots in Oniontown, Nolan would almost certainly break the school record for football coaching wins (54, held by Ernie Smith and set between 1974-86). At the current rate, Nolan's teams would likely see win No. 100 come in the next decade or so.
There could certainly be others, too; it doesn't look like Bob Serino (37 wins now in his 6th season) is leaving Swampscott any time soon; same with Mark Bettencourt in Peabody (38 wins in his 8th season). Also, Mike Flynn is off to a terrific start at Pingree, with 17 wins in his first two seasons. Time, as always, will tell.
###
When Beverly lost its season opener at Marblehead, the team looked internally to find solutions and put in the necessary work during a hard week of practice leading up to Week 2. The result was a satisfying triumph over Danvers at home in which the Panthers controlled play on both sides of the ball.
Now, after a disappointing 17-14 overtime loss to that same Danvers team on the road last Friday, the Orange-and-Black must find a way to right their ship once again when unbeaten Gloucester (3-0) comes to Forti Field Saturday afternoon.
"We've had a good week, considering the outcome last weekend," Beverly (1-2) head coach Andrew Morency said of working off the frustrating of their loss to the Falcons, one in which they built an early 14-0 lead. "We felt like we had one, so the initial frustration of the outcome has become more of a sense of determination this week. That's a great sign as far as measuring the resilience of this team. We feel like the players have worked hard this week."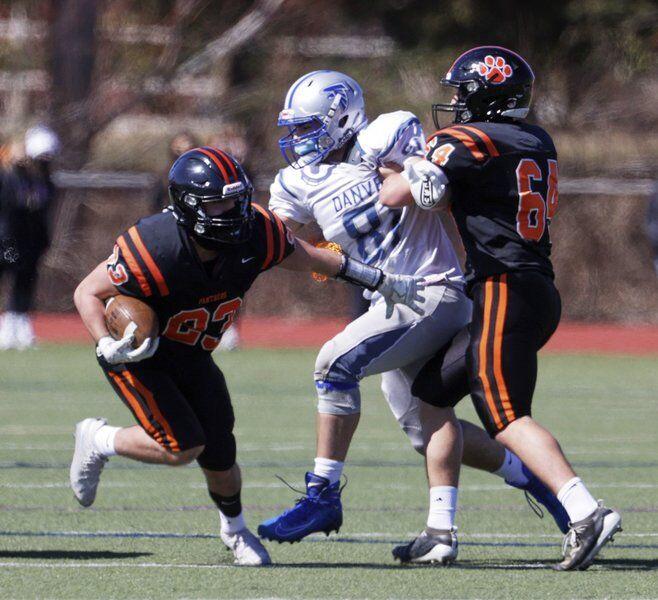 After allowing 34 points against Marblehead, Morency feels his defense has tightened up. Captain Billy Adams at defensive end, junior nose guard Grant Eastin, and linebackers Jared Mitchell and captain Jonas Pavia are among those who have risen up and made big plays the last two weeks.
The team's tackling, Morency noted, has been much improved, and gave up just 130 yards of offense to Danvers last week. "So we're using that fact," he said, "to remind the players that we're playing well and competing, to keep that confidence up."
While Gloucester, which has opened the season with victories over Saugus, Salem and Cathedral, hasn't faced the level of competition that the Panthers will have their hands full. The Fishermen, who know doubt will want to control the football and keep Beverly and it's big offensive line (Adams, Jack Ewer, Pavia, etc.) off the field, will counter with a running game that features sophomores Frank DeSisto and Caleb DeCoste, along with wingback Aidan Cornetta and quarterback Brett Gaipo.
"They're off to a fast start this year, so we need to be prepared for that challenge," said Morency.
###
In case you missed it earlier this week, there have been some tweaks made to the Week 6 schedule (April 16-17) in the Northeastern Conference.
Rather that have Salem play Marblehead and Saugus take on Masconomet — two contests that would almost certainly produce on one-sided results — Salem will instead play Saugus for a second time (in addition to this Saturday's scheduled matchup), and Masconomet will face off against Marblehead (who are also playing this weekend).
Playing the same opponent twice in a 7-game season isn't ideal ... but really, isn't being able to adapt one of the big reasons why we're allowed to have these games at all? For one season where there are no playoffs, it's not a big deal in the big picture.
###
Moving The Chains, a column on North Shore high school football, appears each Friday in The Salem News. Contact Executive Sports Editor Phil Stacey at pstacey@salemnews.com and follow him on Twitter @PhilStacey_SN
LOCAL FOOTBALL COAHCES, 100 OR MORE CARER WINS
Coach's Name School Wins Win Pct. Years
Jack Welch Ipswich 224 .627 1964-2000
Stan Bondelevitch Swampscott/Fenwick 214 .677 1953-1976, 1983-86/1976-82
Jim O'Leary St. John's Prep 207 .661 1984-2013
Jim Pugh Masco/Ham-Wenham 206 .617 1989-2014; 2016-present
Ed Nizwantowski Peabody 174 .743 1982-2004
David Woods Bishop Fenwick 171 .676 1998-present
Bill Broderick Salem 151 .726 1923-42, 1949
Ken Perrone Salem 151 .699 1973-94
Arthur Adamopoulos Peabody 129 .677 1961-1981
Steve Dembowski Swampscott 114 .630 1999-2014
Fred Glatz St. John's Prep 105 .709 1967-83
Paul Worth North Shore Tech 103 .560 1995-2006, 2009-13
Jim Rudloff Marblehead 99-28 .780 2009-present
||||