MARBLEHEAD — The music, recorded decades before the players were even born, boomed from a sideline loudspeaker as the Marblehead football team wound down practice at Piper Field.
"Runnin' With the Devil" rolled into "Rock The Casbah" before "Gimme Three Steps" blared across the landscape, with Eddie Van Halen's guitar segueing into Joe Strummer screeching about that 'crazy casbah jive' and the late, great Ronnie Van Zant asking for forgiveness before he's shot down by a jealous boyfriend. All the while the Magicians went through their paces, seemingly obvious to the classic rock that surrounded their senses, until the day's proceedings were whistled to a halt and whoops of joy went up.
The six-time defending Northeastern Conference champions are unbeaten once again (3-0) and facing a stern challenge Friday when 2-1 Beverly comes to Piper Field (7 p.m.). And while they're constructed a bit differently than teams of the recent past — not as big in the trenches, but with a lot of speed and skill — they are still an opponent to be very much feared, having won their last 26 regular season games on their home turf.
Tim Cronin, the 6-foot-1, 185-pound speedster out of the backfield, is the offensive centerpiece; the three-year starter has 356 rushing yards and seven touchdowns in three games while averaging better than six yards a carry. Fellow captain Sean McCarthy (8 receptions, 112 yards) and classmate Ryan Freiberger (3 catches, 115 yards) both have a pair of touchdown grabs, and 6-foot-4 Declan Rudloff protects his quarterback's blind side while also wreaking havoc coming off the edge defensively.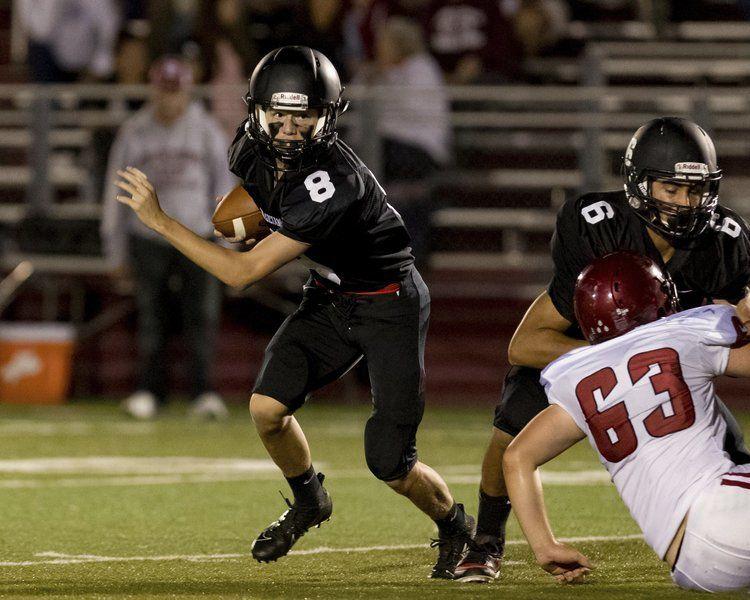 But this edition of the Magicians also has a lot of flexibility. So much so that four different players who could be tabbed as the team's starting signal caller have either found their way into the starting lineup or, in the case of one injured QB, are ready to jump back into the fray.
Sophomore Josh Robertson came into camp fourth on the depth chart but is now the No. 1 guy, having completed 28-of-38 passes for 519 yards and seven touchdowns without a pick. Senior A.J. Russo has found a home at tight end and meshed well with his young teammate, catching six passes for 101 yards and a score thus far.
Another 12th grader, Will Twadell, quarterbacked the Marblehead freshman team three years ago before his family moved to Virginia. Now, after two years of calling the signals for Virginia Episcopal in an 8-man football league, his family returned to Marblehead and the athletic 6-foot, 170-pounder with good ups is now catching passes as a wideout, with his four receptions going for 152 yards and two scores.
Then there's Miles Smith, a strong-armed junior quarterback who was injured during his team's preseason scrimmage with Division 1 power BC High. Based on how he was throwing along the sidelines during Thursday's practice, he's not far from returning to game action — whether that's under center or elsewhere.
"I want to do whatever I can to help the team. They can put me anywhere; let's just get the win," Russo. "I think most of the team thinks that way; the team comes first."
The 173-pounder admitted it was a "tough first week" adjusting to the pounding he took at tight end, but he's since not only become accustomed to it but learned to enjoy the position. The change in position, he said, combined with his knowledge of the offense from his time as a QB, has given him a greater development of what he's capable of doing on the field.
Twadell feels the same way. He's been used as the backup quarterback (running for a bootleg score late in a blowout win over Gloucester), but loves the switch he's made.
"It's the position I've always wanted to play," said Twadell, who is looking into a post-graduate year before heading off to college. "I've always been a QB, so to get real reps at wide receiver, it's been euphoric to me."
Robertson, who is taking most of the snaps, understandably realizes the fortunate situation he finds himself in, piloting a team that wins virtually every time they hit the gridiron.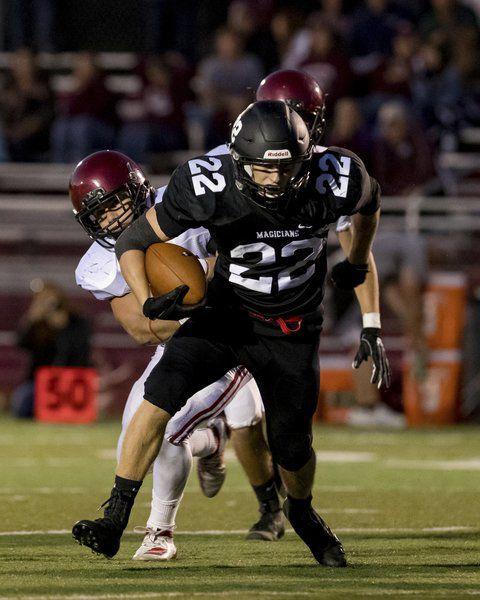 "It's played out pretty luckily for me," said the 16-year-old Robertson. "Taking reps, working on throwing mechanics; it all helps me improve every day. Having AJ at tight end and Will with our other great receivers is a huge help, too. And of course, the offensive line (left to right, Rudloff, junior James Maniaci, seniors Brendan Rowe and Ryan Grohe, and junior J.T. Monahan) helps me a ton." 
Flexibility among its players is a boon to any football team. Three games into the season, an already strong Marblehead squad is reaping those benefits. 
¢¢¢
You may not have noticed, but Bishop Fenwick's Joe Rivers pulled off a rare feat last weekend by going over 100 yards both rushing and receiving in the Crusaders' 44-20 triumph over Arlington Catholic. 
Rivers ran for 111 yards on just three carries and scored twice, including one on a 90-yard gallop. The 6-foot-2, 200-pound Holy Cross bound-standout also caught seven passes for 155 yards and two more visits to the end zone, catching an 11-yard forward pass from Chrys Wilson for a score and then hooking up with him on a traditional 43-yard TD toss.
How rare is it to join the Double Century Club in the same game? The last player to do so locally was Vinnie Gaskins of Salem on Oct. 6, 2017. That year's eventual Salem News Football Player of the Year ran for 186 yards and three touchdowns on 14 carries while also catching three passes for 106 yards and two more scores in a blowout win over Winthrop, 46-7.
Before that, it was Pingree's Johnny Spears who did it on Oct. 19, 2013, rushing for 109 yards and a pair of TDs on 10 carries while snaring seven passes for 181 yards and two more trips to the end zone in a wild 54-48 loss to New Hampton Prep.
Rivers has 126 yards rushing on just seven carries this season and has caught 11 passes for 208 yards and four scores. Add those to his 2018 totals (17 carries for 179 yards and 3 TDs rushing, 9 receptions for 228 yards and 3 TDs receiving), and you find some even more amazing numbers: on those 44 touches of the football since the start of the 2018 season, he has a combined 471 yards (an average of 16.8 yards every touch) and 12 touchdowns. That means he's scoring nearly 30 percent of the time his number is called.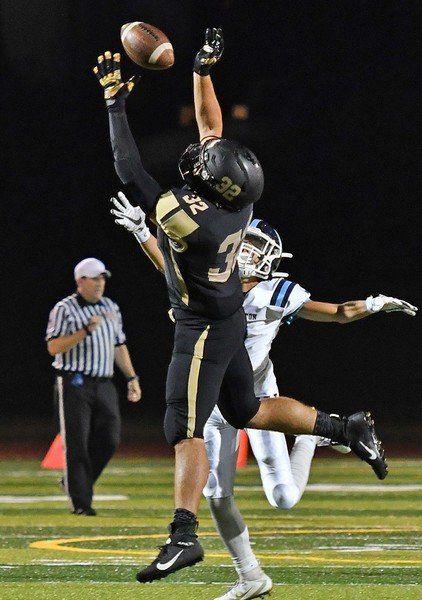 "And on top of it all, he's extremely unselfish and never complains when we sub him out of the game. He just wants to win," Fenwick head coach David Woods said. "Joe has always played with a lot of energy and enthusiasm, which is really contagious. It makes it a lot of fun to coach."
¢¢¢
Steve Dembowski, who'll bring his Milton High team to the North Shore next weekend for a 1 p.m. Saturday contest at Jack Welch Field against host Ipswich, looked back fondly on his time as the head man with his hometown Swampscott Big Blue after picking up his 150th career coaching victory last weekend when the Wildcats downed Walpole, 33-14.
Dembowski, 49, coached in Swampscott for 21 years, including the last 16 of those (1999-2014) as head coach. He compiled a 114-67 mark there, with his win total second only to the legendary Stan Bondelevitch, and his squads won four Northeastern Conference titles (2002, '03, '07, '08). He also piloted the Big Blue to their first Super Bowl crown in 35 years during the 2007 campaign. When did the former Swampscott High and UMass Amherst star know he wanted to get into coaching?
"I knew I could coach in high school when we beat Marblehead (on Thanksgiving) in 1986 after scrapping our 5-3 defense for a 4-4 on the run," he said. "I learned a ton in college about scheme, technique and preparation, so it was a natural fit for me.
"After looking at a couple of college opportunities, I was excited to join Bill Bush's staff. Bill gave me control of the defense when I was just 24," he added. "He put a lot on me -- and I loved it. The kids were awesome and were desperate to be coached. The rest is history." Dembowski, who lives with his family in Milton, will forever be known in these parts -- and really, throughout the state -- for introducing the Spread offense to Swampscott. It paid immediate dividends.
"The spread came about because after early success from 1994-1997, we didn't have the linemen to run the ball vs. the bigger NEC schools. We got smoked in 1998 and 1999 by the bigger schools," Dembowski admitted. "It was clear before I took over that the NEC enrollment had become so lopsided that we would never survive.
"I had just completed a disappointing -- by my standards -- second season (2000) and was looking for answers when I attended the 2001 Massachusetts High School Football Coaches Association Coaches Clinic by myself. I saw Frank Stamilio, a Connecticut coaching legend, speak about his evolution to the Spread and I said 'We can do that'. I knew we had Kyle (Beatrice, the QB) coming up so I went for it and Frank helped me.
"I had to sell everyone on it," he added, "but the kids believed immediately and after the winning our opener (44-30 at Revere), I knew we were on to something. The kids worked hard, and soon more players came out. Guys that never played before wanted to be part of our culture. We solved problems as we went and even started throwing RPOs (run-pass options) in 2008."
Dembowski lists men such as Bush, Jim Reid, Tom Beatrice, Frank DeFelice, Fran York, Stamilio, Bondelevitch and his father, Henry, among his biggest coaching influences. He notes his wife Kristin is not only a constant source of support but has "also been around for 146 of the wins, too", and his two daughters also enjoy being around on game days.
"I love Swampscott and the Big Blue, and will always appreciate what the community did for me as a kid and as the coach," said Dembowski. "Leaving was the hardest thing I've ever done, but the 21 years in Blue were a blessing; I met so many great kids and families. I'm proud of what (current head coach Bob Serino) and the staff are doing now, too; they're mostly my guys."
¢¢¢
Moving The Chains, a column on North Shore high school football, runs each Friday during the fall sports season in The Salem News. Contact Executive Sports Editor Phil Stacey at pstacey@salemnews.com and follow him on Twitter @PhilStacey_SN.
||||