The 2020 NFL Draft is in the books, and the New England Patriots came away with 10 new players. The Patriots doubled down at key positions, including tight end, outside linebacker and guard, while opting not to add a new quarterback or wide receiver. Here's a look at each of the team's selections.
2-37. Kyle Dugger
Lenoir-Rhyne, S
After trading out of the first round on Thursday night, the Patriots selected safety Kyle Dugger out of Lenoir-Rhyne. While not as well known as some of his Division 1 counterparts, Dugger is an elite athlete who saw his draft stock soar after a fantastic performance at the NFL Scouting Combine. The 6-foot-1, 217-pounder from Decatur, Georgia, had the best vertical jump (42 inches) and second best broad jump (11-2) among all safeties and also posted impressive numbers in the 40-yard dash (4.49, sixth) and bench press (17 reps, tied for 11th).
"It's a huge honor and unexplainable feeling. I'm still kinda of shocked, honestly," Dugger said on a conference call after being picked, adding that being drafted was even better than his first Christmas.
Dugger, the 2019 recipient of the Cliff Harris Award granted to the top defensive player in Division 2, was a second-team All-American and first-team All-South Atlantic selection this fall after recording 31 tackles with two interceptions and four pass breakups despite being limited to seven games due to a hand injury. Speaking to the media on Friday, Dugger said he is back to full health while noting that not getting any Division 1 interest has motivated him ever since.
"As far as a chip, there's definitely a mountain on my shoulders," said Dugger, who is also a prolific punt returner. "It's something that I'm going to carry with me as long as I play the game."
2-60. Josh Uche
Michigan, OLB
Following the departure of Jamie Collins and Kyle Van Noy in free agency, the Patriots addressed their need on the pass rush by trading up for Michigan outside linebacker Josh Uche.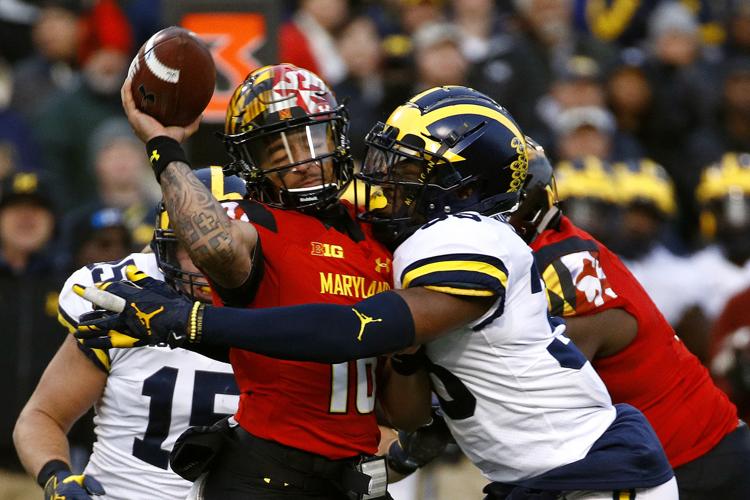 Uche, pronounced OOH-chay, started nine of 13 games as a senior for Michigan this past fall, earning second-team All-Conference honors with a team-high 8.5 sacks on 35 tackles, 11.5 tackles for a loss and two forced fumbles. He also earned Honorable Mention All-Conference honors after posting seven sacks as a junior despite not actually starting any games that season. The Patriots swung a deal with the Baltimore Ravens to land the 6-foot-1, 245-pound pass rusher, dealing the No. 71 and 98 picks to move back into the second round at No. 60. The Patriots also acquired an additional fourth-round pick (No. 129 overall) in the deal.
3-87. Anfernee Jennings
Alabama, OLB
Doubling down on the pass rush, New England also added Alabama outside linebacker Anfernee Jennings. The 6-foot-2, 256-pounder has started for the Crimson Tide for the past three seasons, most recently earning first-team All-SEC honors after posting eight sacks and 12 tackles for a loss. He had 83 total tackles, an interception and five pass breakups in 13 starts last fall.
3-91. Devin Asiasi
UCLA, TE
For the first time since drafting Rob Gronkowski in 2010, the Patriots selected a tight end within the first three rounds of the NFL Draft, trading up to pick UCLA's Devin Asiasi in the third round (No. 91 overall). Asiasi, who is 6-foot-3 and 257 pounds, was a top 50 recruit nationally who initially attended Michigan before transferring closer to home in California at UCLA. Once there he emerged as a key player in Chip Kelly's offense, earning Honorable Mention All-Pac-12 honors this past fall after catching 44 passes for 641 yards with four touchdowns.
The Patriots moved up by trading the No. 100, 139 and 172 picks to the Las Vegas Raiders in exchange for picks No. 91 and 159.
3-101. Dalton Keene
Virginia Tech, TE
Minutes after trading up to select Asiasi, the Patriots traded up back into the third round to select Virginia Tech tight end Dalton Keene.
Keene is renowned as an extremely versatile player whose style of play is modeled after San Francisco 49ers star George Kittle. The 6-foot-4, 253 pound tight end immediately earned a starting role as a true freshman in 2017, and this past fall as a junior he tallied 21 catches for 240 yards with five touchdowns and also occasionally saw action in the running game. He is described as naturally suited for an H-back role, where teams can align him around the formation as needed, and his nickname with the Hokies was "Rambo."
In order to get Keene, the Patriots traded two fourth-round picks (No. 125 and 129 overall), plus a 2021 sixth-round pick to the New York Jets to move back into the third round at No. 101.
5-159. Justin Rohrwasser
Marshall, K
The Patriots have a new kicker to fill Stephen Gostkowski's shoes, drafting Marshall's Justin Rohrwasser in the fifth round.
Rohrwasser, who was the first kicker selected in the 2020 NFL Draft, is among the biggest kicking prospects available at 6-foot-3, 230 pounds. This past fall at Marshall he converted 18 of 21 field goal attempts and the year prior he went 15 for 21 in his first season with the Herd. His best performance came against Western Kentucky, when he went 4 for 4 in the pouring rain including a 53-yard game-winner. Rohrwasser also kicked a 50-yard field goal in the Gasparilla Bowl against UCF.
Prior to his time at Marshall, Rohrwasser also played two seasons at the University of Rhode Island, where he converted 15 of 20 field goals and 39 of 40 extra points.
6-182. Michael Onwenu
Michigan, G
Onwenu is a huge body at 6-foot-3, 344 pounds and was a three-year starter at right guard for the Wolverines. Originally a two-way player as a freshman, Onwenu established himself on the offensive line and did not allow a sack last season, according to Pro Football Focus.
By selecting Onwenu, the Patriots bolster their interior line depth following the departure of Ted Karras in free agency. To move up and pick Onwenu, the Patriots traded two sixth-round picks (No. 212 and 213 overall) to the Indianapolis Colts.
6-195. Justin Herron
Wake Forest, G
The Patriots went back to back on interior linemen in the sixth round, taking Wake Forest guard Justin Herron with the No. 195 overall pick.
Herron was a four-year starter on the Wake Forest line, earning the starting job at left tackle as a redshirt freshman in 2016 and maintaining a starting role for the rest of his career. He missed nearly all of the 2018 season due to a torn ACL but returned this past fall as a team captain and earned third-team All-ACC honors along with a Senior Bowl invite. While he primarily played offensive tackle in college, the 6-foot-4, 308-pound Herron was listed by the Patriots as a guard, where he projects to play as a pro.
6-204. Cassh Maluia
Wyoming, ILB
After taking two pass rushing outside linebackers earlier in the draft, the New England Patriots bolstered the interior of the defense by selecting Wyoming inside linebacker Cassh Maluia to help fill the void left by Elandon Roberts.
Maluia, whose name is pronounced CASH mall-uh-WEE-uh, was an honorable mention All-Mountain West Conference selection this past fall after making 61 tackles with two interceptions in 13 starts as a senior. The 6-foot, 248-pound linebacker saw regular playing time dating back to his true freshman year at Wyoming, establishing himself as a starter by the time he was a sophomore.
7-230. Dustin Woodard
Memphis, C
Woodard started 52 games at Memphis, tying a program record after taking over the starting job two games into his freshman season. The 6-foot-1, 295-pound lineman played left guard, right guard and center over the course of his career, shifting to center this past fall while helping lead the Tigers to an American Athletic Conference championship and an appearance in the Cotton Bowl against Penn State.