Most fifth rounders in the NFL Draft will be crossing their fingers soon. If the 2017 NFL Draft is a decent barometer, half will be out of the league in two years, and then eight more after three years.
They are hoping to cut their teeth on special teams, move up the ladder, and possibly do what tight end George Kittle (49ers) and running back Aaron Jones (Packers) did, shocking the world as elite player as fifth rounders.
Justin Rohrwasser is a different fifth-round dude.
He not only is among the newest New England Patriots, drafted 159th overall in the fifth round, but he's a kicker.
And you know what we do to kickers here in New England, particularly, under Bill Belichick, we change them as often as people change the shingles on their roofs.
Rohrwasser was drafted to be here for the long haul. There is an opening now. So basically, on April 26, it's his job to lose over the next 15 years.
Who is Rohrwasser?
He grew up near Albany, N.Y. He sort of liked the Buffalo Bills, but was more neutral. He started his collegiate career at the University of Rhode Island before transferring to Marshall University.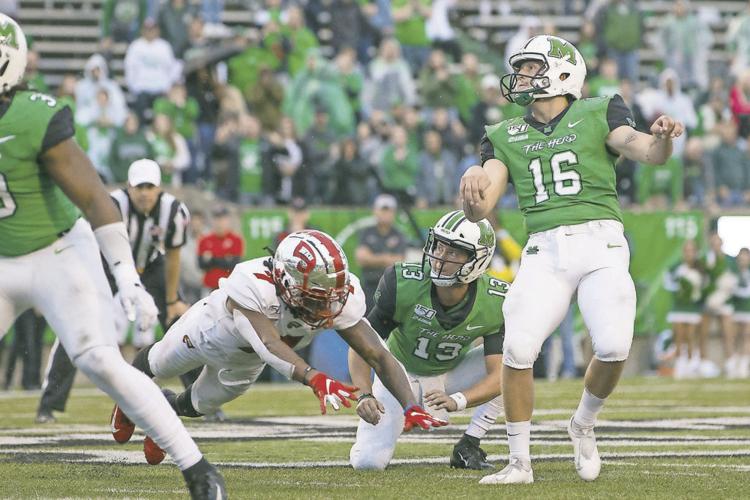 At 6-foot-3 and 235 pounds, huge for a kicker, he's got several tattoos, including an anti-government "The Three Percenters" (13 stars around the Roman Numeral III) which he said doesn't portray his true beliefs.
But that's not important to Patriots fans. This part is:
He's basically the field-goal-kicking version of Dustin Pedroia.
His confidence goes to the moon and back.
This is a classic Bill Belichick pick, much like his first (D2 star safety Kyle Duggar) and second (Michigan's Josh Uche), who were deemed either overrated or undersized.
Most draftniks had only one, two or three kickers drafted, at most. Rohrwasser was not on anybody's list.
Yet, Belichick chose him as the first kicker.
Oh yeah, he did apparently pass a Belichick test en route to yesterday's draft.
"I did a psychological test with them, and that stood out to me because I think that kicking, a lot of it is mental," said Rohrwasser. "The fact that they were looking into that and what my mental makeup was, and Coach [Cam] Achord came to my pro day and got to watch me in person, have a conversation with me that morning.
"I think they put a lot of attention to who the player is as a person," added Rohrwasser, "to figure out what kind of guy they're getting.
Rohrwasser has a few other things going for him.
Like production.
Rohrwasser hit on 18 of 21 field goals this past fall, including a 53-yarder as time expired in the homecoming win over rival Western Kentucky.
The other thing about that kick was that it came while raining. In fact, he was 4 for 4 that day.
Rohrwasser was named Conference USA's Special Teams Player of the Year.
But it is comments like this that make you feel good, maybe even better about this pick, than any made.
"Every kicker can kick a ball straight and hard over 55 [yards]," said Rohrwasser. "Almost all college kickers can do that, but it's the ones that can do it consistently under pressure in situations like a pro day or during the season. In practice, most guys are great. It's when the lights are on, that's when you've got to show what you're made of."
Trust me, the lights are never brighter than they are in Foxborough ... on practice days.
This fifth rounder may have passed Belichick's psychology test with flying colors, but it won't compare to the tests he'll receive Monday through Saturday.
It's there he will earn his coach's and teammates' respect. And the fans will be there on Sundays, where they will approve or boo.
Welcome to The Bigs, kid. After nearly a quarter-century of Adam Vinatieri and Stephen Gostkowski, it doesn't get any bigger for a kicker than this place.
You can email Bill Burt at bburt@northofboston.com.