Have Cam Newton's days as New England's starting quarterback come to an end?
It seems likely, meaning the Patriots should once again be looking for a new quarterback this upcoming season.
If this is it for Newton, how did he ultimately do? He certainly finished strong, throwing for 242 yards and three touchdowns in Sunday's season-ending win over the Jets, and he also performed as advertised in the running game (592 rushing yards, 12 touchdowns). But outside of that he was generally ineffective, finishing with 2,657 yards and eight touchdown passes against 10 interceptions.
Needless to say, Newton didn't perform at the level most expected when he signed this past summer. But with the benefit of hindsight, could the Patriots realistically have done any better?
Before we dive into the alternate history rabbit hole, let's make a few assumptions. One, Tom Brady's time in New England had run its course and he was going to leave no matter what. Two, the Patriots weren't going to make any trades into the top 10 of the draft to pick someone like Joe Burrow, Tua Tagovailoa or Justin Herbert. And three, the Patriots weren't going to make a similar trade for a top tier starter with years still on their contract for guys like Patrick Mahomes or Russell Wilson.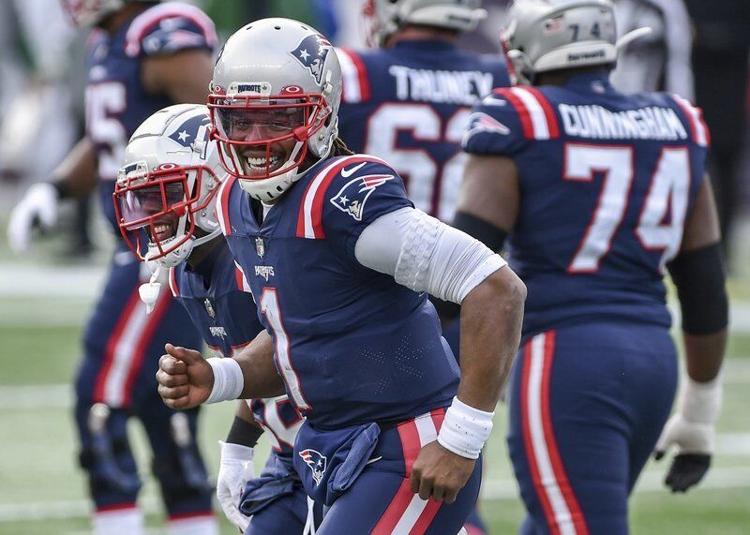 That all being said, who else was out there the Patriots could have realistically brought in?
Best case scenario: Ryan Tannehill
Of all the free agent and rookie quarterbacks the Patriots could've theoretically made a play for last year, the best option by a wide margin in terms of production would've been Ryan Tannehill. The 32-year-old, who re-signed with the Tennessee Titans on a four-year, $118 million contract, is enjoying the best season of his career, having finishing the regular season with 3,819 yards, 33 TDs and just seven interceptions while leading the Titans to an AFC South title.
Going back a bit further, Tannehill has been one of the NFL's most productive quarterbacks since supplanting Marcus Mariota as the Titans' starter last fall. In 29 games since officially taking over in Week 7 of 2019 (including three playoff games), Tannehill has posted 6,786 yards, 60 touchdowns and 13 interceptions while leading Tennessee to a 20-9 record. For comparison, Mahomes has thrown for 8,477 yards, 64 touchdowns and 13 interceptions in his last 29 games, also including the Chiefs' three playoff games last season.
Signing Tannehill wouldn't have come without its challenges. For one, it would have been prohibitively expensive, especially given that the Patriots didn't yet know they'd have so much cap space at their disposal after losing eight players to COVID-19 opt-outs. Tannehill is also on the older side. But given his recent production it's fair to say that if the Patriots had found a way to accommodate his salary and pried him away from the Titans, the team's quarterback situation would be in good shape for at least the next couple of years. 
Worthwhile investments
The next best option likely would have been Philip Rivers, who despite being 39 has remained productive in his first year with Indianapolis. Rivers led the Colts to a 11-5 record and a playoff appearance while throwing for 4,169 yards, 24 touchdowns and 11 interceptions. He would have been slightly cheaper than Tannehill at one year and $25 million, but given his complete lack of mobility it's not clear his improved passing numbers would have offset the benefits Newton offered in the run game.
Even if Rivers was able to get the Patriots into the playoffs, he'd still have only been a short-term stopgap given his age, meaning New England would still need to identify a long-term starter going forward.
Of the other free agent quarterbacks available last offseason, the only other one who might have been worth signing was Teddy Bridgewater. But he didn't exactly light it up for the Carolina Panthers this fall, throwing for 3,733 yards and 15 touchdowns against 11 interceptions while rushing for 279 yards and five scores. He was also benched in Carolina's season finale for former XFL star P.J. Walker.
After signing Bridgewater for three years and $63 million, the Panthers surely hoped for better than that. Given that the Patriots got somewhat comparable production out of Newton for a fraction of the cost – factoring in incentives, Newton made roughly $4-5 million – passing over Bridgewater was probably the right call.
A diamond in the rough?
In terms of draft targets, there weren't many rookies who made an impact this fall that the Patriots could have realistically selected. Unless you think Green Bay Packers first rounder and Aaron Rodgers' heir apparent, Jordan Love, could have made a difference right away, the only other QB available who the Patriots could have potentially selected was Jalen Hurts.
The former Alabama and Oklahoma star went in the second round (No. 53 overall) to the Philadelphia Eagles and eventually supplanted Carson Wentz as the team's starter. In five starts to finish the season, Hurts posted 1,028 passing yards, six TD passes and four interceptions while rushing for 301 yards and three scores. Projected over a 16-game season, that would equate to 3,289 yards, 19 TDs, 13 INTs, 963 rushing yards and 10 rushing scores.
Obviously it's hard to compare Hurts' actual and hypothetical production to what his production might have been in New England, but at the very least he looks like a quality NFL quarterback. But the Patriots could have easily drafted him last spring even after trading out of the first round. Assuming they wound up with the same collection of picks, the Patriots could have selected Hurts at No. 37 overall instead of defensive back Kyle Dugger.
But would that have been the right call? Dugger had a strong rookie year and looks to be a big part of New England's defense going forward, and it's hard to imagine Hurts leading the Patriots to a better record than 7-9 given the early growing pains he surely would've gone through.
In the short term at least, it's safe to say the Patriots options at quarterback were limited for 2020. Newton may not have been great, but he may have been as good as the Patriots could have realistically hoped for.
||||