ST. LOUIS  — It would be easy to get complacent.
Coming off of a 7-2 beatdown of their hosts Saturday night at the Enterprise Center, who could blame the Boston Bruins for feeling good about themselves? There was so much to like: shooting out to a 3-0 first period lead; scoring on all four of their power play opportunities (needing just 4 shots to produce that quartet of goals to boot); sending rookie goalie Jordan Binnington to an early shower; staying disciplined and not retaliating to St. Louis' roughhouse tendencies in the third period, and so on and so on.
But complacency is for those satisfied with their performance.
Bruce Cassidy was not satisfied, and made sure his team knew about it.
Resting on one's laurels does not lead to championship glory. So with the Bruins now just two wins away from their second Stanley Cup championship of the decade, Cassidy and his coaching staff are doing everything they can to squeeze even more out of their players in an attempt to raise their level of play and improve on areas that need sharpening up.
"I don't think we did everything great (Saturday night), to be honest with you," Cassidy said Sunday during an off day in the series. "We were very opportunistic; obviously our power play. We did enough things well early to get the lead and extend the lead.
"But in the second period, we didn't manage the puck as well as we'd like. Some of the adjustments we made with our breakout worked out well at times, but there's certainly a lot of room to elevate our game."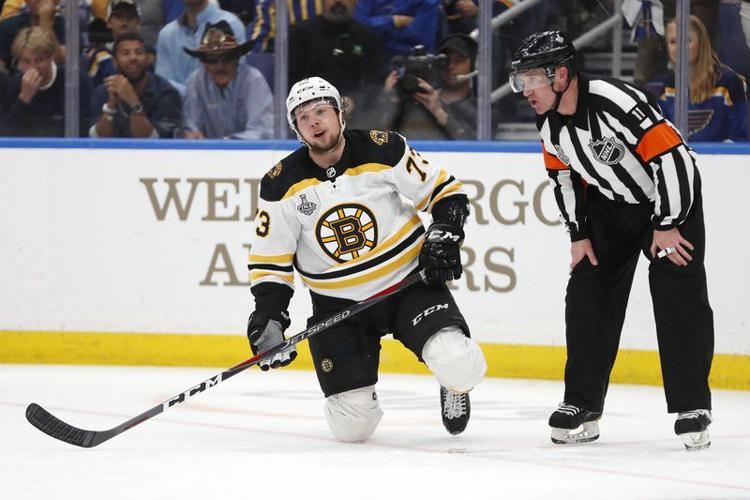 This wasn't a tongue lashing on Cassidy's part; he knew his players, coming off of a lackluster Game 2 performance that resulted in a 3-2 overtime loss back in Boston, responded in the best possible way by taking the Blues, and their home fans, out of the game before the first period was over. For an organization celebrating its first Stanley Cup contest on home ice in nearly a half-century, this was no small feat.
"We're happy with it, don't get me wrong," Cassidy said, "but it was far from perfect. I think our guys recognize that, so it should be their mindset." 
Making adjustments, be they large (putting David Backes on second line right wing earlier in the playoffs) or small (tweaking a forecheck), are what's gotten the Bruins to this point. To stop doing so now would simply be foolish.
"One of the main things Butchie harps on a lot is 'on time starts'," said defenseman Charlie McAvoy. 'That doesn't matter whether you're at home or on the road; we want to start the game on time and put your foot down as fast as we can. I think we were able to do that for pockets (of the) last game, but obviously there's a lot of things we can work on."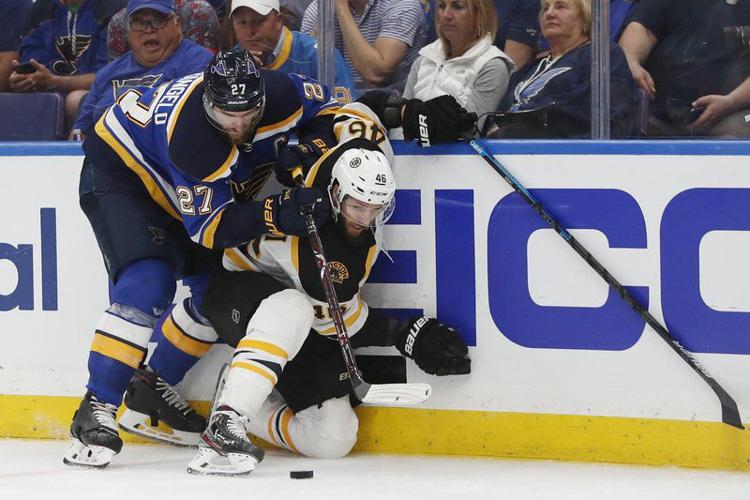 Veteran center David Krejci took it a step further, speaking for everyone in the room when he said he's cognizant the Blues have responded well to a loss in these playoffs, and that the Bruins expect them to come out in desperation mode when the puck drops Monday night. Knowing that, they went to work Sunday making the necessary tweaks they'll need for Game 4.
"We always want to make adjustments after a loss or after a win," Krejci said. "We had some good video sessions this morning and I'm sure we'll have more for (Monday). That's our focus; just play our game."
No parades will be officially planned, nor will the Cup engravers be notified of particularly hard to spell names (Grzelcyk, anyone?) if the Bruins win Monday night. But another victory on the Blues' home ice would be, if not a series knockout, certainly a staggering blow — and put Boston one step away from the everlasting glory it craves.
###
Phil Stacey, the Executive Sports Editor of The Salem News, covers the Boston Bruins for CNHI Sports Boston. Contact him at pstacey@salemnews.com and follow him on Twitter @PhilStacey_SN