BOSTON — Life is all about opportunities. Making them and taking them. 
Pounce on those opportunities presented, and good fortune will almost always smile down upon you. 
Now halfway to reaching the Stanley Cup Final for the third time in nine seasons, the Boston Bruins are cashing in on their opportunities as if they were birthday checks mailed from sweet ol' Grandma.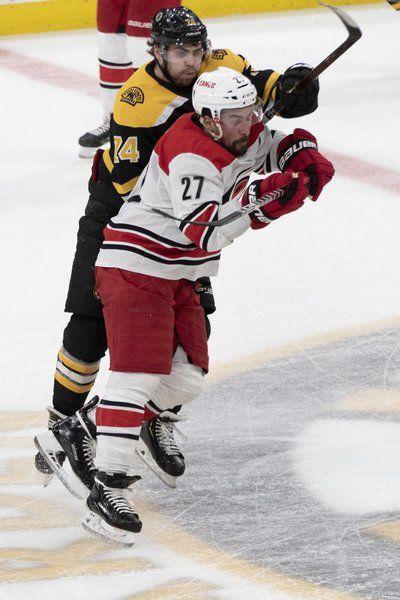 A 6-2 Mother's Day pasting of the Carolina Hurricanes Sunday continued to hammer home the point that these Bruins have collectively made the entire postseason: responding to every challenge put in front of them and eviscerating any foes foolish enough to give them the freedom to work their magic.
"The whole 60 (minutes) we were on them. We played hard. We really didn't give them an inch," goaltender Tuukka Rask remarked after his 21-save victory, Boston's fifth straight of the playoffs. 
Hometown boy Matt Grzelcyk, whom fellow defenseman Torey Krug jokingly referred to as 'The Mayor of Charlestown', scored a pair of goals; the first came after he absorbed a powerful hit from Carolina's Micheal Ferland in front of the Bruins' bench 2-plus minutes into the contest.
"That's the playoffs: there are times you have to take a hit to make a play," captain Zdeno Chara said.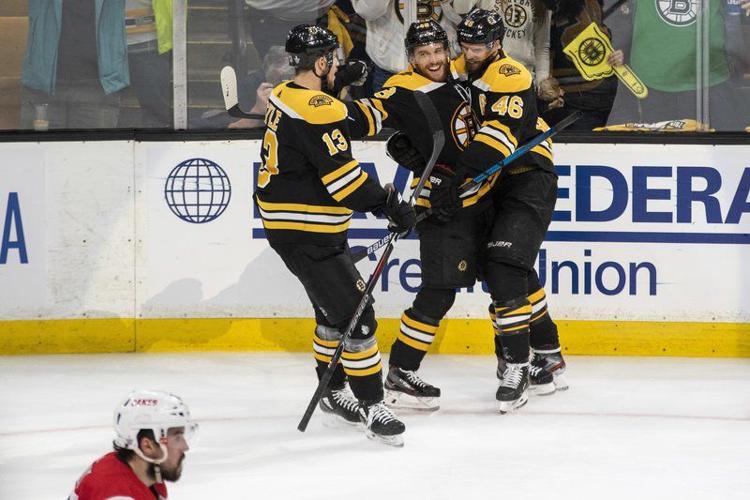 Charlie Coyle, another Bay State native, continued his brilliant postseason with three helpers and a plus-3 rating — not to mention winning a dozen of the 15 faceoffs he took. Fellow third liner Marcus Johansson dished out two assists, including a feathery pass across the slot to defenseman Connor Clifton, resulting in the rookie rearguard's first NHL goal.
That snipe made Clifton the 19th different Bruin to score a goal during these playoffs, tying the club record set during the 1988 squad's blitz to the Cup Finals.
"I think it's pretty self explanatory; there's obviously a lot of character in this room," said Clifton. "We don't rely too heavily on one individual, and it's very team oriented. It's awesome."
When the Hurricanes came out insistent on attacking Boston physically, the Bruins responded in kind: first with some mashing of their own — Grzelcyk on 'Canes defenseman Brock McGinn, Brandon Carlo on Warren Foegele, and especially David Backes on Lucas Wallmark — then responding where it hurts the most: on the scoreboard.
Krug got tangled up with McGinn away from the play; they ended up on the ice and McGinn threw a punch at Krug. Referee Gord Dwyer raised his arm for a delayed penalty, Rask skated off the ice for an extra attacker, and soon Johansson fed Grzelcyk in the lower left circle to give Boston a 1-0 lead 15 minutes in.
Opportunity cashed in.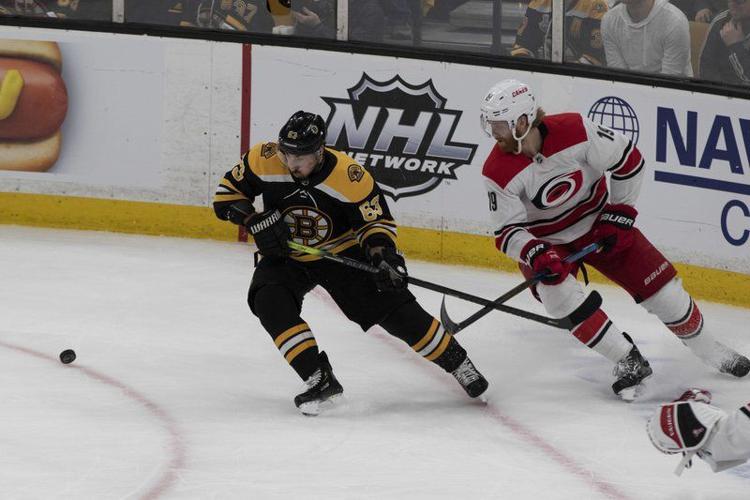 When Carolina captain Justin Williams was whistled off for tripping a minute and four seconds later, Jake DeBrusk needed just 16 seconds to shove in his own rebound past Petr Mrazek to double Boston's lead. Clifton didn't lose focus when Johansson's pass to him hit the tip of Canes defenseman Greg McKegg's stick; he simply kept driving to the net and rifled the shot into a wide open cage for a 3-0 advantage.
"I think that any time you have multiple guys helping your team out in that aspect, it makes us a tough team to beat," DeBrusk said.
When Coyle drew two Hurricanes defensemen towards him as he drove into the offensive zone, then slid a pass to a trailing Grzelcyk before continuing towards the net (and taking Carolina's rearguards with him), it enabled Grzelcyk to take it hard to the net, turn to his backhand and lift over and past a beleaguered Mrazek to make it 4-0 after two.
All three goals were borne from hard work and the ability for Boston's players to put themselves in favorable situations.
Opportunities cashed in.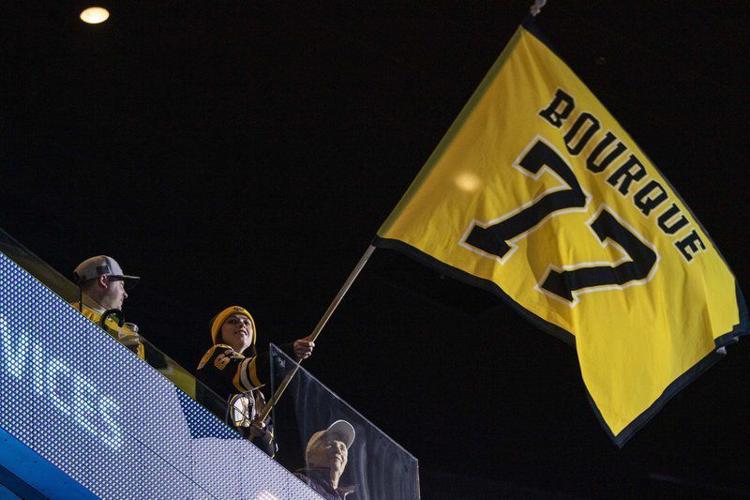 It's pretty apparent that the Bruins have also gotten into Carolina's collective heads. On the lead up to Grzelcyk's second goal, Brad Marchand goaded the normally mil-mannered Williams into a holding penalty far away from the puck at the other end of the ice — then mockingly pointed to the penalty box. Grzelcyk made it hurt with his man-up strike.
By the time Backes and Heinen (the latter coming off of a pretty feed by Patrice Bergeron as he got out of the penalty box) scored within the first five minutes of the third period, this one had been long decided. Two garbage time goals by Carolina didn't change that; 
The Bruins scored 10 straight goals from the start of the third period in Game 1 until Heinen's shot made it 6-0 Sunday afternoon. They outhit a Hurricanes team (35-27) that clearly wanted to win that battle, had a decisive 58 percent success rate in the faceoff circle and, thanks to another stellar showing defensively, only allowed 23 of the visitor's 41 shot attempts reach Rask.
They also left some fans wondering: will the next time they see the Bruins on TD Garden ice be Game 1 of the Stanley Cup Final?
¢¢¢
Phil Stacey, the Executive Sports Editor of The Salem News, covers the Boston Bruins for CNHI Sports Boston. Contact him at pstacey@salemnews.com and follow him on Twitter @PhilStacey_SN