BOSTON — Nastiness. Lots and lots of nastiness.
The intensity, emotions and physicality were all ramped up considerably Wednesday night at TD Garden. Sticks were raised in anger, tempers flared like Roman candles on the Fourth of July, a combined 81 hits were delivered, and the hatred that some wondered might not come in this Stanley Cup Final certainly began to manifest itself.
It ultimately was not a good evening for the Boston Bruins. First they lost one of their best blue liners of these playoffs, then they lost the game itself in overtime — and any momentum they previous had carved out for themselves in this Stanley Cup Final.
Matt Grzelcyk never returned after after taking an elbow to the head by the Blues' Oskar Sundqvist late in the first period. The Blues, who had their collective skate blades on the accelerator for the full 60-plus, went on to win it 3 minutes and 51 seconds into the extra session when defenseman Carl Gunnarsson boomed home a slapshot inside the blue line on a delayed penalty.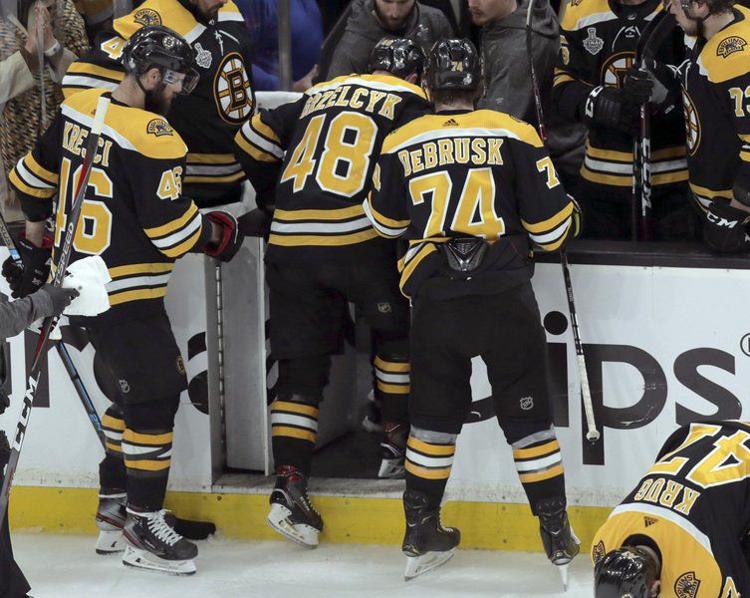 That goal won the game for St. Louis, 3-2, providing the 52-year-old franchise with its first-ever triumph in a Cup Final. It also squared the series at one win apiece as the Bruins must now try to wrestle back the lead in St. Louis, with Game 3 set for Saturday at the Enterprise Center and Game 4 taking place two days later.
"Missing Grizzy and his presence is definitely tough. H's very positive on the ice and on the bench," fellow blue liner Brandon Carlo said after the game. "The way he moves the puck and gets us out of our zone, he does a really good job of that. It helps the other guys on the ice starting the offense, so that was definitely missed."
The Bruins certainly had to know that the Blues would come out mean and hungry following their Game 1 loss Monday. Missing young forward Robert Thomas — M.I.A. for Game 2 after the now-infamous truck job that Bruins defenseman Torey Krug performed on him during the third period of the opener — was like pouring gasoline on a fire to the Western Conference champs.
So the Blues made it their mission to come out hitting anything wearing a Black-and-Gold sweater on this unseasonably cool late May evening, intent on not letting their hosts control the flow of play as well as the momentum.
Even as the teams traded goals in the first period — Charlie Coyle (on the power play) and Joakim Nordstrom potting scores for Boston, Robert Bortuzzo and Vladimir Tarasenko answering for St. Louis — the Blues were hell-bent in proving they would do anything to to remain viable in this series.
So when Sundqvist, a fourth line center, came in high and hard on the forecheck and blasted Grzelcyk in the head with just over two minutes left in the opening frame, the defenseman was down on the ice for a spell. He finally got to his feet and slowly skated back to his bench, heading straight down the runway to be checked out.
At that point, Game 2 shifted.
So, perhaps, did the series itself.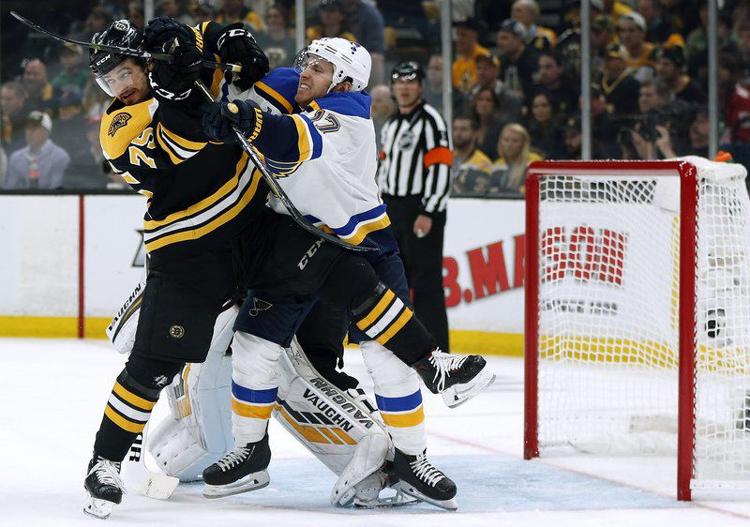 "Our D had to take on more responsibility," said Coyle about the aftermath of the hit on Grzelcyk. "Not that they can't, but it's just not an ideal situation. You have a guy like Grizz come out (of the lineup); he's such a good skater and he's so smart. He brings a lot to our team."
In Grzelcyk's absence, Charlie McAvoy ended up playing an even 27 minutes, Krug exactly one minute less. Captain Zdeno Chara, whose minutes have been carefully monitored during the playoff run, logged 25:45 and Carlo checked in at two seconds under 23 minutes. 
Grzelcyk's night entailed just seven shifts covering 4 minutes and 29 seconds of ice time.
"We tried to not get overly exerted with our shifts and stay out there too long," Carlo said, "changing fast and getting all five guys moving. But there were definitely times where you get hemmed in, and it becomes difficult at those points."
Should Grzelcyk miss any time moving forward as the series shifts to St. Louis for Games 3 and 4 Saturday and Monday, the question becomes: who'll replace him? He's done a great job paired with Clifton as the No. 3 unit and also adds to the strength of the second power play group, so any extended absence would certainly be felt.
With alternate captain Kevan Miller getting close to a return to game action but likely not quite ready, the Bruins would have two options: John Moore (the likely option given that he, like Grzelcyk, is a left shot) or Steven Kampfer. Steady and defensive minded, both are suitable fill-ins, but each lack that oomph that Grzelcyk brings on virtually every shift.
There's also the possibility that St. Louis could be without Sundqvist, should the NHL deem his hit to the head suspendable.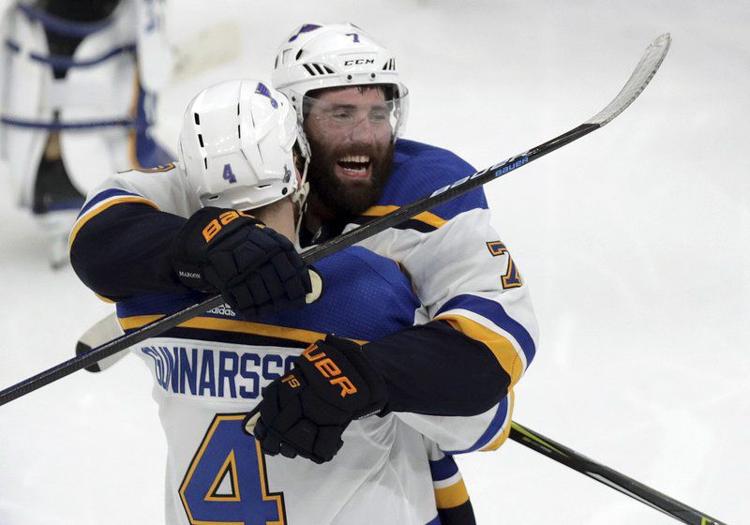 Playoff hockey is a game of attrition. When bodies collide at high speeds in confines spaces, injuries are bound to occur.
"We've had that mentality all year: next man up, with each guy on the back end being out a significant amount of time all year," said Carlo. "Hopefully, we can continue to do that."
We'll find out this weekend in St. Louis.  
### 
Phil Stacey, the Executive Sports Editor of The Salem News, covers the Boston Bruins for CNHI Sports Boston. Contact him at pstacey@salemnews.com and follow him on Twitter @PhilStacey_SN