They could not possibly have asked, or dreamed of, a better script.
In a thorough 7-2 dismantling of the St. Louis Blues Saturday night at the Enterprise Center, the Boston Bruins checked off a whole lot of boxes en route to taking a 2-1 lead in this Stanley Cup Final. These included:
* Survive an early push by the home team, which was playing its first Cup Final game on home ice in 49 years
* Score the first goal
* Take the home crowd out of the contest
* Convert on their power play opportunities
* Win the physical battle
* Get a solid team-wide defensive effort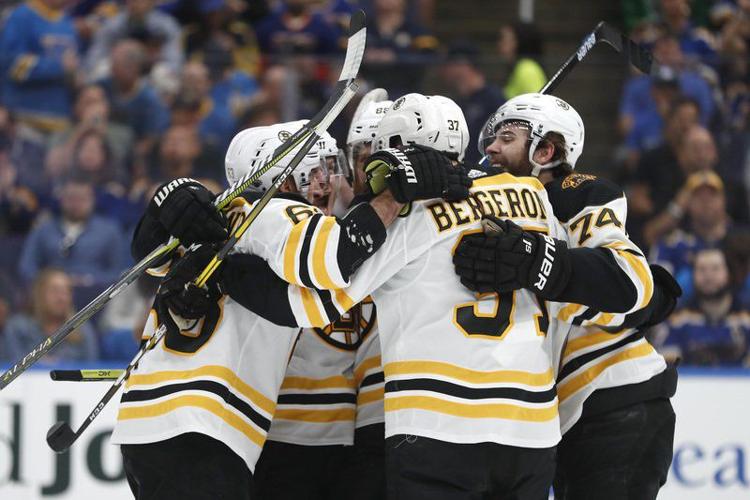 The Bruins did all of this and more, chasing Blues rookie goaltender Jordan Binnington a little more than halfway through the contest by scoring five goals on 19 shots. They connected for a staggering four power play goals ... on just four shots.
More importantly, they grabbed the series momentum back from this plucky St. Louis club, ensuring themselves of no worse than a split in the two Missouri games.
As flat and lethargic as they looked for large stretches of Game 2, resulting in an end to their eight-game playoff winning streak, Boston put their skates down on the accelerator full throttle Saturday night and refused to let up. The Blues were left scrambling, wondering what kind of Blue-and-Gold bombshell had hit them on what they hoped would be a night for the ages.
Turns out it was ... just not for the Blues.
Patrice Bergeron seems to be gutting it out through some type of (lower body?) injury, which has hampered his play somewhat. But he was feeling pain-free after tipping defenseman Torey Krug's power play shot up and over Binnington's glove, staking Boston to a 1-0 lead at the 10:47 mark. Seven of No. 37's nine tallies in these playoffs have now come on the man advantage.
Krug finished with four points, the first Bruin ever to do so in a Cup Final.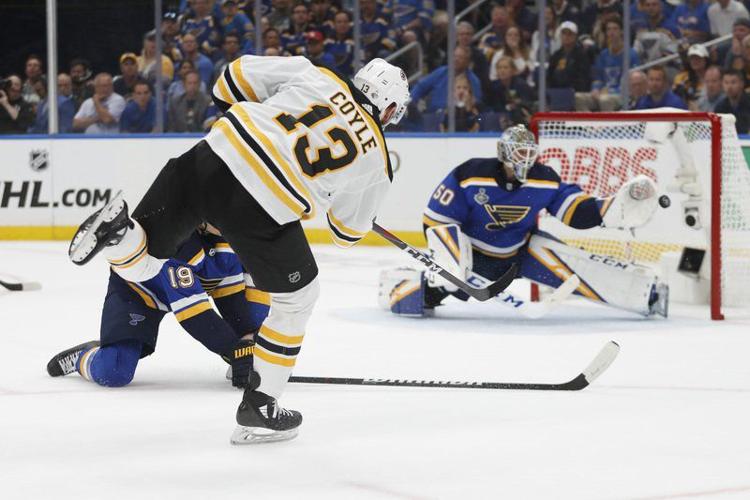 Bergeron, who finished with a goal and two assists, along with his wingers Brad Marchand and David Pastrnak, lived up to their 'Perfection Line' billing for the first time in the Final. They attacked St. Louis by both carrying the puck into the zone as well as chasing it down after it was dumped in. With possession in the offensive zone, they generated scoring chances and buzzed the Blues' defensemen at every opportunity.
That opening goal proved to be just an appetizer for the visitors, though. A picture perfect Marcus Johansson to Charlie Coyle pass through the slot was sent whistling past Binnington seven minutes later, and with 10 seconds to go before the first intermission Sean Kuraly used Blues captain Alex Pietrangelo as a screen by whipping a wrister by the first-year keeper for a 3-0 Boston lead. 
The home crowd, frothing at the start of their first Cup game in a half-century, were now more quiet than a sinner sneaking into the confessional booth.
It didn't end there, either. Inexplicably left all alone during a power play, Pastrnak backhanded a shot over Binnington in the first minute of middle stanza as Boston's lead swelled to four.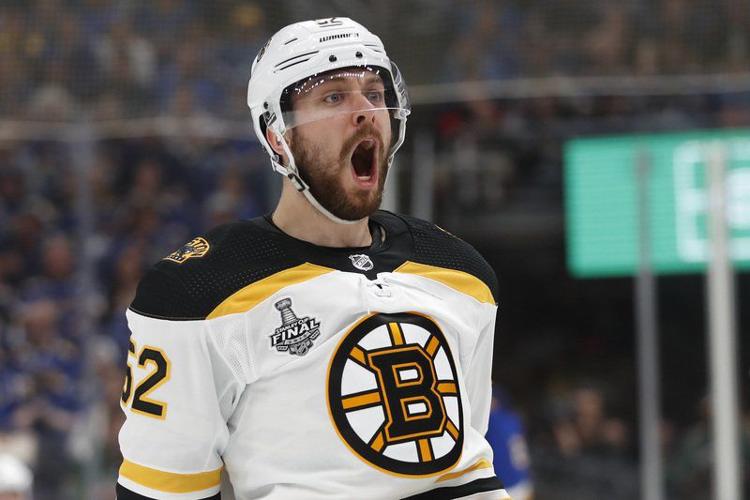 Even after St. Louis finally put a puck past Rask, the Bruins answered just 67 seconds later as Krug drove Binnington from the game with his team's third power play goal in as many chances, making it 5-1. The Blues scored their first power play goal of the series early in the third period, but an empty netter by Noel Acciari and an ensuing man-up goal from Johansson put a definitive stamp on a decisive triumph.
Having accomplished their mission -- win at least one game in St. Louis -- the Bruins can now focus on keeping this same momentum on their side as they turn to Monday's Game 4 back at Enterprise. A similar effort could send them back to Boston one game away from clinching the Cup.
###
Phil Stacey, the Executive Sports Editor of The Salem News, covers the Boston Bruins for CNHI Sports Boston. Contact him at pstacey@salemnews.com and follow him on Twitter @PhilStacey_SN