On Pro Hockey
Phil Stacey
BOSTON — The answer to the Boston Bruins' need for a top six forward may reside just 25 minutes north of the TD Garden.
Well, technically that's inaccurate. Boxford isn't where New York Rangers left wing Chris Kreider currently resides, but rather where he hails from.
And he could be the perfect cure for what ails the Bruins up front.
Think about it. The 6-foot-3, 216-pound power forward who starred at Masconomet, Phillips Andover and Boston College, barreling down the left wing boards and driving hard to the net — while wearing a Black-and-Gold sweater. Or taking feathery passes from David Krejci as his second line left wing. It's an enticing thought for any Bruins fan.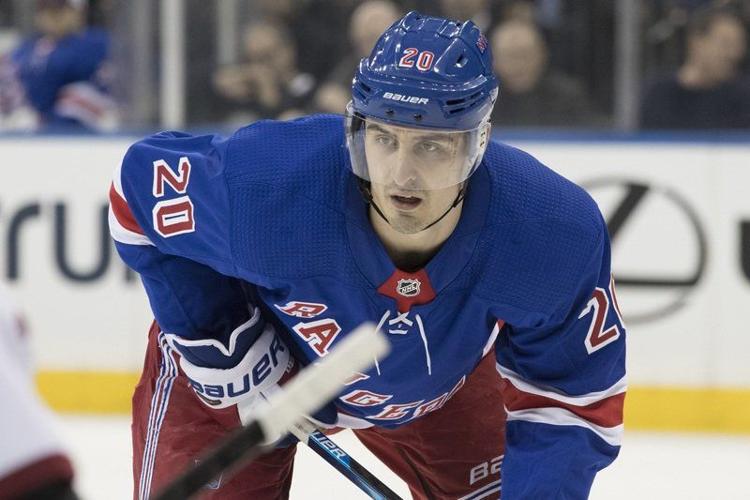 Kreider is 28 years old, is an outstanding skater for a big man, has a rocket shot and can be mean when the situation calls for it on-ice. He has a respectable 14 goals and 29 points in 43 games for a rebuilding Rangers team. He played in his 500th NHL game last week, and with a goal and an assist in Thursday's 6-3 win over the Devils, he now has an even 300 career points (147 goals, 153 assists).
Well-liked by his teammates, Kreider serves as an alternate captain and has already had a few deep playoff runs with the Rangers, including a trip to the Stanley Cup Final in 2014. His remaining cap hit this season, according to capfriendly.com, is around $2.1 million.
But he's also heading towards unrestricted free agency, which is why many folks feel he'll be dealt prior to (or on) the NHL's February 24 trade deadline. Reportedly, Kreider and the Rangers have been talking about an extension, but no progress has been made.
So the Bruins, who for the second straight game used Anders Bjork next to Krejci Thursday night against Winnipeg, could certainly use the strapping local boy to help in their efforts to return to — and win — the Stanley Cup. Think Charlie Coyle, a Weymouth kid who was a trade acquisition from Minnesota a year ago, but with a bit more flair and panache.
There are impediments in Boston's way, however.
The biggest is that the Bruins are hardly alone in their pursuit of Kreider. A cavalcade of playoff contenders also have the same mindset as Boston, feeling landing a big fish like Kreider could reap a plentiful harvest when the postseason rolls around. The Pittsburgh Penguins, Colorado Avalanche, Tampa Bay Lightning, Calgary Flames, St. Louis Blues and Vegas Golden Knights are just some of the squads who wouldn't mind fitting Kreider for a brand new No. 20 sweater. 
Pittsburgh needs a forward riding shotgun with Sidney Crosby since Jake Guentzel is out 4-6 months with a shoulder ailment. But would the Rangers deal Kreider to a Metropolitan Division rival, even if he's only a rental?
Colorado has shown it's ready to go for glory now and would love to add a player of Kreider's stature. The defending champion Blues, who are without injured top scorer Vladimir Tarasenko, could also use some of Kreider's combined scoring and snarl. Vegas might be a wild card destination, but you can never count out the ever-forward thinking Golden Knights.
Calgary would no doubt love to land Kreider, but rumors swirl that there's a limited no-trade clause in his contract which prohibits him from being dealt to any Canadien clubs.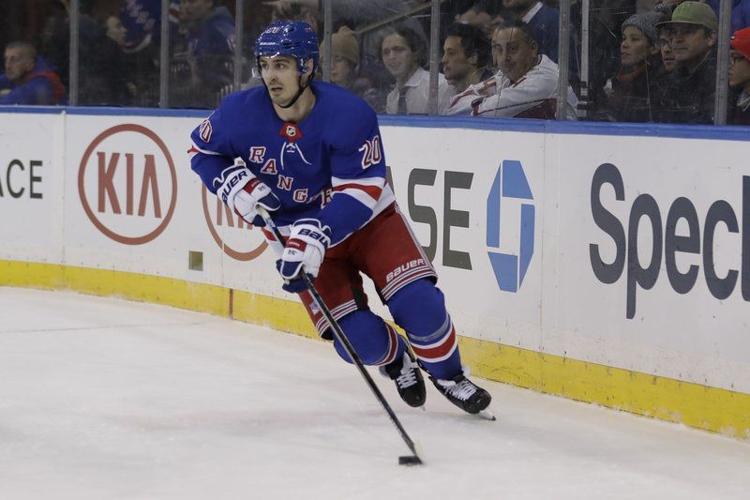 Then there's Tampa Bay, which would be a nightmare scenario for the Bruins. They've dealt with the Rangers in the recent past (Ryan Callahan, Ryan McDonagh, J.T. Miller), and the Lightning have the resources to deal for Kreider, as they own Vancouver's No. 1 pick in 2020 as well as their own. The question is: would a deep Tampa unit even need Kreider as a top six forward? Would it make sense to trade for him if they wanted his services as a third liner? Or will they get in on the bidding simply to drive up the price for other suitors?
The Bruins also have their own salary cap issues to deal with. Landing a player such as Kreider will take some maneuvering from general manager Don Sweeney, depending on whether the Rangers are looking for a young proven NHLer in return (Danton Heinen?) as well as a high draft pick and possibly a lower, conditional pick. 
Then there's the issue of Kreider being a rental player. If he's dealt, there's no guarantee he'll sign a contract with said organization when his current deal expires. How much are the Bruins willing to pony up for a player who might not be here come July 1st?
There are certainly other wingers the Bruins could turn to for second line help. Tyler Toffoli of the moribund Kings is a name that keeps cropping up in trade talks; same with New Jersey's Kyle Palmieri. Other off-the-radar types (Anaheim's Ondrej Case? Ottawa's Jean-Gabriel Pageau?) could also come into play.
The Bruins were burned after trading for Rangers winger Rick Nash two years ago prior to the deadline. Giving up a first round pick, two fringe NHLers in Ryan Spooner and Matt Beleskey, a college defenseman and a seventh round pick for his services, Nash barely made but a ripple in Black-and-Gold before retiring due to lingering injuries. 
But Nash was 33 years and far past his prime. Kreider is five years younger, still in his prime and worth the price they'd have to dole out for his services.
If they're serious about making another push to win a Stanley Cup, the Bruins should also make the push and do what they can to land Kreider before someone beats them to it.
###
Phil Stacey, the Executive Sports Editor at The Salem News, covers the Boston Bruins for CNHI Sports Boston. Contact him at pstacey@salemnews.com and follow him on Twitter @PhilStacey_SN
CHRIS KRIEDER'S NHL STATS
Season GM G-A-Pts. +/- PIM
 2012-13 23 2-1-3 -1 6
2013-14 66 17-20-37 14 72
2014-15 80 21-24-25 24 88
2015-16 79 21-22-43 10 58
2016-17 75 28-25-53 6 58
2017-18 58 16-21-37 -2 44
2018-19 79 28-24-52 4 57
2019-20 43 14-15-29 4 42
TOTALS 503 147-153-300 59 425
||||