Is there any young duo in the NBA's Eastern Conference more talented than Boston Celtics' swingmen Jayson Tatum and Jaylen Brown? 
A quick glance down the rosters of the other 14 teams in the East should help us arrive at that answer in swift fashion. 
We can start by immediately eliminating players from this year's non-playoff squads: the Cleveland Cavaliers, Atlanta Hawks, Detroit Pistons, Chicago Bulls, Charlotte Hornets and Washington Wizards.
The Hawks have certainly found something in Trae Young and John Collins, but the latter has yet to blossom into his full potential.
In Washington, Bradley Beal and a pre-injury John Wall might make a good case. But Wall missed the entire 2019-20 campaign, so we can automatically disqualify that tandem.  
In Chicago, Zach LaVine and Lauri Markkanen are both terrific, but their strong play only amounted to 22 wins for their team this season.
Then there's the contenders. 
Fred Van Vleet and Pascal Siakam have teamed up in Toronto to fill the void left with Kawhi Leonard's departure, but the former has never made an all-star team and has only recently come into his own. In Indiana, T.J. Warren has exploded in recent weeks and is undoubtedly making his presence felt; teammate Victor Oladipo has turned in some stellar campaigns as well, but has yet to return to old form since recovering from significant injury.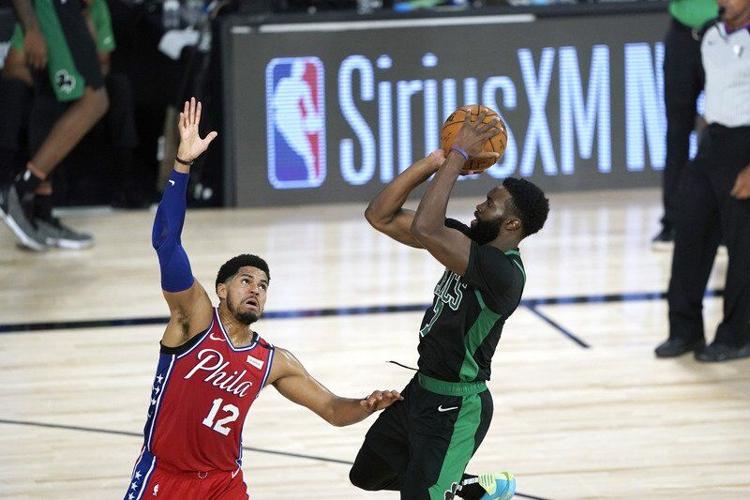 Philadelphia's Joel Embiid and Ben Simmons make perhaps the strongest case, along with Milwaukee's Giannis Antetokounmpo and Khris Middelton. 
But I'm still going with Tatum and Brown every day and twice on Sundays for one simple reason: versatility. 
In Monday's postseason opener against Philly in the Orlando 'bubble', Tatum dropped 32 points, 13 rebounds and three blocks in a team-high 41 minutes. Brown added 29 points, six rebounds, four assists and three steals in 39 minutes. 
The result? A 109-101 victory and a 1-0 series lead. 
Both players were in their bag on Monday; Tatum was scoring at will from everywhere and anywhere on the court, prompting ESPN announcer Doris Burke to pronounce that he "was virtually ungaurdable." The 22-year-old (!) canned a pair of threes, went 10-for-11 from the line and played some tremendous interior defense. Oh, and his 32 points were a playoff career-high. 
Brown, meanwhile, hit big shot after big shot down the stretch. That included a pair of monumental triples early in the fourth to tie things up at 86, as well as a clutch bomb late to help seal the deal.
The crazy thing is, this is nothing new for the Cs prized duo. 
Unfortunately, the Celtics didn't get a whole lot of help elsewhere, at least on the offensive end. Kemba Walker did have 19 points as the next high scorer, but the bench combined for a measly eight points — which is a tad concerning moving forward. Losing Gordon Hayward late in action to a sprained ankle certainly doesn't bode well, either. 
But as long as Tatum and Brown continue to strut their stuff, Boston will be in great position to advance in the playoffs. And as of right now, they hold bragging rights as the hottest and most gifted duo in the East. 
### 
Staff Writer Nick Giannino can be reached at NGiannino@Salemnews.com. Follow him on Twitter @NickGiannino_SN.