When Mike Scammon was hired as the Masconomet girls volleyball coach back in 2019, he came to the Chieftains with plenty of experience in the Cape Ann League, having coached league competitor Triton from 2015-2017.  
In his first fall at the helm, he guided his new Chieftains' squad to a 17-5 overall record and a trip to the Division 1 North semifinals. Masconomet wreaked havoc in CAL play that year, stringing together a 14-2 conference record to finish second behind only unbeaten Lynnfield. 
It just so happens, however, that Scammon's heralded debut campaign would be his last in the CAL, as Masco headed for the Northeastern Conference beginning the following fall. With that 2020 campaign wiped out due to COVID-19, the Chieftains opened play in their new league earlier this month during the makeshift 'Fall 2', and so far, the former CAL powerhouse hasn't missed a beat. 
"In this COVID shortened year I don't think we really have a good read on (the league) yet, but I will say we're happy to be here," Scammon said of the move to the NEC. "I wouldn't say (the two conferences) are night and day, there's definitely some similarities, but we're enjoying the time seeing the teams that we see and so far it's been a smooth transition."
Prior to Tuesday's competitive setback to state power Danvers, the Chieftains had reeled off five straight victories without dropping a set. They topped Beverly, Swampscott, Peabody, Marblehead and Winthrop during that span, all teams they wouldn't have faced in previous years. 
It's certainly been a collective effort thus far for Masco, which boasts five seniors (all captains) on this year's roster. One of those fourth-year leaders, Paige Richardson, has done a fantastic job leading the charge. An outside hitter, Richardson has recorded a team-best 50 kills and 49 digs while serving at a strong percentage (86.4). 
"Paige is an absolutely phenomenal hitter," said Scammon. "I think she's honestly underrated and probably one of the best overall players in the state. She can serve, she can hit, she can pass, she can block when she needs to ... she's just a phenomenal player."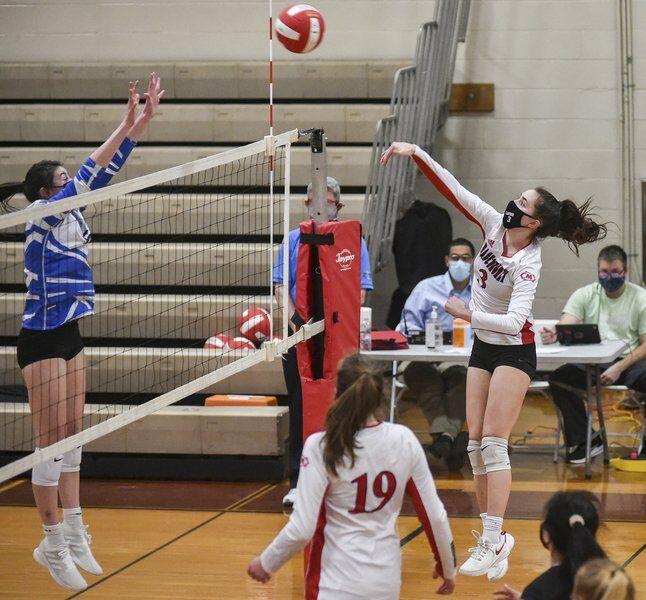 At libero, fellow senior captain Sophia Varinos has more than done her job. An intelligent and gritty athlete, Varinos was referred to by Scammon as "one of the best liberos I've seen. Everything near her she gets." Varinos currently has 40 digs, a team-best 66 serve receptions with just 12 errors, 16 assists, 10 aces and two kills. 
Rounding out the strong group of captains are Sarah Reblin, Robyn Seymour and Charlotte Losee, all of whom have done a tremendous job running the show. 
"We only have five seniors this year and it only seemed right to make them all captains. They've all been multi-year players on this team, a couple of them are starting for the first time this year, but they're really the engine that pushes us along," said Scammon. "I don't think there's a team that can beat us when they all have good games."
While the senior leadership and expertise on the court has undoubtedly gone a long way, there's also a slew of underclassmen making their presence felt in a big way this spring.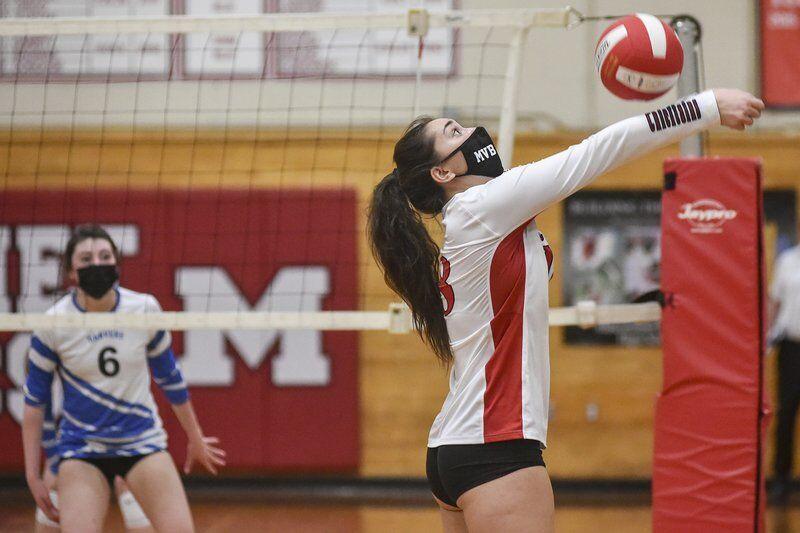 Sophomore Vanessa Latam, the team's starting setter, has slid into that role beautifully. She's recorded a whopping 116 assists, by far the most on the squad, to go with 31 digs, six kills and 20 aces. Latam is also the only Chieftain to have appeared in each of their 19 sets heading into Tuesday's tilt. 
"We lost Rheanna Murray at setter and Vanessa's just filled in seamlessly," said Scammon. "Even better than I could've expected, honestly, so I'm really happy for her and so proud for all the work she's put in."
Scammon also spoke highly of fellow sophomore Camryn Wettstone, who only began playing the sport last year but immediately fell in love with the game. Wettstone is the most accurate server on the team with a percentage of 91.3 through six games. She's had 13 aces and has chipped in eight total blocks and 15 kills. 
Junior Lindsey Byman has also shown significant strides in her development. She's capable of filling in a variety of roles, but has done the majority of her damage from the right side hitter position. 
Masco has a handful of matches left before wrapping up the campaign, but will head into the offseason with plenty of confidence leading up to what we hope will be a more normalized fall season six months from now. 
###
Following Monday's 3-1 setback to CAL rival Newburyport, the Ipswich Tigers sit at 4-3 on the year. Here's a look at some of their top players as they dive into the latter part of their schedule. 
Junior Meghan Wallace has been a spiking machine, recording six kills in the recent loss to Newburyport and totaling a team-best 39 kills on the season. She boasts a kill percentage of 42.4 percent and has also been terrific in the serving department, registering a team-high 21 aces on the year.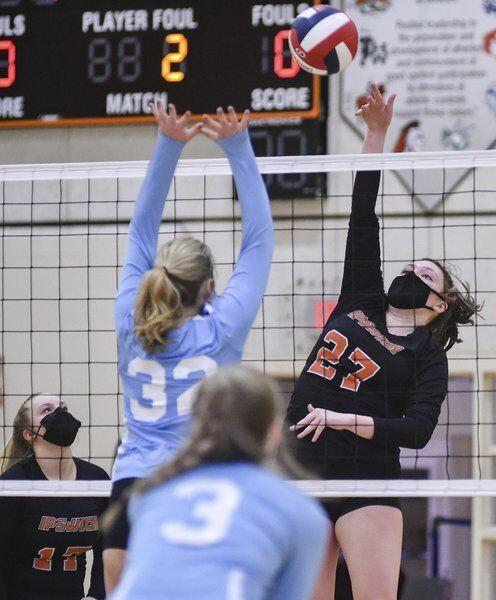 "Meghan's been a key for us all the way around," said Ipswich head coach Staci Sonke, who took over for the wildly successful Kerri O'Connor this season. "Both at the net and on the serving line she's helped to keep us aggressive and pushing forward offensively. We try to get her the ball as often as we can to get her engaged and give our team scoring chances."
Fellow junior Katelyn Moseley and senior Anna Mossler have also shined up front, each smashing 22 kills thus far, while junior Claire O'Flynn has 21. 
Defensively, it's been Louisa Roesler running the show. The senior has snared 88 digs for an average of 12.6 digs per match, a part of her game that's shined bright since she joined the varsity squad as a sophomore.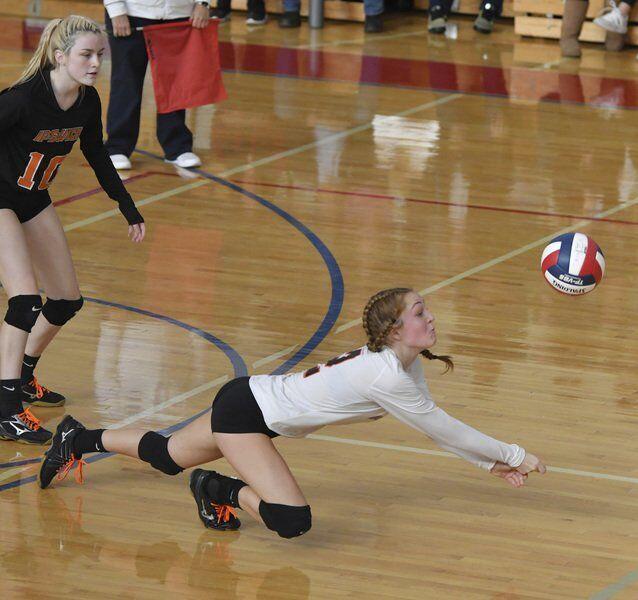 "Louisa actually became our all-time program leader in digs. I know it's a short history here but still a pretty big deal knowing she's a three-year varsity starter," said Sonke. "She's been a key for us both leadership wise and running the back row. She's just very consistent and she really keeps the team together as a cohesive unit."
From the setter position, it's been sophomore Kendra Brown who's stepped into that role in a big way. Brown currently leads the team in assists with 69, followed closely my Jillian Gregory's 60. In her past two matches alone, Brown has a combined 21 assists (11 against North Reading and 10 against Newburyport). 
Certainly not to be left out, Elizabeth Linkletter has been a consistent force, contributing 16 aces with a serve percentage of 93.5 percent and adding 54 digs (second-best on team) to boot. She's received 74 serves with just six errors on the year.
Ipswich will look to improve their above .500 record when they take on an inexperienced Pentucket team on Wednesday, before wrapping up the season with bouts against Hamilton-Wenham and Georgetown. Pentucket recently garnered their first-ever program win, topping Georgetown 3-0 last week. 
"I feel like we've done a really good job so far," said Sonke. "The North Reading game in particular really sticks out to me; we ended up winning the second set 26-24 but at one point we were down 20-10 and rallied back. This team just continues to push, they're very persistent and gritty and want to be out there playing volleyball. As a coach that's all you can ask for."
######
Congratulations to Danvers' senior standout Carly Goodhue, who officially signed her National Letter of Intent to play volleyball at Assumption. 
A two-time NEC All-Conference selection, Goodhue was named to the MGVCA Division 2 All-State team last season while helping her team reach the Division 2 state finals. She recorded 287 kills with a .412 hitting percentage and 139 digs. 
This season, Goodhue has been a driving force once again for the unbeaten Falcons, and is certainly a great get for Assumption. 
###
Net Gains is a high school girls volleyball column that will appear in The Salem News each Wednesday during the Fall 2 season. Contact staff writer Nick Giannino at NGiannino@salemnews.com and follow him on Twitter @NickGiannino_SN.
||||