When he went to deliver a basic bodycheck during a box lacrosse game two winters ago but felt like his arm had snapped, Chris DiBlasio immediately knew something was wrong.
When, in trying to find out at the hospital just what had happened to him, DiBlasio and his folks heard words such as 'bone cyst' and 'tumor', he knew something was really wrong.
"Hearing that was pretty scary," admitted DiBlasio, now an 18-year-old rising senior at the Pingree School. "I didn't know what was going on. It was really hard to go through that."
Perseverance, patience and perhaps even a few prayers finally led to doctors finding out exactly what had happened. DiBlasio was eventually diagnosed with desmoplastic fibroma, a benign tumor of the bone where, in layman's terms, it essentially becomes rubberized. Extremely rare — he was told it affects just 0.3 percent of the population — this was something that could be treated and fixed.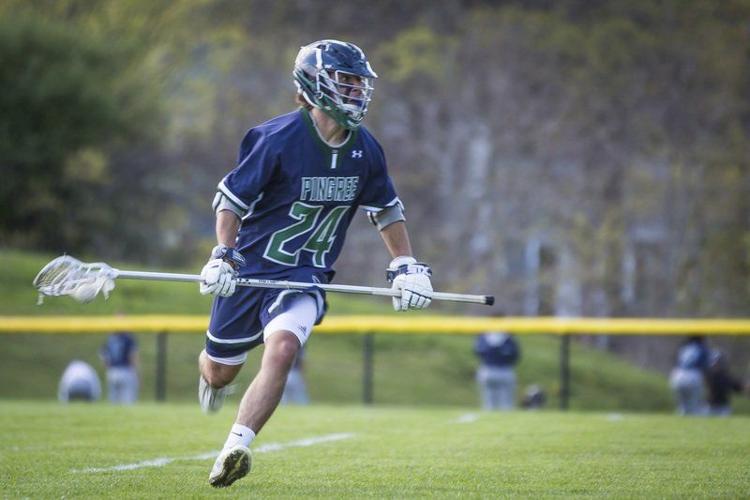 The story gets better from there. Having missed his entire sophomore season with Pingree and the summer and fall seasons with his club team, the Fighting Clams, DiBlasio was eventually able to get back to light athletic activity in December, intensified his weight training and conditioning in January, and was ready to go when the high school season started up late February.
The 5-foot-11, 170-pound DiBlasio played so well in his return to the Highlanders' lineup that he not only helped his squad win its fifth consecutive McCoy Cup as the New England prep small schools champion, but also achieved his dream of committing to a Division 1 school by agreeing to continue his studies and lacrosse career at Lafayette College in Pennsylvania.
"To say what he's done is impressive is selling Chris short," said Pingree head coach Kevin Tersolo. "For him to get to this point so late in the recruiting process, where everyone else in his recruiting class got the entire last year to be looked at and he wasn't able to, it's just amazing that he's made this opportunity for himself. He worked so hard this past offseason to make this happen and wasn't going to let that injury set him back."
"There were a lot of very discouraging times for me," added DiBlasio, who calls Boxford home. "People said Division 1 was out of the picture and that I wouldn't be able to achieve what I wanted to because it was out of my control.
"The fact that my Pingree coaches — Coach Tersolo, Coach (Mike) Montenegro and Coach (Kirk) Bishop — believed in me, encouraged me and supported me beginning to end ... the same as my teammates ... that's something I don't take for granted. I'm very, very thankful to them. I wouldn't be going to a great academic school with Division 1 lacrosse without them."
'I didn't even get hit'
The son of Michele and Tom DiBlasio and younger brother of Joe, a junior-to-be at Syracuse, Chris initially followed his sibling to St. John's Prep. But he didn't get into some of the classes he was hoping to challenge himself in, and when the opportunity presented itself to transfer to Pingree as a repeat freshman, he jumped at the chance.
It's been, in DiBlasio's words, "one of the best choices of my life." By taking advantage of the time he has during the school day to get schoolwork done, he's maintained a 3.6 grade point average while taking demanding subjects such as AP Biology, Honors Pre-Calculus and Advanced Spanish.
Playing lacrosse for the Highlanders is also a true love of his. Being recruited by Tersolo, he felt an instant kinship with his new teammates and was able to contribute right away his first season, strengthening the team's defense with his
Stick skills and physicality as the Highlanders captured their third straight McCoy Cup in that spring of 2017. He earned First Team Eastern Independent League all-star honors as well.
His play for the Clams that summer only increased the interest in DiBlasio, who began hearing from schools in both the Patriot and Ivy Leagues.
"I figured the sky was the limit and I just had to keep working hard, that everything would turn out all right," he said.
Then came the injury during box lacrosse.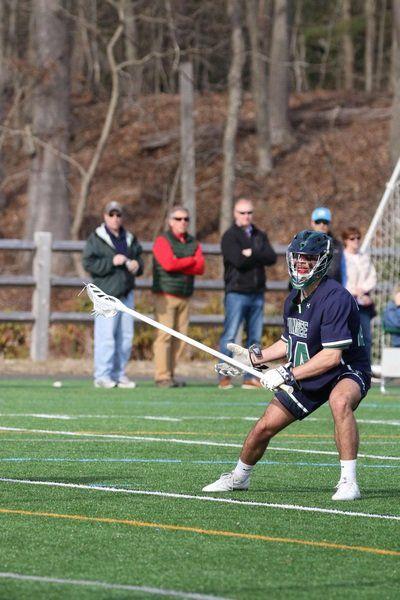 "I remember the play like it was yesterday," said DiBlasio. "I didn't even get hit. There was a groundball near the boards, a guy on the other team picked it up and I went in for a check — and my arm literally just snapped."
He went to a hospital right away for X-rays, where he and his parents were told what the doctors believed it to be: either a mass tumor or a cyst within his arm bone.
A long journey ensued into the summer of 2018, causing him to miss his entire sophomore season with Pingree. "I've had more MRI's and X-rays on my arm than I can even remember," he said.
A specialist on arm injuries told DiBlasio he believed the fracture was more a result of a bone cyst and that he wouldn't need surgery; that it would eventually heal up on its own. Once the MRI came back, however, the doctor realized it was more serious than that and out of his area of expertise, recommending him to another specialist at Children's Hospital in Boston.
"I went through a lot of procedures at Children's, and I'm very grateful for the doctor I had," said DiBlasio. "But it was also very difficult for me. I told him 'I'm a lacrosse player; I want to get back to playing lacrosse. This is such a crucial time for me to be playing.'
"I would've done anything I could to play that summer."
Amazing transformation
In May 2018, DiBlasio had surgery where doctors tried to aspirate the cyst; that is, use needles to suck the cyst out of his arm and shoot bone marrow into it. When they tried to do so, however, nothing came out.
This wasn't a bone cyst, the doctors discovered. It was something far more serious: a benign tumor.
"It had weakened the bone in Chris' arm to the point where just making that easy check, that small amount of contact caused the bone in his arm to fracture," said Tersolo, a certified personal trainer for over two decades.
So DiBlasio was given three options heading into his next surgery, all of which provided different potential setbacks. For starters, he could simply wait for it to go away. That process could take 10-to-20 years, though, and to DiBlasio that wasn't a realistic choice. Second, doctors could go into the bone, drill a hole into it, scoop it out and graft it with bone chips to promote healing.
The third choice was the most invasive: drill into his rotator cuff and drop a metal rod down into the bone, a risky surgery that he was told many doctors wouldn't even attempt.
"Lacrosse is very important to me," he said, "but I didn't want to have problems with my arm down the road, either. I went with Option No. 2."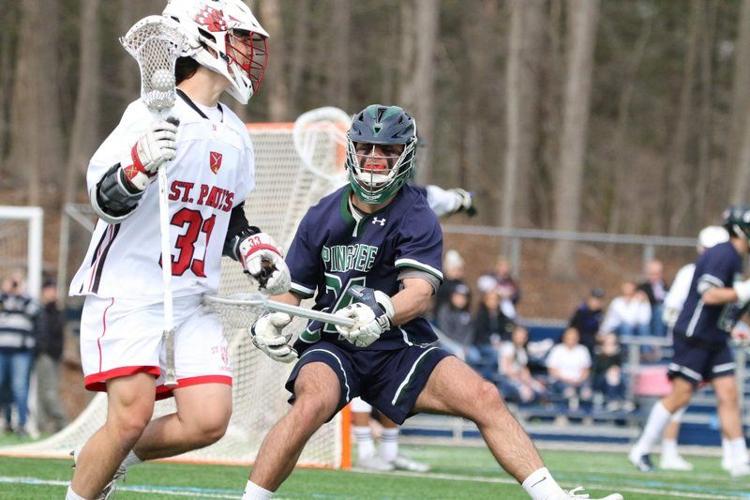 He underwent surgery in July 2018, which went well. After discovering the rubberization inside the bone caused by his desmoplastic fibroma, the doctors got it all out and sent it to pathology. There was no lineage of benign tumors or cancer in the last generation of his family; this was simply case of some bad luck that befell him on a simple in-game check.
"They don't have many studies on it because there just aren't many cases of it," said DiBlasio.
From that point, DiBlasio was on a six-week cycle of going into Boston for X-rays and scans so his progress could be monitored and charted.
Once he was cleared to do some light weightlifting in December DiBlasio went to work with Tersolo to put some weight back on and get back into playing shape. He's proud of himself for not only being about to put 15 pounds of muscle on, but also get his bench press up to 225 pounds.
"He was a machine in the weight room," said Tersolo. "Chris started out bench pressing 95 pounds but by the time we finished in the last week of February, he had more than doubled that. It was an amazing transformation, all because he was willing to do whatever it took to better himself."
The perfect fit
Once the 2019 Pingree season began, DiBlasio was at full strength and chomping at the bit to get going. "He had his conditioning down like everyone else," said Tersolo, "but he also had that hunger of having missed an entire season and wanting to prove to people he was still an elite player."
His involvement in the Highlanders' clearing game, his ability to push the ball upfield in transition and his intelligence in the game's nuances, such as not overplaying enemy attackers, began to once again draw notice from colleges. DiBlasio made a highlight reel of his play after the season's first half and gave it to Tersolo, who then sent it out to schools looking for a strong student with exceptional lacrosse ability in the defensive zone.
"I started to write down some schools I thought would be a good fit for Chris," said Tersolo, "and it came to me that Lafayette would be perfect, with its high academic standard and Division 1 lacrosse.
"It all happened really fast from there. I told him the last week of school I thought I had found the perfect fit for him, then texted their assistant coach Chris' highlight film from the season and he loved it. He showed their head coach (Patrick Myers) and the rest of the staff, and they asked him to come out for visit a week ago Friday (after DiBlasio had also sent them his school transcripts). Chris went on a tour of the school and the facilities, met the coaches and he loved it. They offered him a spot right after that."
Like at Pingree, DiBlasio felt a real sense of brotherhood when visiting the school and felt a similar vibe and energy from the Leopards' Myers as he did when he was recruited by Tersolo three years earlier.
"When the (recruiting) process began again for me, I had to be realistic. Can I play here? Will I be happy at this school? Can I use this process to get into a school I otherwise might not?" said DiBlasio. "So in that sense, Lafayette was everything I was looking for."
A year earlier, DiBlasio wondered if his arm would ever be made whole again and if he'd ever regain the form that had made him a hot commodity in college lacrosse circles. Now, he's the seventh member of this year's team who will play at the Division 1 level — joining Grant Latimer (Providence), Jake Candelino (Sacred Heart), Brendan Driscoll (Providence), Tucker Spencer (Vermont), Mike Pisanelli (St. John's) and goalie Charlie Nowell (Hartford) — and couldn't be happier how things have turned out.
It's really worked out well for me," he said. "I really think I'll thrive there."
||||