PEABODY — Olympic runner Heather MacLean saw a lot of different things in the 100 or so young faces looking looking back at her when she visited Peabody High's distance running camp on Wednesday. Some of the youngsters looked excited, some looked shy, some surprised and some just tired since it was a little before 8 a.m. on a foggy morning.
More than anything, what MacLean saw in those young runners was herself.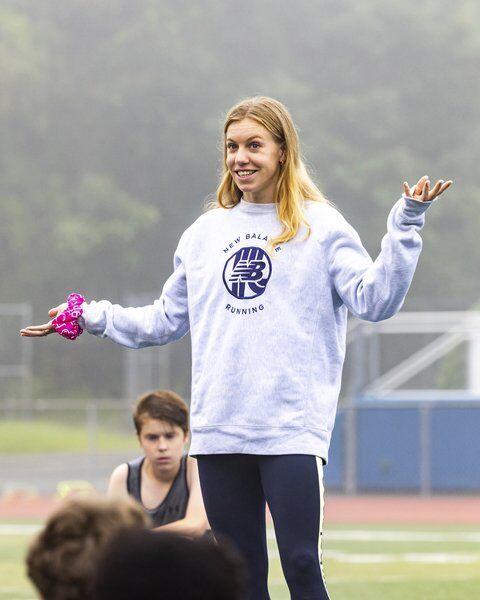 "That was me, sitting there thinking 'I'm just doing track for fun, don't really know what's going on.' Now it's my job. That's still crazy to think about," said MacLean, who was thrilled to take some time to visit with high school runners from around the North Shore at the Going the Distance XC Edge camp put on by Peabody coach Fernando Braz.
"To see the kids is awesome. Talking to young people is one of my favorite things. I love answering their questions."
A 2013 Peabody High grad who ran at UMass Amherst and now runs for New Balance, MacLean qualified for her first Olympic Games in the 1500 meters a few weeks ago. She ran an incredible 4:02:09 at the United States Olympic Trials in Oregon to make Team USA, overcoming several runners on the final straightaway to finish third.
Many of the campers that met her Wednesday were glued to that race on national television. The Peabody High track team had a watch party to root on their fellow Tanner. Braz sent her a video of the kids erupting in cheers when she crossed the finish line and gave her postrace interview.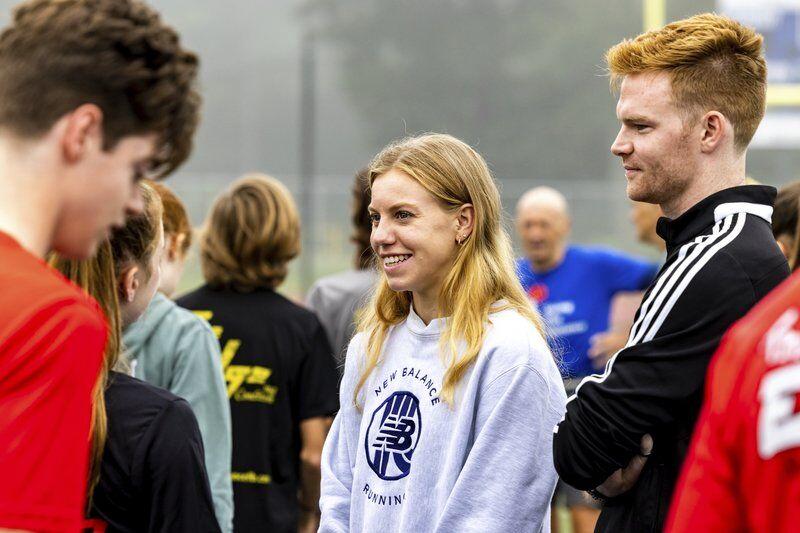 "That brought me to tears. I'd finally slept, woke up to that message and it was like 'Are you kidding me?' It made me so happy," MacLean said. "It was honestly one of the best things."
Returning the favor by posting a group selfie with all the campers to her more than 16,000 Instagram followers, MacLean told the kids all about how she went from never running before her junior year to getting ready to leave for the Tokyo Olympics next week. Her advice was to enjoy their time with their teammates and to love running every day.
"Practice is the best part of my day," she said. "Every day, you have this however many minutes with no distractions, just you and your friends and teammates running. Love that."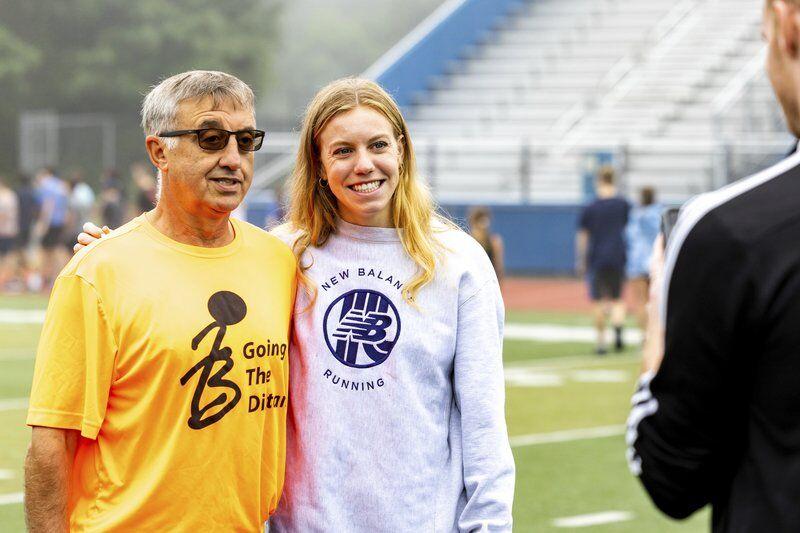 Whether it was in a group setting or meeting her 1-on-1 afterwards, the young runners were grateful to meet someone they all look up to. MacLean encouraged the shy ones to send her messages later if they thought of more questions.
"You could see it on the kids' faces when they were walking in ... 'Woah, that's an Olympian'," said Braz. "Heather is such a humble person, her message is great for anyone to hear. She's come a long way but she hasn't changed her attitude. We're all so proud of her."
Asked about a healthy race diet, MacLean told the kids not to worry about that at their age and to focus on sleep and hydration. She said she likes chicken and rice before a race and to celebrate with a cheeseburger or Chik-Fil-A afterwards.
Asked how to bounce back after a tough race, the 25-year-old MacLean had more words of wisdom.
"Don't let it get it get you down and don't let it make you scared to run again," she said. "Don't let a bad race define you because everybody has a bad race. Even the best runners in the world. Trust me, I've seen it."
Last weekend, MacLean had a tune up 1500-meter race in Monaco at the Diamond League, running 4:03.63 to finish first among Americans. It was a beautiful country, she said, blown away by seeing the giant yachts and Lamborghinis driving around.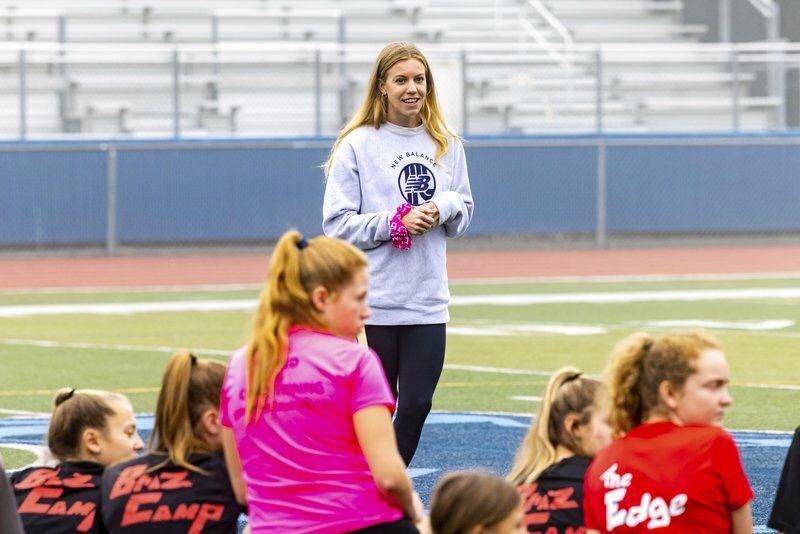 Her final preparations for Tokyo see her traversing the Danvers Rail Trail close to home and sometimes running twice a day; Peabody High and UMass teammate Zack Grube is her "double buddy" and, as always, he was there to support her Wednesday morning.
"My bestie," MacLean said of Grube, who won a national title in the high jump when he was in high school. "He's always with me on my night runs."
The Opening Ceremonies in Tokyo are next Friday, July 23rd, and MacLean's first trial in the 1500 is schedule for Monday, August 2.
||||