1940: On the last time Thanksgiving Day was recognized as a holiday on this date, Beverly scored one of its greatest ever victories, defeating Salem for the first time in 18 seasons, 3-0, on Louis 'Chick' Beaulieu's 24-yard field goal that came late in the second quarter. 
Salem had dominated their arch rivals under one of the best coaches in Massachusetts gridiron history, Bill Broderick. The Witches had defeated Beverly 14 times and tied them four on four other occasions since the Orange-and-Black's last victory, coming back in 1922. Amazingly, 15 of those 18 games had been shutouts for Salem. Coming into the game at 5-3-2, the Witches were expected to continue 'The Broderick Jinx' against their bitter foes, who were 3-4-1 under new head coach Nick Morris.
But it was not to be, as Beverly proved staunch defensively and opportunistic when given the chance offensively. On the play the saw the game's only points scored, center Rico Lauranzano snapped the ball back to holder Aldo Vandi, who was also the holder. Beaulieu, who had not kicked a field goal all season, cleanly booted the ball through the uprights at Bertram Field as thousands of fans from both sides packed the stands and all along the snowy field.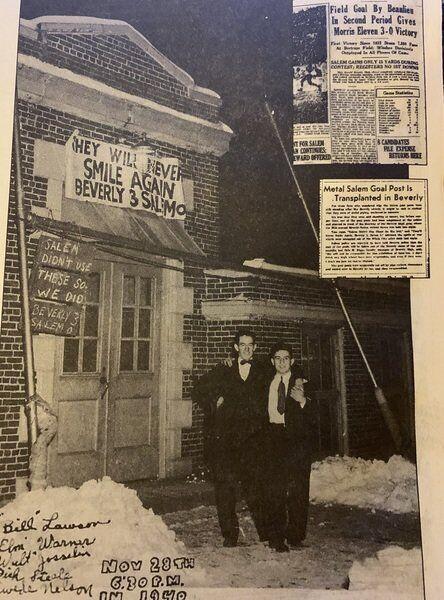 The dramatic victory for BHS resulted in Beverly fans taking the Bertram goal posts back with them to the Garden City, where Beaulieu and Vandi were pictured with them outside the high school under the phrases 'They Will Never Smile Again: Beverly 3, Salem 0" and "Salem didn't use these (i.e., the goal posts), so we did."
There is a terrific black-and-white video of the game you can watch on YouTube (https://www.youtube.com/watch?v=epb7r7-zsmo) that's about 14 minutes long. There are are a lot of single and double wing sets, and you sometimes see as many as four players in the backfield while going up against eight and nine-man defensive fronts. It's an amazing look back at what high school football was like on the North Shore 80 years ago.
||||