2014: Harry Craig caught a 4-yard slant pass from quarterback Garret Keough with just 3.1 seconds left on the scoreboard clock at Endicott College, giving Marblehead a pulsating 28-21 victory over host Beverly. Keough finished 17-of-23 passing for 226 yards and four touchdowns, including three to end Manning Sears (6 catches, 137 receiving yards) from 9, 34 and 45 yards out. Craig also caught a 2-point conversion pass as the Magicians won for the fourth time in five games.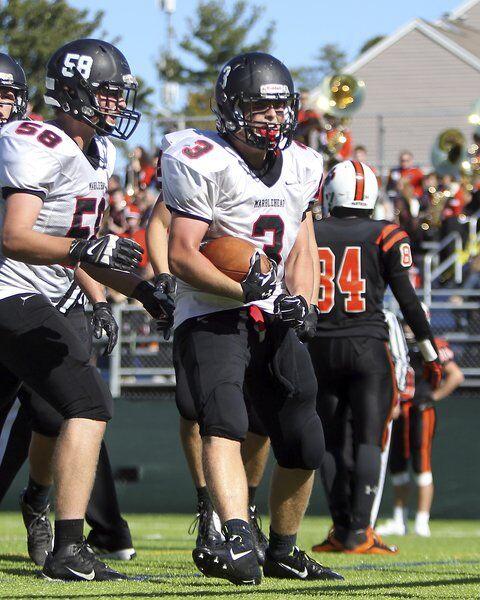 Beverly got touchdown runs of 11 and 35 yards from Matt Madden and another 50-yard scoring scamper from Sam Abate, who had 115 yards rushing on a dozen carries. 
1998: In a defensive battle played in a monsoon that took overtime to decide, Bishop Fenwick took down defending Catholic Central League champion St. Bernard's, 6-0, in Fitchburg to run its record to 4-0 under first-year head coach David Woods. Henry Breckenridge forced and recovered a fumble on the first play of overtime, and two runs by Derek Collins put the ball in the end zone and gave the Crusaders the dramatic win. Adam Stiefel and Collins were both monsters on defense with close to 20 tackles apiece. Fenwick fans who made the trip rushed the field and were celebrating and sliding in the mud along with players and cheerleaders This victory set the the stage for three straight Super Bowl appearances for the Crusaders. 
1964: Playing Attleboro for the first time, Masconomet won at home, 28-22, to begin the season 3-0. Swampscott also stayed unbeaten with a 28-6 decision over Northeastern Conference rival Danvers. Ipswich got the better of Hamilton-Wenham, 16-14, in Cape Ann League action, while Beverly took a 30-12 decision away from visiting Peabody. In an non-league clash, Bishop Fenwick scored a victory over Methuen, 20-14
||||