Editor's note: 'One-Timers' is a question-and-answer session with a local player and is part of our regular Wednesday boys high school hockey coverage: We'll talk hockey, pop culture and anything else that's relevant at the time.
Name: Shane Cassidy
Age: 18
Height: 5-foot-11
Weight: 175 lbs.
High school: Beverly High
Year in school: Senior
Position: Defense
What type of skates, stick and helmet do you use?: This year I've used the Bauer Nexus 2N Shadow Series. I've used Bauer sticks most of my career and the Nexus is one of the first sticks i used in youth hockey, so I felt it was fitting to use it in my final season. For skates I use Bauer Vapor x600s; I've always liked how Bauer skates fit and felt. I've had them since my sophomore year and get them sharpened by Ed Winslow, who has been sharpening Beverly players' skates for decades and I never have a problem with them. For a helmet, I use a Bauer IMS 9.0. Again, I like the way it fits and feels and so far have not had any issues with it.
Can you play an instrument?: I picked up the guitar a year or two ago as a way to unwind. Music has always been a big part of my life, and hearing it made me decide to give it a shot.
What ways would you say this has been your best season individually?: I think I've been much better defensively. I think it can be attributed to the fact that I'm much stronger and have grown a lot since my earlier years (in high school). I'm a lot stronger on my skates, too, and it's helped me have one of my best seasons. I believe another reason why is the fact that I've embraced my role on this team, which is to play more of a defensive game style that my teammates and coaches can rely upon.
Do you have any pregame superstitions?: Before each game I always tape my stick and always sit on the bus with my teammate Brayden Clark, who I've sat with every away game since my freshman year.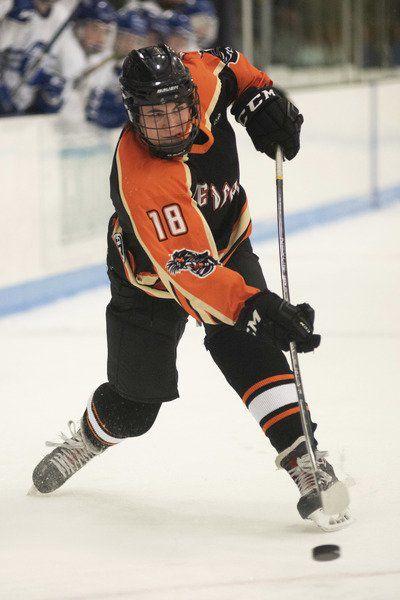 Have you already made your plans for Senior Prom?: I haven't made plans yet. I've been pretty focused on this hockey season and making my college decisions.
In your career at Beverly High, who is the best forward on another team you've ever gone up against?: Definitely Johnny DiFilippo of the Lynn Jets. He was the quickest and fastest player I've played against . As a defenseman speed is the toughest thing to defend against, and he used it to his advantage.
Have you binge-watched any good shows lately?: One of my favorite shows is 'Peaky Blinders'. I find the time period in which the show takes place (1920s) very interesting. I think it's a well-written show and I like the characters as well as the plot of the show.
What is your favorite a.) breakfast food, b.) thing to eat for lunch; c.) snack; d.) food for dinner?: For breakfast, my go-to is bacon-egg-and-cheese on an English muffin. For lunch after school, I usually go downtown to Super Chicken with my friends and get the chicken parm sub. My favorite snack is probably Cape Cod Chips, because they're very addictive to snack on. My favorite dinner is chicken parmesan because my mother makes it fresh herself.
Is there a favorite rink of yours that you like to play in?: My favorite rink to play in is probably Stoneham Arena. I like how the ice sits below the stands, and it has the feel of a real arena.
Who is your closest friend on the hockey team?: Brayden Clark. Brayden and I go way back to when we played T-ball together. We've played baseball together and went to the same school since elementary, and I like to think that I was the one who got him interested to start playing hockey.
You're in charge of the music in the Panthers' locker room. What music are you playing to pump the boys up pregame, and what are you playing after a big win?: Before the game I would play some classic rock like 'When The Levee Breaks' by Led Zeppelin or 'Sympathy For the Devil' by the Rolling Stones. I'm a big fan of that era of music. After a big win, I would play either 'The Boys are Back' by the Dropkick Murphys or 'Wheel in the Sky' by Journey, as it was a tradition during my sophomore year.
Lastly, Beverly High is fighting for a playoff spot — what do you think has to be done for you guys to get in?: I think for us the key to winning will be playing with intensity. It's important to stick with the coaches' game plan and get more pucks on net. With our tough upcoming schedule (North Andover, Gloucester and Methuen), we'll have to make the most out of our chances.
— As told to Phil Stacey
||||