Editor's note: 'One-Timers' is a question-and-answer session with a local player and is part of our regular Wednesday boys high school hockey coverage: We'll talk hockey, pop culture and anything else that's relevant at the time.
Name: Chris Grout
Age: 18
Height: 5-foot-9
Weight: 150 lbs.
High school: Essex Technical High School
Year in school: Senior
Position: Center
What type of skates, stick and helmet do you use?: I wear Bauer skates because they're the most comfortable on my feet. My stick is a Bauer 1X light; I've had several of this same stick and I like how light it is. My helmet is a Bauer IMS 9.0; I just like how it fits.
Why do you play hockey?: I've always liked the game. I started playing because a lot of my friends played and I wanted to play with them. I like the fast pace of the game, too; it's never boring.
Who would you say was the best hockey player of the last decade?: Connor McDavid, captain of the Edmonton Oilers. He was a first round No. 1 overall draft pick, has great stickhandling, great control of the puck and is a great playmaker. My favorite player, though, is David Pastrnak of the Boston Bruins. He scores mad slick goals.
Did you make any New Year's resolutions?: Getting back to the gym regularly. It's going OK so far.
What's it like playing for a new coach, Mark Leonard, and his coaching staff for the first time?: I love playing for coach. He has a lot of hockey knowledge, knows a lot about the game, and also has a positive attitude and wants his players to do their best on and off ice.
What made you decide to attend Essex Tech for high school?: I love hands on-learning. I knew I didn't want to sit behind a desk all day; I knew Essex Tech was where I wanted to be. I'm in the electrical program and plan on pursuing my electrical license after graduation. A lot of my friends are actually at Essex Tech with me.
What food can't you live without?: Kane's glazed donuts are my favorite.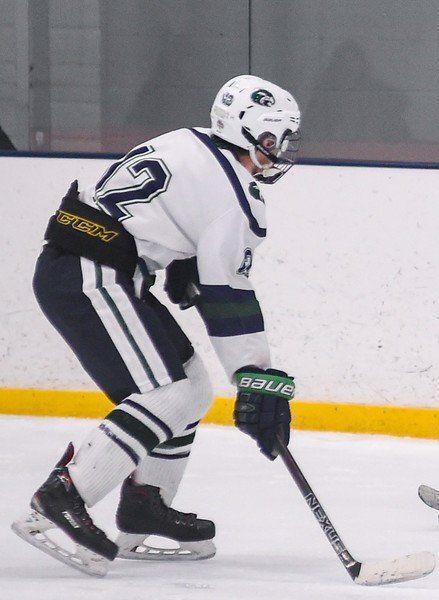 Name one thing in hockey that you can't do but wish that you could: I wish I had more speed, because it would improve my game and help my team.
Who runs the music in the Hawks' locker room?: Nick Ippolito runs the music. We play rap music both before and after games; everyone likes it.
How bummed out are you about the Patriots losing so early in the playoffs?: It was disappointing, but you can't win all the time — and we have won a lot. Hopefully Tom Brady will still be the quarterback next year.
What's something that most people wouldn't know about you?: I didn't start playing hockey until I was 10 years old. Not because I didn't want to, but it took that long to convince my mom I wouldn't get hurt.
Tell us how Essex Tech will qualify for the playoffs and how you can make some noise in the postseason: We'll qualify if we continue to go out every game and play hard and as a team.
— As told to Phil Stacey
||||