Editor's note: 'One-Timers' is a question-and-answer session with a local player and is part of our regular Wednesday boys high school hockey coverage: We'll talk hockey, pop culture and anything else that's relevant at the time.
Name: Loch Sheridan
Age: 18
Height: 6-foot-1
Weight: 180 lbs.
High school: Marblehead High
Year in school: Senior
Position: Defense
What type of skates, stick and helmet do you use?: I'm currently using a CCM Jetspeed stick, and both my helmet and skates are Bauer. I've always liked CCM sticks the best just because that's what I've grown up using; it personally feels the most comfortable to me. I've tried branching out to other brands such as Bauer and Warrior, but always end up going back to CCM because it just feels the best. As for the skates and helmet, I've never really looked into what brand or model they are; it's just all about comfort for me. Currently my Bauer skates and helmets are doing the job, so I'll stick with them.
Is there a story behind your first name?: My first name is Lochlan, but I've grown up with almost everyone calling me Loch for short. I'm named after my grandfather's cousin, who played lacrosse at Colgate back in the day and is still close with my dad. I've only ever met one other Lochlan outside of my family; it was when I was refereeing a youth lacrosse game and one of the players had 'Lochlan' taped on his helmet, which I thought was pretty cool.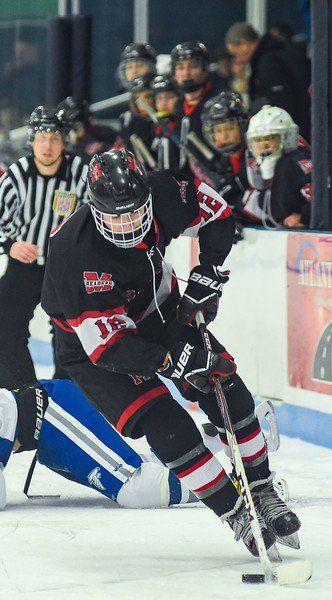 So many great players have played hockey for Marblehead over the years. What does it mean to you to wear the Headers' sweater?: It means a lot to me to be able to put on that Marblehead jersey and represent my town. It's also very important to me to represent Marblehead with pride because of my last name and family history within the town. My grandfather, Brad Sheridan, who unfortunately passed away when I was younger, was a very successful and respected teacher and basketball coach at the high school and has a banner hanging up in the gym. Even though I can't play basketball for the life of me, I still know he's looking down at me expecting big things on both the ice and field. This is something that pushes me even more to represent the name on the front of my jersey with pride.
For not having a rink in town, why do you think Marblehead consistency produces so many good hockey players?: Although we don't have a rink, it's never been very hard for us to find ice time. Salem State is practically in our backyard and has been very generous with letting us use their ice. There's always Black Joe's and Redd's pond that the guys skate on when the weather is cold enough, too. There is such a prominent legacy associated with the Marblehead hockey program and because of that, each new year brings forth a team that works hard to live up to the expectations that we set for ourselves.
What's the best place in town to grab a bite to eat?: In my opinion, the best place would be Village Roast Beef. A couple of my teammates might disagree with me on this one, but I personally love it because they have the best roast beef in town. Other then the roast beef, I highly recommend their steak and cheese or chicken finger subs.
Aside from your own team, which of your opponent has the best hockey sweaters?: Obviously Marblehead has the best jersey in the North Shore — and there isn't even a close second — but if I had to pick it would probably be Saugus, just because I like the red-and-white color scheme and they have a pretty cool mascot.
A movie is going to be made about the 2019-20 Headers. Who would play you? And which of these actors would play which one of your teammates: a.) Will Ferrell; b.) Leonardo DiCaprio; c.) Samuel L. Jackson; d.) Matt Damon; and e.) Charlie Day?: I would want Mathew McConaughey to play me, just because he's a stud and I could brag to my friends that I'm just as cool as Mathew McConaughey. Will Ferrell would play Zach Piersol because they have the same humor —and Piersol already knows all the lines to every Will Ferrell movie ever made. Leonardo DiCaprio would probably play Will Shull, because they both seem to care way too much about their hair. Samuel L Jackson would play Collin Hart, because Jackson usually plays smart, strategic characters — and that's how Colin approaches every game. Matt Damon would play our goalie, Peter Santeusanio, because in all of Matt Damon's movies he seems like he's usually cool, calm, and collected and that's how Pete always is ... unless we're leaving him out to dry and he has to yell and wake up the team a little bit. Finally, I think Charlie Day would play Aidan Ryan — just because I think they look a lot a like and I don't know much else about Charlie Day.
Give us three songs you're listening to constantly these days: Three songs that I have had on repeat the past couple of months include 'Going to California' by Led Zeppelin, 'Friend of the Devil' by the Grateful Dead, and 'Lake of Fire' by Nirvana. I grew up listening to this type of music with my dad; it's all he listens to, so it kind of rubbed off on me. Kurt Cobain is also my all-time favorite artist, so I had to throw in at least one Nirvana song.
Who is your favorite teacher at Marblehead High?: That would have to be Steven Venezia. He teaches my Civics class right now; I also took a U.S. Legal course with him last year. Mr. Venezia is my favorite teacher because I'm really interested in the subjects he teaches and the way he runs his class. Instead of just lecturing the whole time like most teachers, he normally has full class discussions about whatever we're learning, and it just makes the class a lot more enjoyable.
Who do you see winning this weekend and advancing to the Super Bowl?: I see the San Francisco 49ers and the Tennessee Titans advancing to the Super Bowl. I think that the Niners' defense is going to be too much for 
What's something that most people wouldn't know about you?: I'm my own one-man circus act. I can juggle, walk on my hands, and do a standing backflip. Growing up I was always trying to do all these crazy stunts, and even though there were a few trips to the ER I ended up being able to do some pretty cool tricks.
 — As told to Phil Stacey
||||