LYNN — What Peter Bush watched transpire on the turf at Manning Field Friday night was exactly how he saw it playing out the week leading up to the game.
Swampscott's highly animated — and highly regarded and respected — defensive coordinator knew that in order to stop Bishop Fenwick in the Division 5 state semifinals, his squad had to stop the Crusaders' most talented player: wideout Jason Romans.
So Bush does what makes him so good: poured over hours of film looking for any tendencies, drilled his team on it meticulously during the week and watched the finished product unfold on game night.
The Big Blue defense was the field for 22 plays in the first quarter and another 21 before the halftime whistle. They could've been exhausted or nearing the breaking point, but it was quite the opposite: they found strength in their resolve, and knew that their offensive mates were ready to kick it into gear over the final two quarters.
Again, it went exactly as scripted. Unbeaten Swampscott (11-0) snapped a tie with two third period scores and will be heading back to Gillette Stadium in Foxborough to defend its Division 5 Super Bowl crown after a 20-6 triumph over the Crusaders.
"Coach Bush is such a good defensive coordinator," said defensive back Dylan Dubiel, whose interception with 3:29 to play Friday sealed the deal for his club. "He knew that No. 2 (Romans) was their best player, a hell of a player, and set it up so that stopping him was basically our whole scheme. It was a great game plan."
Romans, an explosive playmaker who can win balls in traffic with strength and leaping ability and has breakaway speed after the catch, came into the game leading the North Shore in both receptions, receiving yardage and touchdown catches (15). But against Swampscott, he was never able to shake free for a long connection.
He grabbed 7 passes for 51 yards while being blanketed first by Big Blue cornerback Jason Codispoti; then, after Fenwick moved him to the other side of the field, Cole Hamernick. They'd sometimes get help over the top from a safety, but essentially it was 1-on-1 lockdown coverage.
'I took it as a challenge," said Codispoti, a junior who delivered a number of punishing hits on this cold November night with temperatures in the mid-30s. "I was coming off a bad week (vs. Dover-Sherborn in the playoff quarterfinals) where a touchdown was scored against me, and I wasn't going to let that happen again. I was ready."
"It started with a great week of practice," said Bush. "We obviously knew Romans was an explosive player and wanted to keep an eye on him, but these kids here take everything as a challenge. This was another challenge that they wanted."
Bishop Fenwick (8-3) wound up running 64 offensive plays, but averaged only a shade over four yards per play. Because the big play downfield wasn't there, they were forced to go with more underneath stuff and relied heavily on senior quarterback and team captain Steven Woods, who carried the ball 22 times for a game-high 108 yards and threw a season high 34 passes.
Many of those throws, however, were quick hitters for little to no yardage to the sidelines.
"Their corners just played great," said Fenwick head coach Dave Woods of Swampscott. "Both (Dubiel) and (Hamernick) did (Hamernick) did a nice job on Jason and preventing him from getting one that he's normally able to break. They were able to leave five guys in the box and defend the run, too, which makes it a little easier to defend the pass."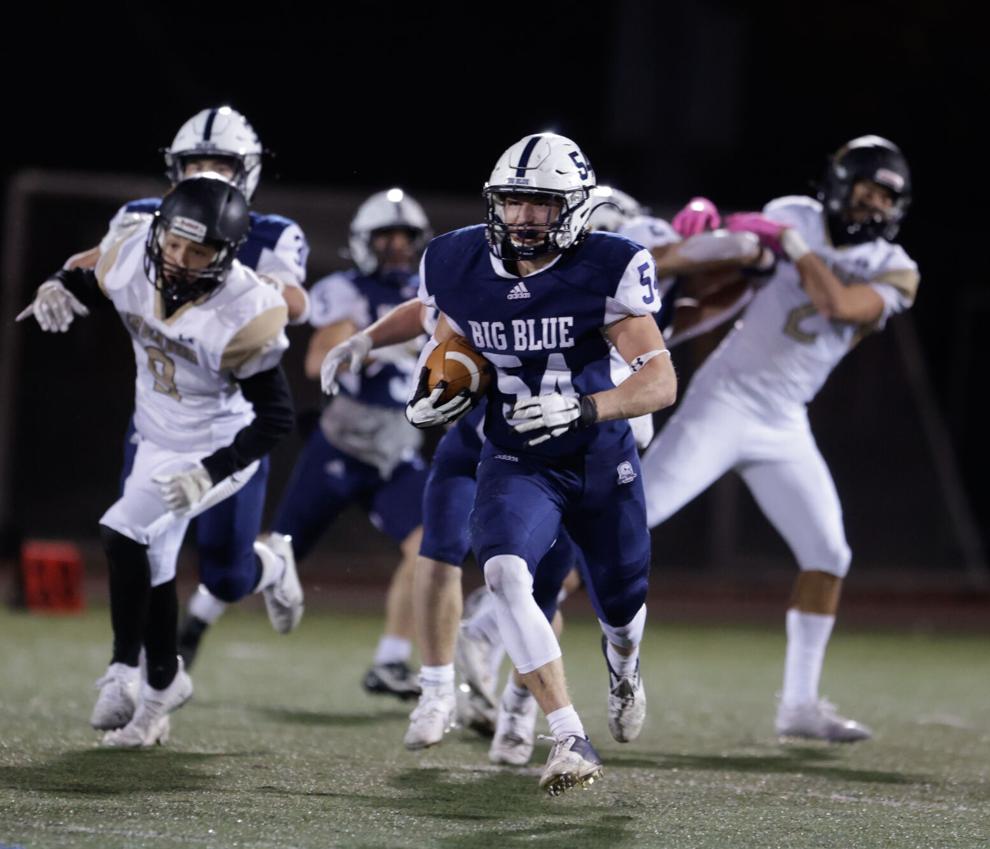 The Crusaders had two big chunk plays: a surprise reverse pass where captain Chris Faraca hit Woods with a 24-yard pass down to the 5, leading to Woods' 4th down keeper for a 1-yard score; and another instance late in the second quarter where Woods appeared to be dropped for a sack, but landed on the would-be tackler instead of the ground, rolled off him and scrambled for 20 yards.
Other than that, though, Swampscott's defense was immense. Four times they forced Fenwick to turn the ball over in Big Blue territory.
The biggest of those was a goal line stand just before halftime following Woods' 20-yard run. After Woods took it eight yards on 3rd-and-goal from the 10, the Swampscott defensive line pushed back their offensive counterparts from Fenwick, allowing linebacker Xaviah Bascon to come in and stop Woods for a 2-yard loss just before the break.
"Joey Mignone, Yorlan Herrara, Ethan Gee, Al Bangura, Nakaree Davis ... they all stepped up on that one play," said Dubiel. "It's what turned the game around for us."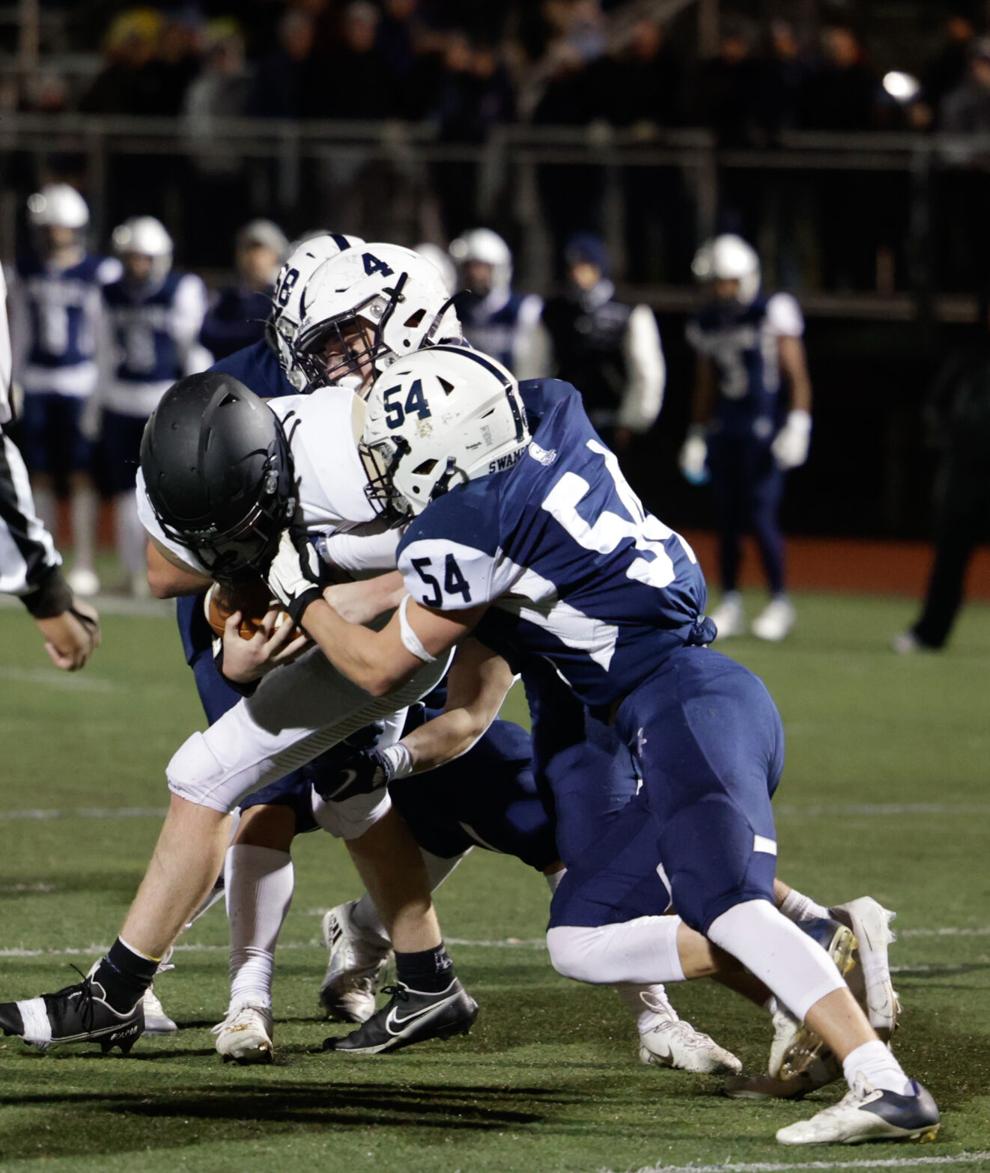 They weren't the only ones. Weak side linebacker Anthony Nichols, Jake Papazoglou at the mike, Cam O'Brien serving as the team's defensive quarter at outside linebacker ... all had stellar moments in a momumental win.
"Those guys repped it all week," said Bush. "They watched film, got it down in practice, and then they see the carryover on game night."
Four words from their head coach perfectly summed up what this defense's mentality is play after play.
"We play with anger," said veteran sideline boss Bob Serino with a grin.