BRIGHTON — Kelly Backes implored her husband to turn out the lights and go to bed.
He attempted to do so several times. But the television kept pulling David Backes away.
"I turned the TV on and off maybe six or seven times," said Backes, talking about Tuesday's Game 6 of the Western Conference Final between his former team, the St. Louis Blues, and the San Jose Sharks. "I tried to go to bed and not think about it too much, but then the TV comes back on in some magical way, and I ended up watching a little bit more. It was tough to fall asleep."
Backes, the 35-year-old rugged right winger now in his third season with the Boston Bruins, watched as several of his former Blues teammates took care of business against the Sharks, 5-1, to win that series in six games and advance to the Stanley Cup Final for the first time in 49 years.
Backes and the Bruins will be waiting for them.
"It's going to be an exciting series. They've got a heck of a team, we've got a heck of a team," Backes said after practice Wednesday at Warrior Arena.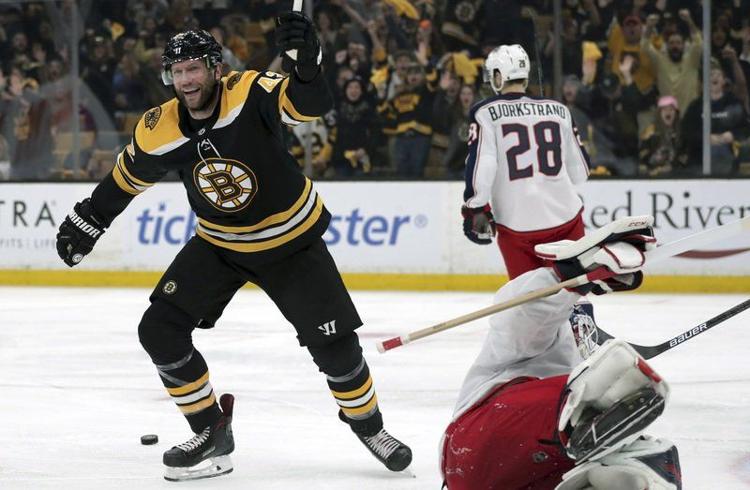 "There are going to be heightened emotions, but it's a binary emotion now," he continued. "It's either us or them: there's no third party, no ties, none of that stuff. One of us is going to win the Cup: the St. Louis Blues or the Boston Bruins.
I've wished those guys well up until this point ... but now it's all about us and winning."
Backes' ties to the Gateway of the West still run deep. One of his best friends is Blues captain Alex Pietrangelo, the defenseman whom Backes served in his wedding party. All six of the St. Louis defenseman who played in Tuesday's win over San Jose — including Jay Bouwmeester, Joel Edmundson, Carl Gunnarsson, Colton Parayko and Robert Bortuzzo — played with Backes at one time or another. So did snipers Jaden Schwartz and Vladimir Tarasenko and grinders Alex Steen and Robby Fabbri.
"That's a lot of familiarity," admitted Backes, who has a pair of goals and three assists in 11 playoff games this spring, playing primarily on the second line with center David Krejci and left winger Jake DeBrusk. "But it's not like I left (St. Louis) at the trade deadline, (that) I know every guy like the back of my hand and we were having dinners earlier this year. There's some familiarity, but not a ton where I know every guy up and down."
Bruins head coach Bruce Cassidy said only Backes knows why he ultimately chose to leave St. Louis after a decade there to sign with Boston as a free agent in the summer of 2016, but doesn't believe there's any ill will between the player and his former organization.
He's also aware that he still has friends who wear the Bluenote, but that'll all go out the window for however many games the Cup Final goes.
"I think that'll be the biggest motivator for him to get his name on the Stanley Cup," Cassidy said of Backes, who captained the Blues for 5-plus years. "If it happens to be (against) St. Louis, I think that's a great storyline, but I don't think it's going to affect his drive. Maybe push him a little bit: there are some guys there that get his competitive juices (going that) he wants to beat. But in general, it's more where he is in his career and this opportunity presented to him."
Backes acknowledged Wednesday that "the stars have aligned for this to be one heck of an event." He and his teammates are hell bent on embracing the moment, focused solely on winning and achieving their goals to make that a reality.
The fact that they'll be attempting to do so against his former employer is a happy coincidence.
"It'd be extra sweet if we're able to win against that team; maybe an extra thump if they win it and we're not able to in this room," he admitted. "That's where we're at. We'll lay it all on the line; and that's what it is."
¢¢¢
Phil Stacey, the Executive Sports Editor of The Salem News, covers the Boston Bruins for CNHI Sports Boston. Contact him at pstacey@salemnews.com and follow him on Twitter @PhilStacey_SN