Phil Stacey
On Hockey
Getting the lead early was a good sign.
Seeing the now-electric power play absolutely tire out their foes, with top unit newcomer David Krejci feeding David Pastrnak for a patented one-timer from his off wing, was terrific, too. So was the Patrice Bergeron forecheck early in the third period that knocked the puck off of defenseman Ryan McDonagh's stick over to Pastrnak, who dished to Brad Marchand for an easy one-timer and a three-goal lead.
But when you boil it down, for the Boston Bruins to defeat the Tampa Bay Lightning four times and advance to the Eastern Conference final, they're going to need Jaroslav Halak to be at his best.
The 35-year-old netminder was up to the task Sunday night in their second round series opener, making 35 saves and outplaying his younger, far more decorated counterpart in Andrei Vasilevskiy in a 3-2 Boston victory.
Halak wasn't perfect — allowing a floating butterfly of a shot by Victor Hedman to beat him with 11 minutes and change to play, then another with Vasilevskiy pulled for an extra skater in the late stages — but he also made plenty of necessary stops at key junctures. None were bigger than when a tic-tac-toe play in the Boston end resulted in a Barclay Goodrow one timer to Halak's left, but the goalie got down and over in time for the second period shot to ring off his left pad, then then post, without going in.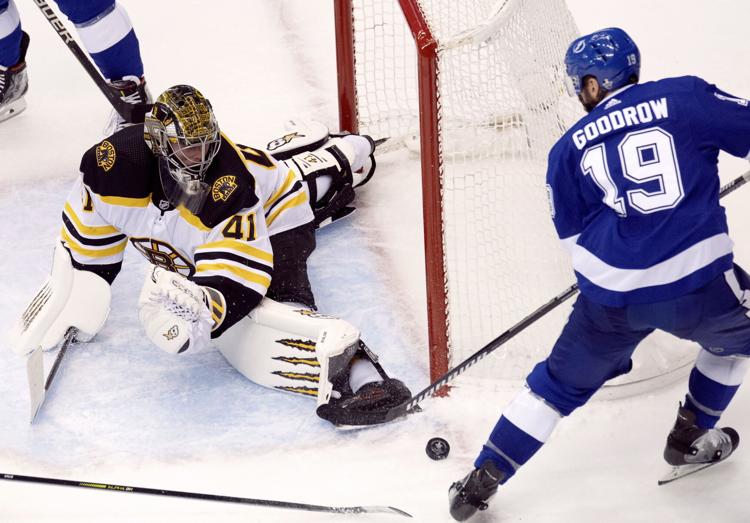 The goaltender has won all four of his postseason starts since Tuukka Rask, the Bruins' No. 1 keeper, left the bubble nine days ago. Those four wins are equal to the amount of playoff triumphs he's earned (one with St. Louis in 2012, three more with the Islanders in 2015) since he backboned the eighth seeded Canadiens to the 2010 conference final as a 25-year-old.
But can he do it three more times against Tampa Bay, who along with the Bruins, Vegas Golden Knights and Colorado Avalanche are generally regarded as the four best teams in hockey? And if Halak can help take the sizzle out of the Lightning, can he guide the Bruins back to the Cup Final again — and help them raise the chalice for the first time in nine seasons?
That's a lot of 'can he?'s. But to a man, the Bruins' players, coaches and management believe fully in him.
Halak is certainly going to have his doubters outside of the locker room. No one is going to give him a pass that both goals allowed Sunday night seemingly had eyes and came after the puck were deflected off of his own defenseman, Charlie McAvoy. They'll wonder how he will respond if asked to play back-to-back Tuesday and Wednesday for Games 2 and 3 against this ever-charging Tampa Bay offensive attack — and what he'll have in the tank if the two Atlantic Division rivals have to go back-to-back again for a potential Game 6 and 7.
But what he's done up in the bubble thus far can't be overlooked. In the four games that've counted (we're refusing to recognize that round robin loss to the Flyers for the exhibition game it actually was), Halak has a 1.75 goals against average and a .936 save percentage.
Following Pastrnak's power play tally, the Lightning peppered Halak with 17 shots that stanza. Time and time again, Halak was the steadying presence that the Bruins needed him to be.
"That's what we need from him when we break down a bit and they slip in there (offensively)," said Bruins forward Charlie Coyle. 
"He was dominant that period," added coach Bruce Cassidy.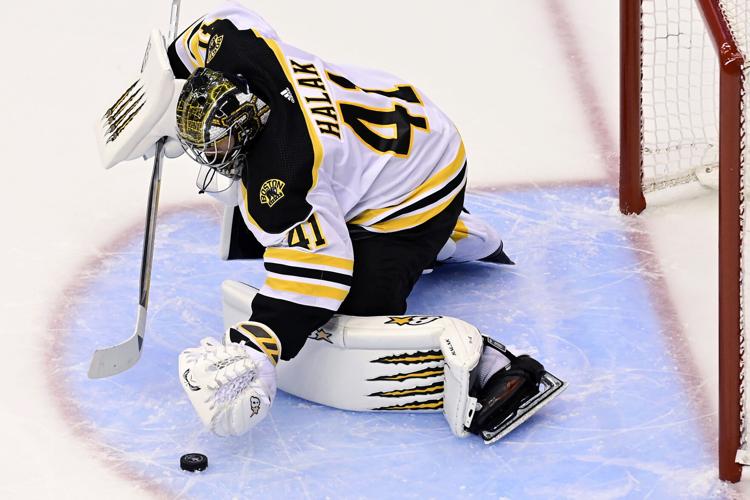 The guys in front of him did their part, too, blocking 20 Tampa Bay shots and dishing out 37 hits, with fourth liners Joakim Nordstrom, Sean Kuraly and Chris Wagner gobbling up almost half (18) of those. Still, the guy with the blocker, big stick and glove needs to be the last line of defense, and Halak proved to be just that.
One win isn't not going to send the Bruins into fits of giddiness. Their core members are well aware they won Game 1 against Tampa two years ago, then were ushered out of the second round after four consecutive defeats. The games against John Cooper's club are only going to get more difficult from here on out.
That's why it's so vitally important that Halak continues to play well — and that his Black-and-Gold brothers do so in front of him. 
It may not be what anyone envisioned when the playoffs began, but No. 41 is the guy who'll have to backstop the Bruins to any and all success they have in their chase for Lord Stanley's Cup this summer. 
###
Phil Stacey, the Executive Sports Editor of The Salem News, covers the Boston Bruins for the North Of Boston Media Group and CNHI Sports Boston. Contact him at pstacey@salemnews.com and follow him on Twitter @PhilStacey_SN