On Hockey
Phil Stacey
Enough with the hoping.
Time to start doing.
The glorified three-game exhibition tournament is over, and the Boston Bruins did not fare very well. A spectacular 100-point regular season washed away by three less than stellar round robin contests to determine their playof seeding. From first overall in the NHL to the No. 4 seed in the postseason is not how they envisioned it.
"It's just not the same," David Krejci said postgame of the round robin tournament. 
But it is what it is, and so when they open the playoffs against the red hot Carolina Hurricanes this week, the Bruins need to stop hoping they'll turn it around and suddenly start playing better, and actually start doing it.
There is no magic switch they can flip to change this lifeless Black-and-Gold mess we've seen the last week-and-a-half into the viral scoring machine and defensive force that vanquished nearly every challenge from October thru early March. It's up to the players, and to a lesser extent the coaching staff, to summon that inner resolve and crank it up several notches now that the real games are beginning.
It's encouraging that on Sunday, the Bruins had their best all-around showing since setting up shop in Toronto, although that still resulted in a 2-1 loss to the Capitals. It was important that Jake DeBrusk, who had been struggling since the restart, scored midway through the third period; maybe it'll get him going. Boston's first period was engaging as they buzzed around in all three zones and showed a lot of jump. Right wing Ondrej Kase is starting to look comfortable on the second line with DeBrusk and center David Krejci, too. All of these bode well for the immediate future.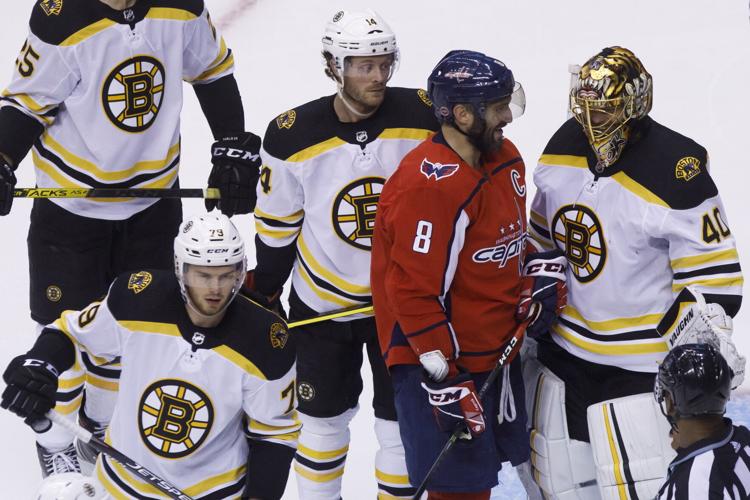 But why weren't they able to secure any wins during the round robin — or even acquire a single point? Why were there times they showed more rust than a 1983 Ford Fiesta? Why did they manage only four goals on 93 shots? Why did the high octane Marchand-Bergeron-Pastrnak line combine for just one assist in the three games? Why wasn't their compete level equal to their foes?
Goaltender Tuukka Rask and DeBrusk both stated after the contest that their squad is "ready to go" when the round of 16 begins, and they welcome the urgency that it presents. Both felt that the Bruins got better with each outing, and that's true. An organization that's hungered for another shot at the silver chalice after reaching Game 7 of the Cup final a year ago will now finally get its chance.
"It's exciting," DeBrusk said about the playoffs starting for real. "This is The Dance, what we waited all year for." 
But the volume dial has to be turned up from about 4 to 11 now that the actual Cup chase is starting.
Teams with serious championship aspirations do not root for certain matchups (unless it's revenge-minded). So while many felt the Islanders would be a better first round fit for Boston, it'll be the Hurricanes — coming off of a dominant 3-game sweep of the Rangers in the qualifying round — in a rematch of last year's Eastern Conference Final.
In all honesty, it doesn't really matter who the Bruins were paired up with in the first round. Unless they can find a way to ratchet up their intensity and game play in a hurry, their stay north of the border might not extend into September.
Who knows? Maybe they'll surprise us all and regain the formula that made them near-bulletproof before they went inside the bubble. As we've already learned many times over in 2020, isn't anything possible? 
###
Phil Stacey, the Executive Sports Editor of The Salem News, covers the Boston Bruins for CNHI Sports Boston. Contact him at pstacey@salemnews.com, and follow him on Twitter @PhilStacey_SN