Would a victory Tuesday night simply have been a stay of execution? In all likelihood, yeah.
We'll never know for sure. Just like we'll never know how a Boston Bruins team that mostly steamrolled the rest of the league during the regular season might've fared if a tradition playoff year had ensued, rather than a global pandemic turning the entire world upside down.
So less than an hour before the calendar flipped from August to September — and since we're talking about hockey, I still can't wrap my head around that — the Bruins season officially ended. In double overtime of Game 5, in Toronto against a team from central Florida, with their 35-year-old backup tending net, while spending the past five-plus weeks inside a bubble.
A team on a mission to get back to the Stanley Cup Final for a second straight year, and hoist the Cup this time around, fell far short of their expectations. Boston didn't go down without a fight, battling what proved to be a much more skilled (and surprisingly more physical) Tampa Bay team deep into the second extra stanza before falling, 3-2.
For the second time in three years, they bowed out of the playoffs against the Lightning by dropping four straight games after a series opening triumph. 
"It's a very disappointing ending," said Brad Marchand, who didn't have a single shot on net during his nearly 31 minutes of ice time. "We have a hell of a team; we expected better out of this year ... just the way things were rolling throughout the season, we thought we were going to go all the way."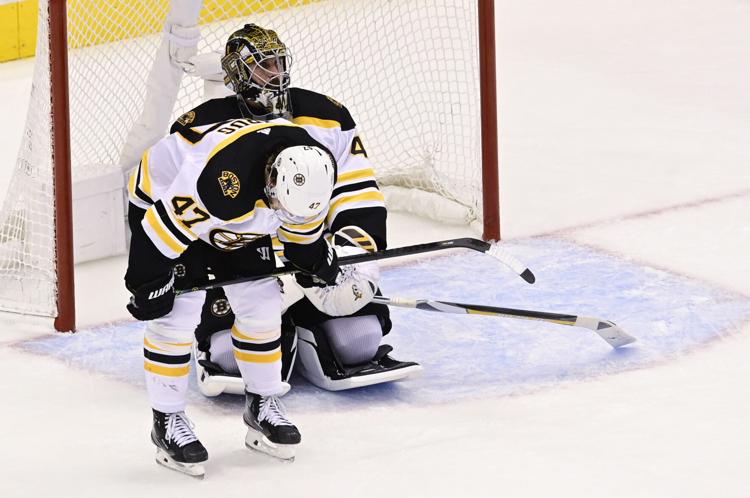 Now, we're simply left to wonder What Might've Been. That thought process also branches out into other relevant Bruin-related topics, such as is Torey Krug leaving the team to cash in as a free agent? (Almost certainly, yes). Will Tuukka Rask be back after he left the bubble to return to his family two games into the postseason? (Good question.)
And will 43-year-old Zdeno Chara, who doesn't have a contract for next season, retire after 14 seasons in Black-and-Gold, or try to hook on elsewhere? (He wasn't tipping his hand postgame). Tuesday night was his 150th playoff game in a Bruins' sweater; the tallest player in NHL history was the first player to congratulate the Lightning in the end-of-series handshake line, and also the first player off the ice and back to the dressing room. Whether or not those things prove to be telling, we'll find out in due time.
What we know for certain is this: the Bruins' championship window, if it's not all the way closed with the drapes pulled, is precariously close to the sill with only the slighest of breezes wafting in.
Think about it. Patrice Bergeron and David Krejci, the team's top two centermen and mainstays for well over a decade, are 35 and 34 years old, respectively. Brad Marchand is 32; Rask is 33. Throw in Chara and that's a Fantastic Five that raised a Cup together, led the organization to two other Finals appearances and have been the gatekeepers of one of the greatest eras in Boston Bruins history.
"We only have so many kicks at the can," acknowledged Marchand. "And everyone, especially when we retire, we're going to look back on it and say ... 'What if?'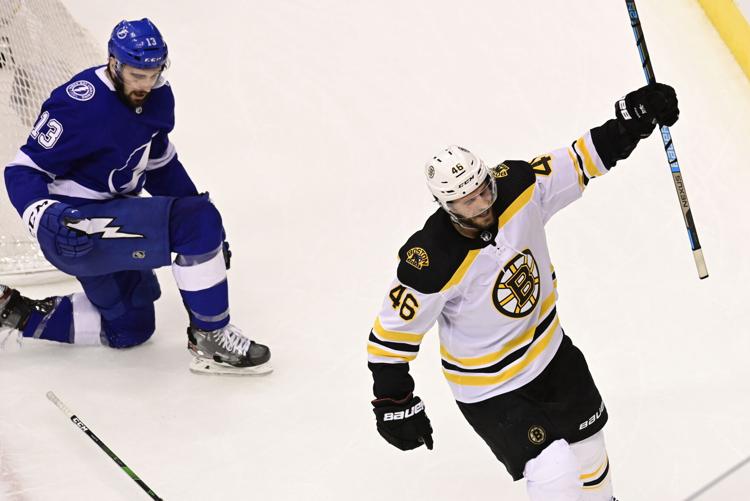 Krejci, who wore a black baseball cap pulled far down over his face as he appeared to be holding back tears at the postgame press conference, took that thought even further.
"It just kind of hit me after the game that the core group, a few of us, we have one or two, three years left. With the pandemic going on, you never know what's going to happen, so it's just kind of ... I just got a little sad right now," said Krejci, who scored off a deflected pass from Chara with 2:33 to play in regulation, proving to be Boston's last goal of the 2019-20 season.
"At the same time, I don't regret coming into this bubble and fighting for the Stanley Cup. I would do it again."
That wasn't going to happen against a Lightning team that simply had the Bruins' number over the last week. How telling is it that Boston never led after Marchand's power play goal 14 1/2 minutes into Game 2? That's the final 244 minutes and 17 seconds of the series.
The Bruins often had trouble catching the play while their Atlantic Division foes dictated play. Rotating seven defensemen over the final four games, the Lightning's rearguards stood the Bruins up at the blue line and it difficult for them to get quality scoring chances, while at the other end of the rink they had their own guys in front of Boston's net to pounce on rebounds, screen Halak and battle Boston's defenders for every inch of ice.
"It's a huge sacrifice to come here, and guys had to really dedicate a lot of time and effort to be here," added Marchand. "And it's kind of a waste of time now."
So the better team won. The better team in the playoffs, that is — the playoffs in a pandemic, after a 4 1/2 month break from hockey, where the Bruins could never recapture their regular season mojo.
The only certainty now is that changes are coming. When, and how many, will be the answers we await.
###
Phil Stacey, the Executive Sports Editor of The Salem News, covers the Boston Bruins for the North Of Boston Media Group and CNHI Sports Boston. Contact him at pstacey@salemnews.com and follow him on Twitter @PhilStacey_SN