The 2018 North Shore high school football season wouldn't be complete without a comprehensive look into some of the numbers we saw transpire on area gridirons this fall. 
So without further ado:
Three players carried the ball over 30 times in a game this fall, and all of them had a home locker in the 01923 zip code. Danvers' Matt McCarthy did so three times, lugging the leather an area-high 33 times (for 239 yards) in an October win at Lynn Classical. He also did so against Marblehead (31 carries) and in the Division 3 North final at Tewksbury (30 carries).
The other two players to do so are from St. John's Prep: Aise Pream toted the rock 31 times in an Oct. 6 win at Catholic Memorial, and four weeks later Trent Tully got his named called 31 times in a playoff home win over Acton-Boxborough.
Salem High sophomore Sam Ofurie was the only local to rush for over 200 yards in a game twice in 2018. He had 206 yards in an opening day victory over Austin Prep, then rambled for 244 yards in a win over Lynnfield at Bertram Field on Nov. 9.
The high water mark for rushing yards in a game went to Beverly's Marje Mulumba. Starting for the first time all season in a Week 8 playoff game at Winchester, the junior broke the BHS single game mark with 315 yards and five touchdowns in a 49-21 win. He was one of five local players to top 200 yards in a game, including Ofurie, McCarthy, Tully and Essex Tech's Manny Alves, who put up 216 in a victory over Nashoba Tech, one that qualified his Hawks for the Division 6 North playoffs.
Would you believe there were two dozen touchdown runs of 50 yards or better this fall? Bishop Fenwick had five of those, including Angel Martinez's 95-yard jaunt in his team's Oct. 19 triumph over Cardinal Spellman, good for longest run of the season.
Ipswich did so on four instances, including three TD runs of at least 80 yards: Chase Huntley, who had a 93-yarder against Triton; Cole Terry, who broke loose for an 83-yarder for his team's lone playoff points against Northeast Regional; and Isaiah Morrissey, who took an end around 80 yards to the house in a home win over Georgetown.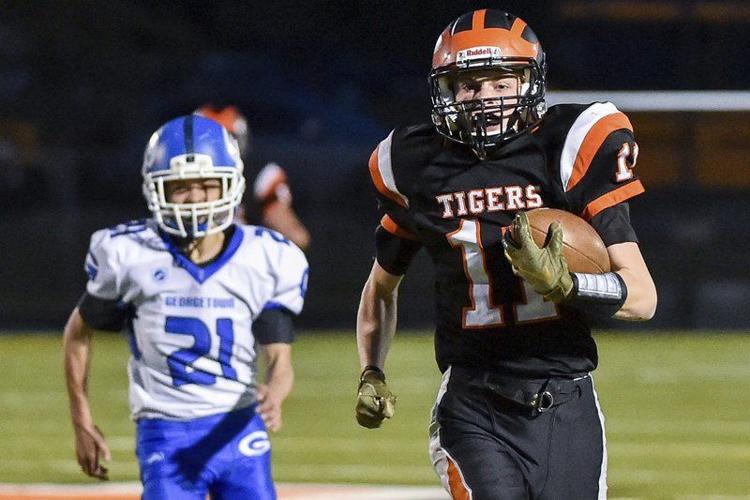 Beverly also did so four times, with Mulumba doing so twice in the same win at Winchester: a 94-yarder and another from 82 yards out.
Thanks in large part to Mulumba's career performance, Beverly's 437 rushing yards against Winchester were the most of any team in a single game. They did so on just 34 carries, averaging almost 12.9 yards per jaunt. Ipswich had the next two best outings, rumbling for 392 yards in a win over Georgetown and another 332 vs. Triton.
The only local team to have a pair of 100-yard rushers in the same contest was Essex Tech. On opening night vs. Ipswich, Alves ran for 119 yards and two scores while fellow captain Vinny Brazzo picked up 106 yards and a TD.
Bishop Fenwick sophomore Chrys Wilson attempted the most passes in a single game this season, lofting it up 35 times in a Week 2 contest at Dedham. It was one of six instances in which a local passer went to the air 30 or more times, with St. John's Prep's Matt Crowley (32 and 30) and Graham Inzana of Swampscott (32 and 31) each doing so twice while Beverly's Ryan Barror (31) did so once.
Inzana attempted 20 or more passes in a game six times, the most locally. Only Crowley (4) was close, although Fenwick QBs Cory Bright and Wilson each did so twice each.
Crowley was the only player who lined up under center to complete as many as 20 passes in one contest; he hit on 21-of-32 attempts for 289 yards in a win over Acton-Boxborough on Nov. 2. Inzana also completed 19 passes against both Salem and Marblehead.
The best percentage of the season passing-wise? That happened Thanksgiving Day as Peabody sophomore Alex DeNisco was Philip Rivers-like in connecting on 15-of-17 passes in a rout of Saugus.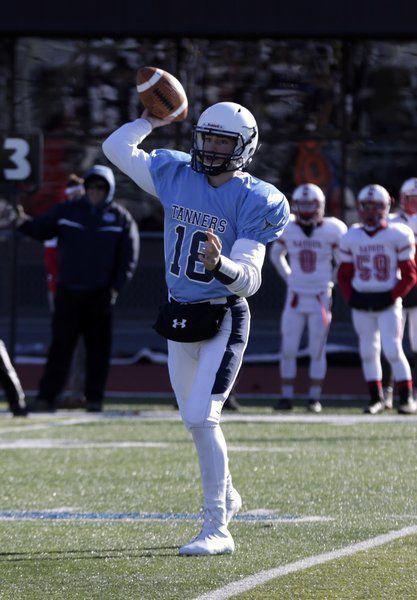 There were 13 instances in which a quarterback threw for at least 200 yards in a game this autumn, with Fenwick's Bright at the top of the leaderboard with a monster 386-yard effort in a win over Cardinal Spellman. His five TDs that night were also tops in the area. Inzana (342 yards over Salem) was the only other player to throw for 300 yards; he also eclipsed 200 yards five times (in addition to 198 yards through the air in the season opener vs. Greater Lawrence).
Longest touchdown pass of 2018? That would be the Masconomet combination of Alex Theriault to Will Hunter, who hooked up for a 97-yard score in an Oct. 19 win over Triton. Two other duos connected for a 90-yarder: Bright to David Cifuentes for Fenwick (92 yards vs. Cardinal Spellman), and Danvers' Brendan Treacy to Ezra Lombardi (90 yards vs. Belmont).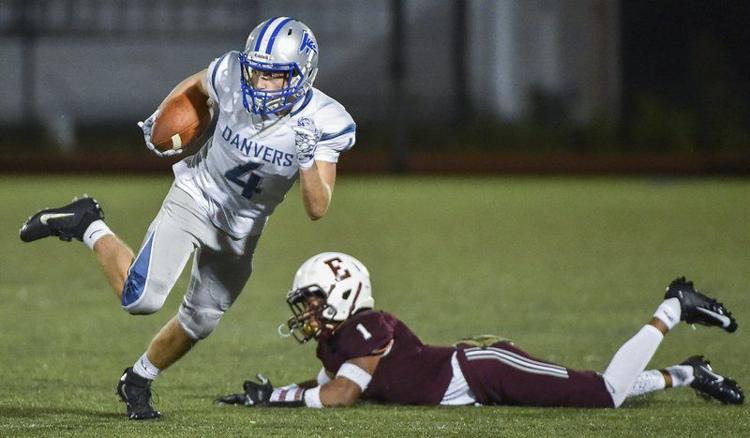 Inzana found Swampscott junior captain Jonathan Oriakhi for 70-plus yard touchdown passes in back-to-back weeks, striking from 71 yards out in a win at Saugus Oct. 19 before stretching that out to 75 yards the following Saturday in a home playoff triumph over Triton. In all, Inzana had a half-dozen touchdown throws of 50 yards or more.
Oriakhi was also the clubhouse leader for most receptions in one contest, hauling in 11 passes in a September home win over Salem.
St. John's Prep's stellar duo of Wes Rockett and Max Freedman each had games in while they pulled in nine and eight passes, respectively. For Freedman, both of his came during the playoffs in back-to-back weeks; for Rockett, he had nine catches once and eight grabs twice in a game, including his team's clash with Xaverian at Fenway Park the night before Thanksgiving.
Rockett and Freedman are the only teammates to eclipse 100 or more yards receiving in one game, with Freedman going 8-161-3 and Rockett 8-106-2 against Acton-Boxborough.
The only other player to catch at least eight passes in one game this autumn? That'd be Bishop Fenwick's George Fiskatoris, who had eight in a playoff loss at Stoneham.
Freedman had two of the top three games in terms of receiving yardage, with 161 yards against Acton-Boxborough and 158 vs. Haverhill. Sandwiched in between was Oriakhi's 159-yard game against Salem. Rounding out the top five were Swampscott's Andrew Augustin (145 yards vs. Lynn English) and Masconomet's Jack Corcoran (137 vs. Lowell).
There were 11 field goals successfully kicked this season by eight different players. The high water mark was Peabody's aptly-named Austin Leggett, who cranked a 40-yarder at Danvers on Sept. 14. He also had a 37-yard boot vs. Woburn two months later.
Marblehead's Mason Poisson (37 and 21 yards, respectively) and Swampscott's Thomas Frisoli (27 and 21 yards, respectively) also had two field goals apiece.
Two players booted seven extra points in one game: Joey Loreti of Beverly in the playoffs at Winchester, and Marblehead's Mason Poisson opening night vs. Triton.
Sean Majeski of St. John's Prep kicked 22 consecutive extra points to begin the season, nailing five vs. Haverhill, seven vs. Central Catholic, two vs. Everett, six vs. Westford Academy, three vs. Catholic Memorial and two more vs. BC High before his first miss.
In terms of team offense, Bishop Fenwick put up an even 600 yards in its October rout of Cardinal Spellman, running for 194 yards and going to the air for another 406. Just two other teams broke 500 yards of offense in one game: Ipswich had 555 vs. Triton (332 rushing, 223 passing), and St. John's Prep finishing with 541 vs. Acton-Boxborough (252 rushing, 289 passing).
Beverly had the largest disparity between team rushing and passing yardage in any game, with the above-mentioned 437 rushing yards against Winchester to go along with 43 passing yards for a total of 480 yards. That's 396 more rushing than passing yards for that 44-minute stretch of game action.
The longest kickoff return for a score came on the season's very first play, with Danvers' McCarthy racing 93 yards to the end zone against Masconomet. (He also had a 91-yard KO return to paydirt two weeks later vs. Medford).
The longest fumble return for a score was turned in by Peabody's Luis Guridys, who ran one back 90 yards against Woburn.
Danvers was also where the season's longest punt return for a score was registered as Kyle Little picked up a loose ball on his own 23-yard line late in the fourth quarter against Beverly and 77 yards later was celebrating six points.
The longest interception return for a touchdown? Step right up, Jake Connolly; the Bishop Fenwick sophomore did so by racing 73 yards with a playoff pick-6 at home vs. Greater Lowell.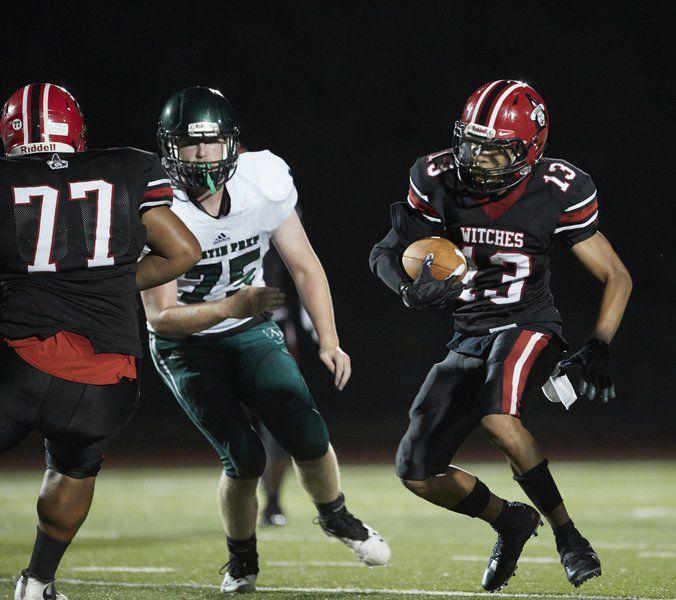 Devin Tolbert of Salem was the only player to return interceptions for touchdowns in back-to-back games, doing so vs. Austin Prep (43 yards) in Week 1 and at Essex Tech (37 yards) the following Friday night.
Ipswich senior Ben Yanakakis pulled off a neat feat opening night at Essex Tech, successfully converting four 2-point conversion rushes. He also scored a pair of touchdowns against the Hawks.
Beverly's Mulumba and Fenwick's Cifuentes each had 30 points in a single game for the area's best mark, with Mulumba doing so with four touchdowns and a 2-point rush against Winchester, and Cifuentes running for four TDs and kicking six extra points in a win over Arlington Catholic. (Cifuentes also had 26 points against St. Mary's of Lynn and another 20 vs. Pentucket).
Speaking of points, Bishop Fenwick had a school record 60 points in its shutout win over St. Mary's (also its largest-ever shutout win). The Crusaders also scored 56 points over Cardinal Spellman and were one of three squads, along with Marblehead and St. John's Prep, to put up 55 points in one contest. Danvers was the only other local club to hit 50, doing so against Belmont in a playoff quarterfinal at home.
Ipswich's 28 points in the first quarter of its win over Triton was the most for any one quarter. Pingree's 41 points in the first half of its rout of Albany Academy was the best mark over two quarters of play.
Finally, 11 of the 13 teams in our coverage area recorded at least one shutout this fall, and a trio did so three times: Bishop Fenwick, St. John's Prep and Swampscott. Danvers, Hamilton-Wenham and Marblehead had a pair of blankings to their credit, with Beverly, Ipswich, Masconomet, Pingree and Salem turning in one whitewashing apiece.
¢¢¢
Phil Stacey is the Executive Sports Editor of The Salem News. Contact him at pstacey@salemnews.com, and follow him on Twitter @PhilStacey_SN
||||