Embarrassing and undisciplined.
Two words you almost never hear associated with the Boston Bruins, but a pair that aptly described the complete and total breakdown of what happened Wednesday night at Scotiabank Arena in Toronto.
It's one thing to be defeated by an opponent who's having an opportunistic evening. It's quite another when your choices and actions literally allow foes to pick you apart.
A pair of completely avoidable penalties led to two power play goals by the Floridans — coming against a Boston penalty killing unit that had been successful on their last 10 man-down situations. Add that to the fact that the Lightning, who had three man up goals all told, had been 0-for-their-last-16 in that department, having not connected since the round robin portion of the postseason, and that's a doubly ignominious fact.
Choosing to dress only 11 forwards and add an extra defenseman on the back end didn't do anything to help the Bruins' cause, either. Nor did moving Jeremy Lauzon, Par Lindholm and, for the first time since March 10, John Moore into the lineup. And yeah, it was the second of back-to-back games on consecutive nights, but it was that way for both squads.
Boston's disconcerting 7-1 loss in Game 3 of their Eastern Conference semifinal series was alarming not so much because they now trail the series for the first time, but the manner in which it happened — decidedly un-Bruin-like.
Fact of the matter is, whoever was on the ice in front of goalies Jaroslav Halak and — making his first-ever NHL appearance — 23-year-old Dan Vladar in relief did much of anything in front of them except leave them hung out to dry. There was no response at the other end, either, with only 14 shots on net through 40 minutes.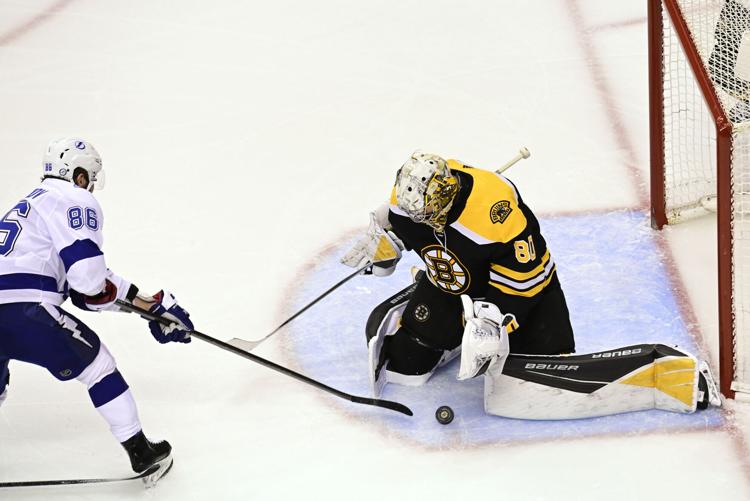 Take Lauzon, who looked woefully mismatched whenever Tampa Bay used its speed to gain entry into the zone and drove the net. His most egregious of several missteps on this night happened after the Lightning blitzed him in the neutral zone and Yanni Gourde threaded a pass past the beleaguered blue liner to Alex Killorn, who breezed in alone to beat Vladar easily.
Nick Ritchie decided to slash the back of Kevin Shattenkirk's legs along the wall in full view of an official, which the Lightning turned into a first period power play goal and a 2-0 lead.
Charlie McAvoy, the team's top defenseman but still only 22 years old, was sent off for roughing after he decided belting Nikita Kucherov in the head with his stick was a good idea. (Hey, at least the kid showed some fight throughout). Seventeen seconds later, the Lightning again buried a 5-on-4 opportunity to chase Halak from the net midway with almost 29 minutes still to play.
It all led to the Bruins' worst playoff loss in more than 28 years, a 9-3 setback to the Buffalo Sabres in Game 6 of their Adams Division semifinals.
The words coming out of Bruce Cassidy's mouth to his team between periods were undoubtedly as blue as the Lightning bolt on Tampa Bay's sweaters. There was everything but visible steam coming out of his ears as the carnage unfolded in the second stanza, where Boston gave up four goals to turn a two-goal deficit into a five-goal laugher.
If you're looking for a silver lining, you can always hang your helmet on this: the Bruins hammered the Blues, 7-2, in Game 3 of last year's Cup Final in St. Louis to take a 2 games to 1 advantage. If you've read this far, I'm guessing you don't need a refresher course on how that series ultimately played out.
There's also this: Thursday is an off day, and boy do the Bruins need it. For Halak to rest up, for the second and third lines to figure out how they can start contributing offensively, for the defense and penalty killing units to do an about face, for some dinged up bodies to heal ... all of it.
Resiliency has been a hallmark of the organization over the last decade-plus, especially so since Cassidy took over three-and-a-half seasons ago. Lest we forget, a win on Friday night by the Black-and-Gold ties the series back up.
Anything similar to what we were forced to witness in Game 3, however, will undoubtedly lead to another setback, and put them precariously close to having them depart the Toronto bubble for good.
###
Phil Stacey, the Executive Sports Editor of The Salem News, covers the Boston Bruins for the North Of Boston Media Group and CNHI Sports Boston. Contact him at pstacey@salemnews.com and follow him on Twitter @PhilStacey_SN