BOSTON — The Bruins came out in a bit of a tryptophanian haze Friday afternoon in falling behind the visiting New York Rangers by two goals. They were sluggish, didn't have their legs, and head coach Bruce Cassidy sent a not-so-subtle message that he wasn't pleased with some so-called "passengers" by sitting forwards such as Charlie Coyle and Danton Heinen for good chunks of the middle stanza.
But a late second period goal by Sean Kuraly seemed to revitalize the hosts, and David Pastrnak's 24th goal in 26 games this season tied it early in the third. The Bruins kept up the pressure, killed off a critical 4-minute minor penalty late in the stanza, and eventually took home the two points with an overtime game-winner by David Krejci.
On a day when the Bruins certainly didn't bring their A-game, they still managed to corral two points, win their sixth straight game and earn points for the 10th consecutive contest, all which improving to 18-3-5. All this while wearing their spiffy new black third jerseys to boot.
Here, then, is a breakdown of how that 3-on-3 overtime tally happened by the participants who took part —and, in Cassidy's case, watched it happen from behind the bench.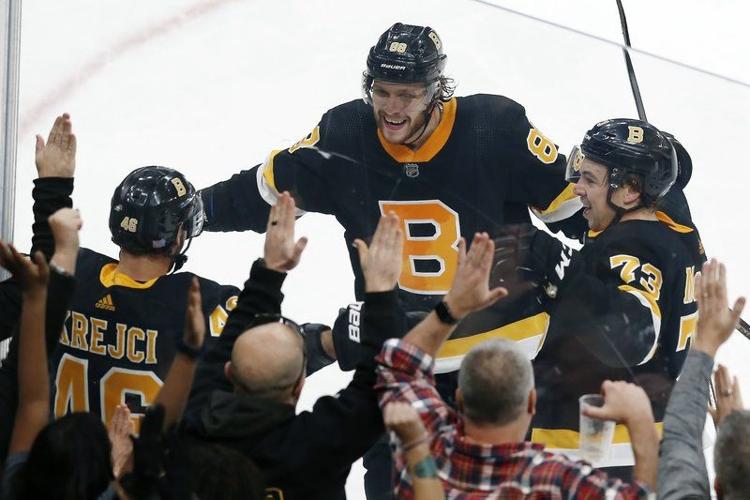 1:20 into OT: Rangers forward Pavel Buchnevich fires a shot on Bruins goaltender Jaroslav Halak that sails wide of the net. Rather than wait for a defenseman (or a Ranger) to fetch it, though, Halak ambles behind his net to gain control of the puck himself and dishes it ahead to teammate David Krejci, setting the game-winner in motion.
"Krejci was coming for it, so I stopped it for him, he picked it up and he did the rest. Pasta did the rest, too," said Halak, author of a 26-save victory. "Krejci was open in the slot, and they can find each other without even looking. It was great to see."
1:33 into OT: Krejci skates the puck up the boards in front of the Rangers' bench and into the neutral zone, with Rangers forward Ryan Strome forechecking him. As he got to the area in front of his own bench, Krejci spun off to his right and flung a backhand pass to a streaking David Pastrnak, the trailer who was coming through the slot.
"It's about puck possession, keeping the puck and you kind of see what's going on," said Krejci. "You kind of h ave to feel it out: the opposition that's on the ice, whether they've been on the ice a little longer or not, whether you go with speed or not. You have to be smart; you have to think out there.
"It started with Jaro behind the net. If he didn't stop (the puck), it would've gone all the way around to their forward. It would've spent time in the D zone. It's hard to get a puck back at 3-on-3, so that was a big play by Jaro as well.
"You want that puck (in OT); you don't want to chase. Five-on-5 it's easier to get the puck back, but 3-on-3 guys are really good, really skilled. You just chase all over the ice — and that's not fun."
1:38 into OT: Coming with speed into the offensive zone, Pastrnak pulls an outside-inside move on Buchnevich, pulling the puck past the defender's outreached stick while at the same time splitting past Ranger blue liner Adam Fox. He took the puck below the goal line to goaltender Henrik Lundqvist's left, drawing the veteran netminder towards him, before turning back to his forehand below the circle and dishing the disc back to Krejci inside the opposite circle.
""That's where the relationship for those two comes in: where to throw it to on the ice," said Bruins head coach Bruce Cassidy. "Because he had a pretty good idea of who was coming late so he wouldn't be at the back post, and it happened to work out.
"I think he's known first as a guy with pace, a guy that's 1-on-1, a guy with a big shot, but I think it's out there now if you play him just to shoot, he'll make plays."
With Patrice Bergeron missing his third straight game of the week with an injury, Pastrnak again saw Krejci, his fellow Czech Republic native, slotted into the top center spot. 
"He dropped it to me and had two guys on him, and I saw it was wide open so I drove in," said Pastrnak. "It's something (that) when you play with one guy for a while, you get chemistry going."
1:40 into OT: Shooting the puck on his off-wing, Krejci one-timed Pastrnak's pass by a diving Lundqvist and into the netting, securing another victory for the Black-and-Gold.
"Maybe we haven't been playing much together lately," said Krejci of he and Pastrnak, "but we always know about each other on the ice. He's such a good, dynamic player; he can draw one, two, three guys to him, and then gets (other) guys open. That's exactly what happened."
¢¢¢
Phil Stacey, the Executive Sports Editor at The Salem News, covers the Boston Bruins for CNHI Sports Boston. Contact him at pstacey@salemnews.com and follow him on Twitter @PhilStacey_SN