BOSTON -- Never miss a Sunday show.
It's a mantra that phanatical Phish phollowers have lived by for the last few decades. The legendary jam band from Vermont always seems to bring a special energy on these nights, making the sacrifice for those who attend before having to get up early for work Monday well worth it.
The Boston Bruins, at least in this particular instance, didn't follow the same path to their paying customer's enjoyment.
It was a Sunday night stinker on the TD Garden ice, with Calgary skating around the Bruins and leaving with a 4-0 victory.
Every team is going to have a couple of duds over the course of an 82-game season; that wasn't necessarily the issue. It was more the lifeless and lack of urgency that those wearing Black-and-Gold sweaters put forth.
Having gone six nights between games, The Bruins had played reasonably well Saturday night in Philadelphia, winning the third straight contest by a 5-2 final. Returning home with momentum, they proceeded to lay an egg before their home faithful while making their short-time goaltender, Dan Vladar, an easy 27-save shutout winner.
The Flames were playing the final contest of a seven-game road trip Sunday, having defeated the Islanders in the latter's new digs the previous night. If they were feeling lethargic or had any rust on their blades, it didn't show. They scored just 1:29 in on a Johnny Gaudreau rebound follow-up, got a similar tally from another ex-Boston College Eagle, Noah Hanafin, in the second period, and doubled that lead with two goals within 63 seconds early in the third.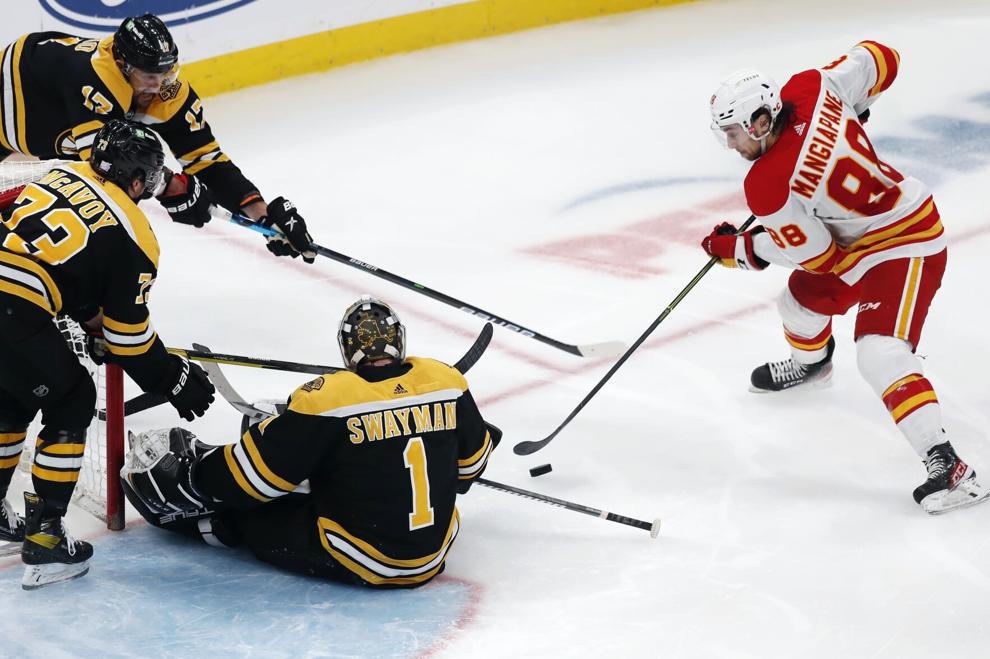 That was game, set and match -- the Bruins simply weren't going to muster any sort of comeback on this night.
What was troubling -- and certainly should be to Boston's brass -- is that the team's top line of Brad Marchand, Patrice Bergeron and David Pastrnak did next to nothing. Matched up primarily against Calgary's Gaudreau-Elias Lindholm-Matthew Tkachuk trio, Boston's Big 3 had just four shots between them and were an ugly minus-6 collectively.
Three power play opportunities went by without so much as a whimper from that group, along with Taylor Hall and defenseman Charlie McAvoy. An ill-advised Bergeron drop pass just inside the Flames blue line in the third period led to a shorthanded rush the other way, with the visitors getting four (!) chances while down a man before putting one past Bruins netminder Jeremy Swayman.
"The top guys did not have a good night in any area of the game," Bruins coach Bruce Cassidy said. "That's an area that could have helped us."
Too often this season when that line isn't putting pucks in the net, Boston's offensive fortunes dry up. No one on the bottom three forward lines picked up the slack on this night either, giving the Flames their seventh shutout in their 19th game of the season (the first NHL team in 92 years to do so).
"We have skill," said Bergeron, "but we have to play hard, we have to play simple, we have to play the right way and get to the net. Tonight is obviously not the type of game we need to play if we want to be successful."
If it's a one-game blip, that can be dealt with, corrected and everyone moves on. How the Bruins fare in Buffalo Wednesday, followed by a return home for a day-after-Thanksgiving matinee with the Rangers, will determine that.
###
Phil Stacey, the Executive Sports Editor of The Salem News, covers the Boston Bruins for CNHI Sports Boston. Contact him at pstacey@salemnews.com.