We are going to mop the floor with these guys.
I distinctly remember thinking that after friends of mine decided we should start a team in the Beverly Men's Softball League in the early 1990s.
My youthful hubris felt completely justified. Here we were, guys between the ages of 20 and 23, feeling we were still in our athletic prime. We grew up playing baseball together, were confident in ourselves and figured it'd be an easy transition from one diamond to another.
We were the men of Gloria Foods (although none of us worked there), ready to dominate the league.
Then the games started — and we got our hats handed to us.
We learned quickly that softball wasn't just folly for many of the teams in our league; these guys took it seriously and played to win. They could've cared less than we were younger, tanner and certainly more carefree than they were; to them, we were mere impediments on the road to another two points in the standings. We were the softball equivalent of appetizers before the main course.
We discovered that some teams had ringers — ringers! in men's league softball! — that would come to Beverly from out of town for the sole purpose of mashing balls far out of Innocenti Park and into the black night. Sometimes it was a pitcher, a guy who looked like he'd have a difficult time peeling himself out of a Barcalounger but somehow managed to befuddle us with an array of pitches none of us were ready for.
It was humbling.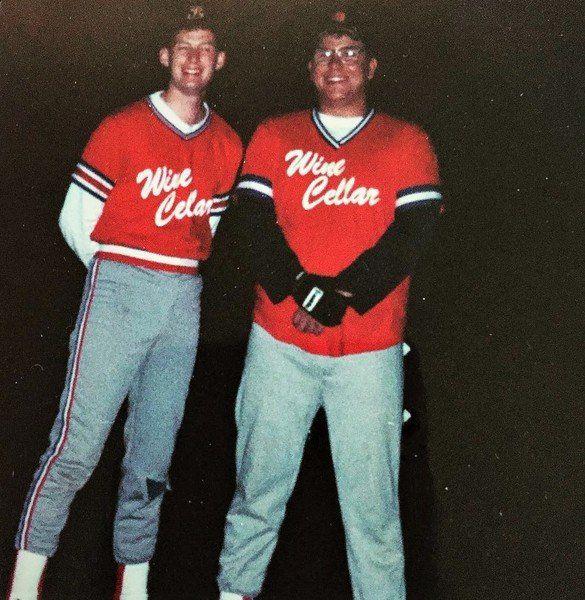 Established teams like Lucky's and Drinkwater Construction showed us what men, many of whom worked with their hands for a living, could do with an aluminum bat at the plate. Some wore metal spikes — yes, you read that right — and slid looking to do more than advance to the next base. These guys were also surprisingly slick fielders and could track down softballs with ease. There was always a couple of outfielders with cannons for arms on the better teams, too.
Bob Stanley, the former Red Sox hurler who made his home in Wenham, played on one of the teams and hit a softball on top of the roof of the McPherson Center, which stood about 125 feet beyond the left field fence at Innocenti. How were we supposed to compete with that?
As a part-time sportswriter working full-time hours at the "old" Salem News in downtown Salem, I had to take a few hours off of work to play these weeknight games across the bridge. I'd come back to the office in my uniform, soiled and sweaty, and the exchange would go something like this:
THEM: You guys lose again?
ME: Yeah. 
THEM: OK. Back to work.
Fortunately, we learned from our elders. We figured out sheer athleticism wasn't going to win in this league, so we figured out how to get better — and we did. Eventually, from that original Gloria team we became the Wine Cellar, then Fisher & George. We came close to winning the title a few times, but never quite managed to do so.
But that was OK. I just loved still being part of a team, wearing a uniform, having a set lineup and batting order, and trying to win ballgames with my buddies.
As a lefthanded dead-pull hitter, I loved playing at Innocenti with its short right field porch (albeit with a Green Monster type fence). I had a weird superstition where even on the hottest nights I had to wear a T-shirt, a three-quarters length shirt over that, and then my actual game shirt. On nights where I didn't have to rush back to work, I enjoyed hanging out with our girlfriends (and for some guys, their wives) and enjoying a few post-game beverages.
Around eight years later, I saw an opposing player get called out on strikes, turn and ask the umpire if he was joking, then coldcock him with one punch. The league had been trending toward the way-too-much testosterone for a while, but that night kind of cemented it for me.
Unlike others in the league, I wasn't trying to make up for glory days of the past; I just wanted to play ball and have fun. All of a sudden, I realized it just enjoyable wasn't any more. I switched to playing in a weekend co-ed league, which proved to be a lot less competitive — but possibly more fun -- and did that for another decade. It's probably just as well, because by that point my throwing arm had gone to hell in a bucket from years of pitching and playing ball virtually every day, so I transitioned into a pitcher in our modified, slow-pitch league, offering up underhanded knuckleballs to the masses.
I haven't played ball in a dozen or more years now, but with the benefit of hindsight I can look back on those days fondly. Especially when it first began and we were going to rule the league easily.
Those Young Man Blues set in pretty quickly, and it was a lesson I've never forgotten.
Phil Stacey is the Executive Sports Editor of The Salem News. Contact him at pstacey@salemnews.com and follow him on Twitter @PhilStacey_SN
||||