Patience is the virtue for football players all over Massachusetts now waiting for their seasons to begin in late February.
Two of Marblehead High's gridiron captains are grateful they won't have to wait that long to make their college football plans.
Senior J.T. Monahan made his plans to play at the University of Rochester official recently, while fellow captain Mark Paquette had committed to head north and play for the Polar Bears of Bowdoin College in Maine.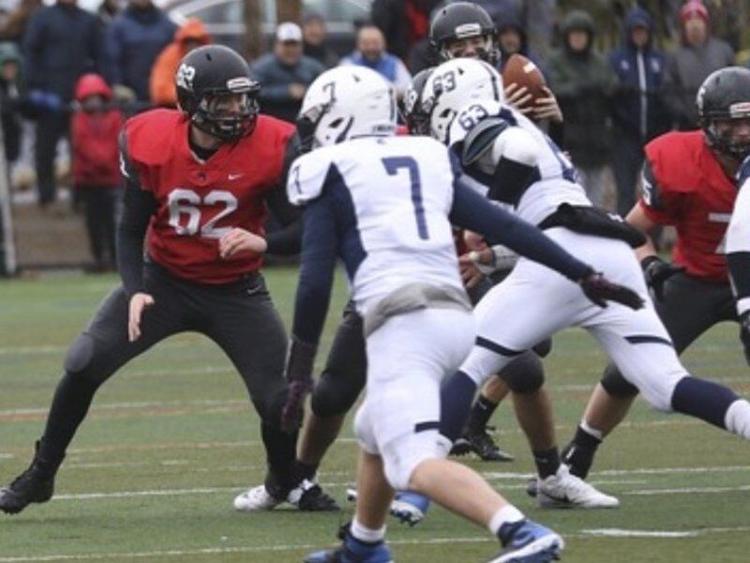 Marblehead High's football program has a family feel to it and for Paquette, the connections to Bowdoin run deep across both his home and his football families. The Magicians have sent a number of talent players to Brunswick, Maine in recent years including All-NESCAC tight end Bo Millett, Harry Craig and last year's leading rusher, Tim Cronin.
Paquette's older brother, Sam, plays lacrosse for the Bears, and their family has studied at Bowdoin for generations.
"My great-grandfather and grandfather both attended Bowdoin, so the family history was a big draw. Nobody was more thrilled with my decision than my grandfather," said Paquette, a talented free safety and wide receiver. "The connection with Marblehead was definitely helpful. Bo and my brother had nothing but great things to say about the athletics and the school."
For Monahan, a 6-foot-3, 225-pound lineman and outside linebacker, the air of freedom was a major factor in wanting to become a member of Rochester's Yellow Jacket football program.
"It's total freedom in an academic sense, with no required courses, and that intrigued me as someone who finds it hard to focus on classes outside your interests. Hearing I can pick my own classes at one of the top schools in the country was incredible," said Monahan, who went to a football camp at Rochester in the summer of 2019 and stayed in touch with the coaching staff.
The ongoing coronavirus pandemic made it a different sort of recruiting process for both Magicians. Monahan went through Rochester's virtual junior day in March and was able to get an in-person tour this August. Even though the entire campus wasn't open, it made a huge impression.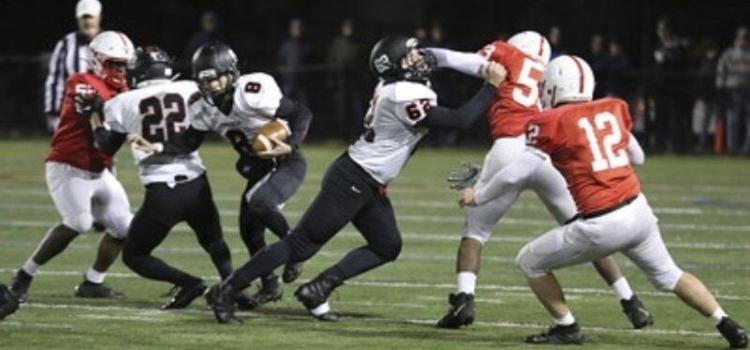 "I knew it was the place for me immediately. It was a perfect fit," said Monahan, who is thinking about studying business or economics but wants to stay open minded.
For Paquette, having been to Bowdoin to visit his brother over the years gave him a good sense of the campus. Being able to continue his career at a school with a tremendous academic reputation and competitive football made the decision relatively easy.
"I had some great conversations with (head) coach (B.J.) Hammer over the phone and I'm excited to be part of what he's building," Paquette said.
Skilled and tough
On the field, Paquette is a roving, center field-type safety with a nose for the football. His ability to read the quarterback's intentions and pounce in zone coverage led to a number of interceptions and even more bass break-ups last fall; Paquette says it's a combination of film study and natural instincts that guide him in coverage.
"I love studying my opponent's game film. If I can learn what route combinations they like to run or anything that might give away the play, it can make all the difference," he said.
"I think my intelligence in school translates to the field when I'm dropping back in coverage. It helps me read the quarterback and piece together where the receivers are going."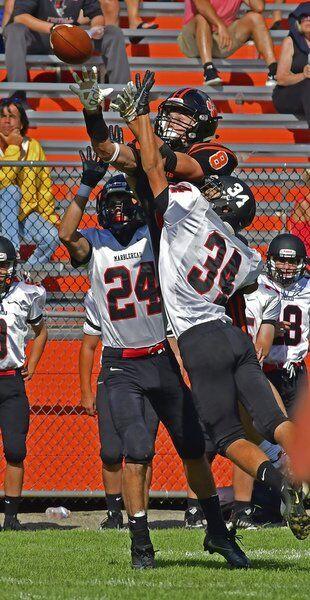 A starter since his sophomore year, Paquette spent the last two summers putting on muscle in the weight room to become a more complete player. He helped out on offense some last fall and figures to be even more involved in the passing game as a receiver for MHS next spring.
"I've worked on my aggressiveness and tackling. Sophomore year I struggled to make an impact in run stopping, and as I've put one more muscle I've been able to make more and more plays and take the next stop to being an all-around player," he said.
Monahan is a versatile player for the Magicians on both sides of the ball. He can impact the defensive line from a three-point stance or as an outside linebacker from the stand-up position. His height and leverage make him a very good pass rusher, as does the natural balance he has from being a three-sport athlete who skates on the hockey team and is the lacrosse goalie.
"For a while I thought about college lacrosse, but my first love was really always football," Monahan said. "I had a pretty good season last year and that opened up some doors."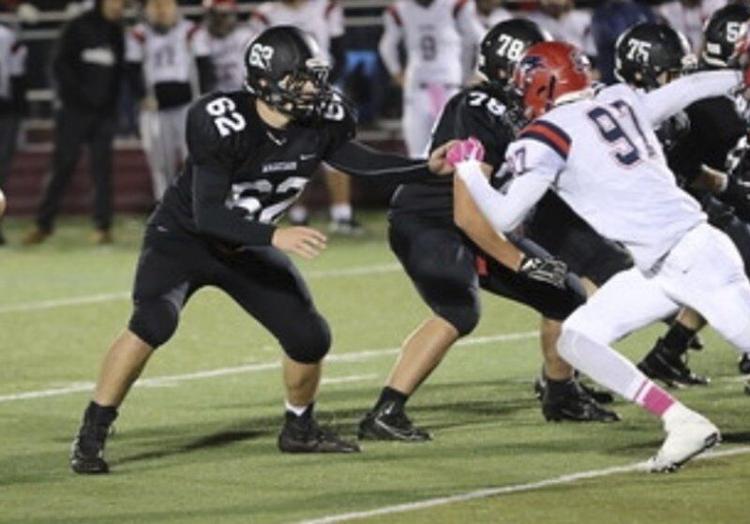 Though he initially met with Rochester's defense and was figuring to go in as an outside linebacker, Monahan will gladly play anywhere he can. He's a capable blocking tackle for Marblehead, but could even shift to tight end in college if the need arises.
February can't come soon enough
It was an unusual summer for the Magicians. The team's captains, Paquette, Monahan, Miles Smith and Cam Jannock, led workouts as often as they could while maintaining proper distance. There was no weight room open for the squad, nor any of their typical football camps.
"It was definitely weird. We focused on speed and agility. Anything that we could do outside," Monahan said. "As captains we've been stressing self-motivation. Just be doing something because when we get into the season (scheduled to begin Feb. 22), the teams that have been active will separate themselves from the pack."
Once the state officially postponed the football season until the 'Fall 2' window in February, March and April, their focus shifted but the Magicians' ultimate goals did not.
"The news has been tough on everyone. But I don't think it's changed our preparation," said Paquette. "For us seniors, this is our last time playing with each other as a team. I've played with most of these guys and built friendships since third or fourth grade, and I'm ready to do whatever it takes to get one more season with them."
||||