MIDDLETON — Before they took to the ice Friday afternoon to face the two-time defending Super 8 champions from BC High, the St. John's Prep hockey team had a pair of very special visitors pay a visit to their locker room.
John and Andrew Frates, the father and brother, respectively, of the late Pete Frates, were invited into the Eagles' locker room at the Essex Sports Center to deliver a pregame speech to the players. This was the sixth annual Pete Frates Winter Classic, which is held in honor of the former St. John's football, hockey and baseball captain, but the first to be played since his courageous eight-and-a-half year battle with amyotrophic lateral disease (ALS) ended on December 9.
"They came in and talked about continuing Pete's legacy. I can't imagine how difficult it is for them to come and speak with us, but it was great for them to do that," said Prep head coach Kristian Hanson, whose team earned a 1-1 stalemate with their Catholic Conference counterparts.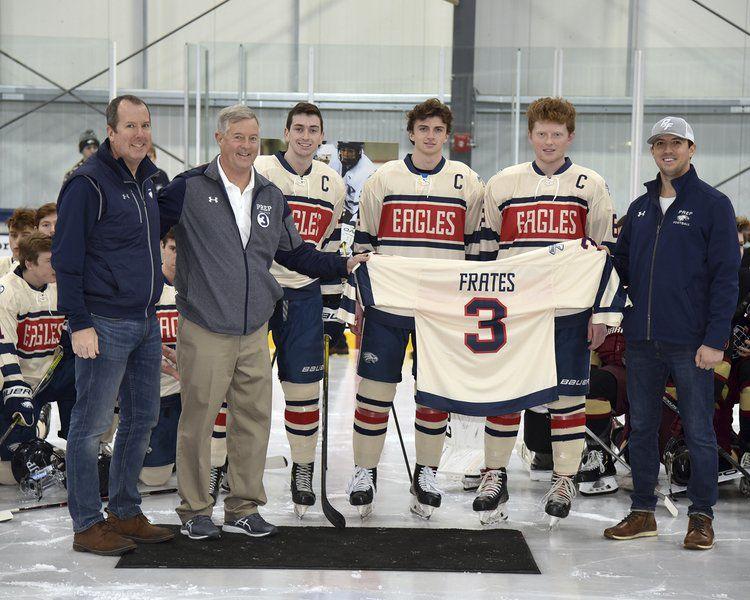 "It's great that St. John's Prep allows us the forum to do things like this, whether it's for (ex-SJP hockey captain and U.S. Army 1st Lieutenant) Derek Hines or, in this case, Pete. It's nice to have history on your side, and I try to impress that upon our kids that it truly means something to wear these jerseys.
"When Mr. Frates and Pete's brother came into the locker room to speak to us," added Hanson, "that means so much more than any hockey outcome  could."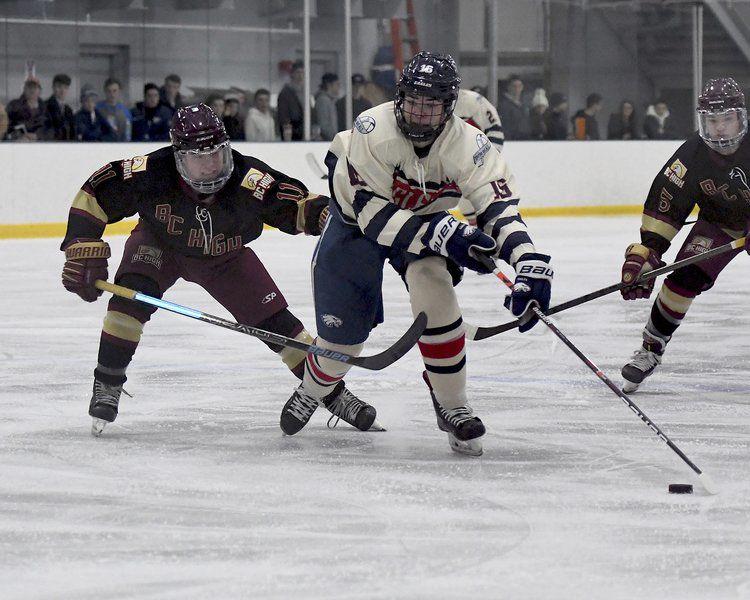 To determine which team advanced to Saturday's tournament final to play Central Catholic (a 2-1 winner over Pope Francis earlier in the day), the teams went to a 5-minute overtime, then a shootout. BC High scored twice in four shootout attempts to the Prep's one to advance, but the contest will be officially recognized as a tie.
A large crowd was on hand for the festivities, which featured John and Andrew Frates meeting all four teams in the tournament for a ceremonial puck drop prior to the St. John's/BC High contest. They were also presented with a specially made St. John's Prep hockey jersey for this occasion with Pete's name and No. 3 on the back.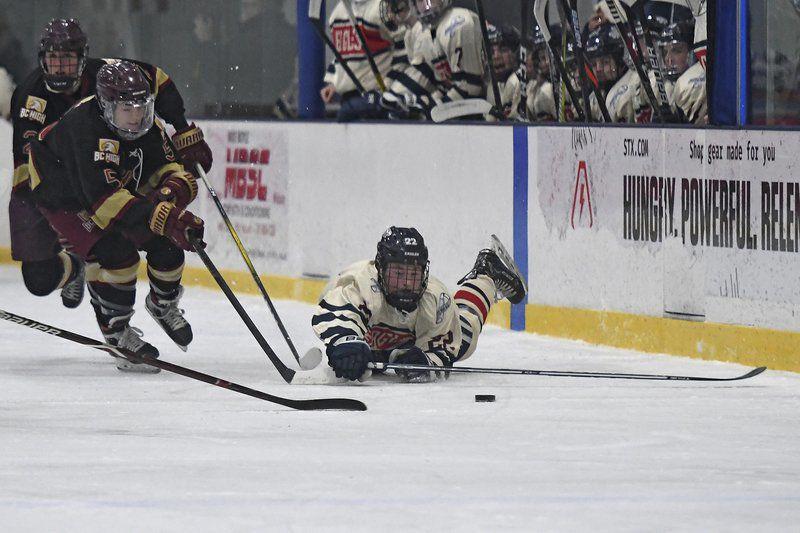 As per tradition in this contest, all of the Eagles' players wore jerseys with 'Frates' stitched on the nameplates.
Falling behind by a goal after one period, St. John's Prep got the equalizer quickly in the middle stanza when Ned Malolepszy followed the rebound of a Patrick Moran floater on net and jammed a one-handed rebound past BC High goaltender Dalton Neelon. Senior defenseman Josiah Brown also earned a helper on the play.
"We preach that all the time: get to the net, put the puck at the goalie's feet, shoot with a purpose, attack the net and look for a rebound," said Hanson. "All those things came into play on that goal."
Noah Dorsey-Sorofman made sure his Eagles would earn a point on this day, coming up big while making 26 saves. His counterpart, Neelon, was also busy in a 28-save outing.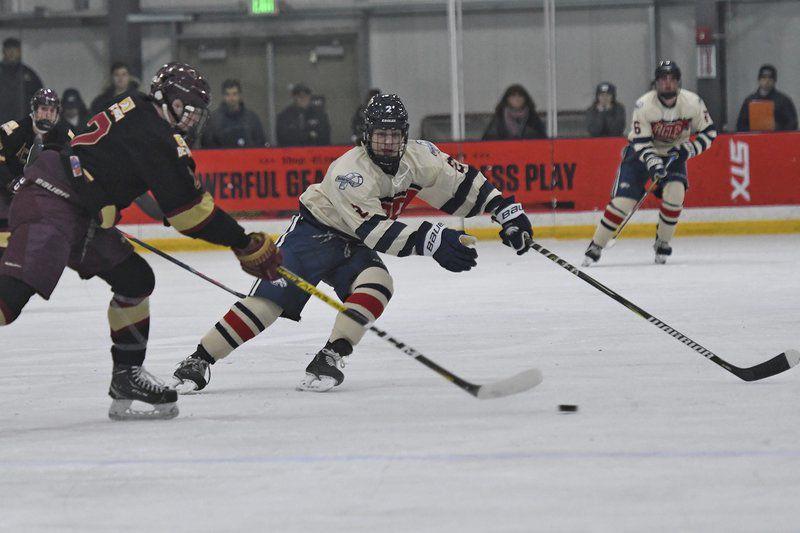 Hanson was also happy with the way his team killed the only penalty of regulation, coming midway through the third period. Matt Keohane of the visitors rang a one-timer off the top crossbar from just outside the slot, but otherwise St. John's kept the net clear in front of Dorsey-Sorofman and cleared the zone twice.
"I was happy with the way we played and responded after falling behind early," said Hanson, his team now 1-1-1 prior to Saturday's consolation matchup against Pope Francis at noon.
"Noah (who got the team's Army helmet for Player of the Game) tracked the puck very well. (Senior defenseman) Andrew Cole, (sophomore first line center) Cole Lopilato, (junior right wing) Zach McKennelley, (freshman center) Cam Russo competed for pucks, (junior right wing) Jake DiNapoli was a buzzsaw out there ... we had a lot of guys play well."
St. John's Prep, which had opened its season six days prior with a rough 9-1 loss at Hingham, played its best game of the young season against the Eagles of Dorchester Friday afternoon. Hanson hopes it's a step in the right direction for his squad.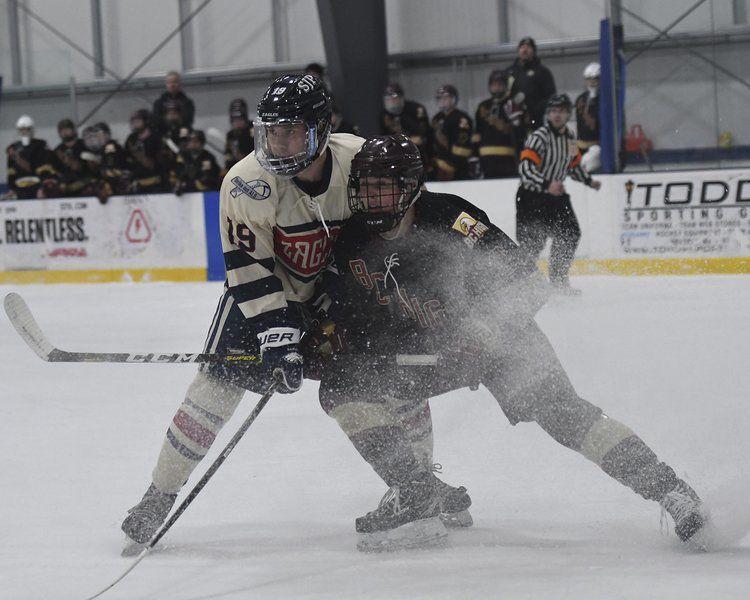 "It's about taking small steps," he said. "After that very difficult start last Saturday, this was a small step, and we hope we can take another one against Pope Francis, then another vs. Xaverian (on New Year's Day). Playing a difficult schedule like we do will make us a better team."
St. John's Prep 1, BC High 1
(BC High wins in shootout, 2-1)
6th annual Pete Frates Winter Classic
BC High 1 0 0 0 — 1
St. John's Prep 0 1 0 0 — 1
First period: BCH, Brian Bulger (Colin Norton), 8:26.
Second period: SJP, Ned Malolepszy (Patrick Moran, Josiah Brown), :13.
Third period: No scoring.
Overtime: No scoring.
Shootout goals: BCH, Norton, Aidan Carey; SJP, Cam Russo.
Saves: BCH, Dalton Neelon 28; SJP, Noah Dorsey-Sorofam 26.
Records: SJP, 1-1-1; BCH, 2-0-1.