Reading the Greens
Gary Larrabee
We have been following Beverly native Ron Kirby's illustrious career in golf course architecture on these pages spanning for more than 40 years, ever since he introduced the great Gary Player into the business with the formation of Kirby, Player and Associates, a design firm they formed in the 1970s. Gary Player Design has built more than 300 courses worldwide since the nine-time major winner went solo in the business.
Player has said many times he learned the course architecture business from a master, one Ron Kirby.
Most recently, the 88-year-old Kirby has created several noteworthy golf courses under the Jack Nicklaus Design umbrella. Kirby currently is consulting on four projects, including a complete restoration of the Apes Hill resort course in Barbados and an ongoing tinkering of his most famous design, Old Head in Kinsale, Ireland. This man never stops designing, or so it seems.
All of which has led to the publication this spring of a fascinating memoir for which he combined talents with late wife Sally (also a Beverly native). It's called We Spent Half Our Lives on the Wrong Side of the Road (Palmetto Publishing).
The title is derived from the fact Ron and Sally's life-long journey via his career involved as much time driving their car on the left side of the road (hello, Ireland, England, etc.) as it did on the right (e.g. America, France, Italy, etc.).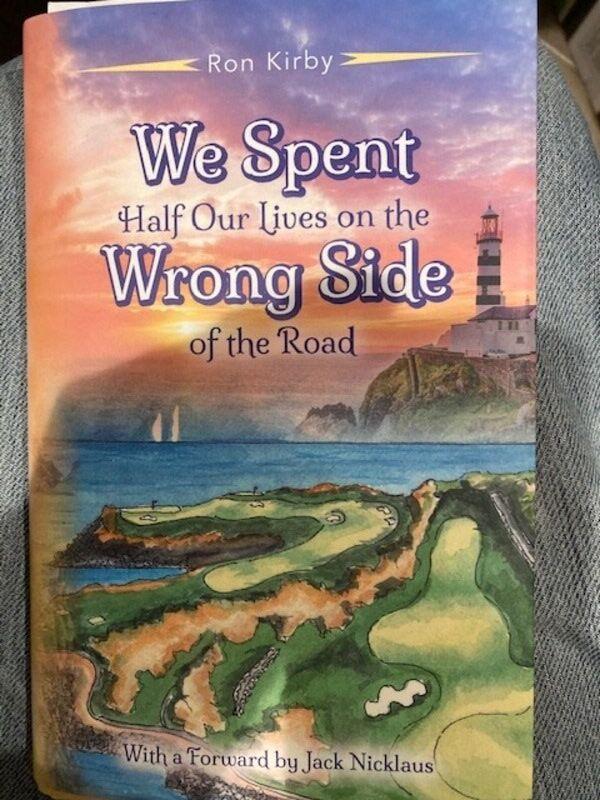 The 118-page hardcover volume, featuring a golf course-motif cover illustration penned by Kirby, is broken down into 18 chapters (both convenient and fitting), based on the 18 homes the couple lived in. That began with the homes in which they grew up on Mulberry Street (Ron) and Fossa Terrace (Sally) in Beverly.
Their homes as man and wife started with the Coast Guard cutter Koiner, based in Seattle (while Ron served in the Coast Guard, Sally remained home in Beverly), followed by stops in Petersham, Mass.; Paradise Island in the Bahamas; Plantation, Fla;, Harrogate, Yorkshire, England; Sickling Hall, Yorkshire, England; Atlanta (end of the book's First Nine); Donatello House, Monaco; Gerrard's Cross, London; Alpharetta, Ga.; Bergamo, Italy; Kinsale, Ireland (2 different domiciles); North Palm Beach, Fla.; Portsmouth, N.H.; and, lastly, Palm Beach Gardens, Fla.
That amazing 'home' itinerary did not include projects he worked on in South Africa (with Player) and the Philippines (a nine-hole private course for President Ferdinand Marcos). Remarkably, they raised three children during their world travels: Faye, Ron Jr., and Bev.
The book, with major assistance from daughter Bev McPhee, in many ways is a love letter from Ron to Sally, who passed away at age 86 in January 2020, spanning a 70-year romance. Sally, too, played a major role in the compilation and organization of the book, which is filled with family album-type images from their teenage years right up until the last cruise they took a couple years ago. 
The game of golf and the business of golf course design was central to their lives and their travels..
"I could not have done my job, grown my career, without Sally either by my side or back home raising the kids while I was all over the place designing and restoring golf courses," proclaimed Kirby, who underwent successful heart surgery in Miami earlier this year.
For the record, as is noted in the appendix, Kirby designed 38 courses in nine states, nine countries and Barbados. They include Old Head, Pescara in Italy, London (UK) Golf Club, Gary Player Country Club in South Africa and Escorpian Golf Club in Valencia, Spain.
He has remodeled or expanded 38 courses in eight states, seven countries and Barbados. He was responsible for eight European projects while a member of the Jack Nicklaus Design staff starting in 1986.
"I could not have dreamed our life would be so fulfilling," Kirby said, "or that we would travel the world the way we did. But it was all centered around the work opportunities that came our way and we flourished through it all, full of blessings every step of the way, often with the kids alongside."
###
A final farewell to the following members of our golf community who passed since our final column in 2020:
Scott Cheyne, Robert Coffin, Jim Hughes, Dick Gentile, George Silva, Arthur Buckley, Joe Raby, Pat Ambrose, Janice Guyer, Sheila O'Keefe, Ruth Grady, Chris Mungovan, Jon Wetterlow, Michael Flynn, Ron Liberge, Karen Spears, Lois Pennimpede, Henry Cerasoli, Nick Scangas, Don Comb, Jack Good, David Cushing, Gloria Lipinski, Walter "Huck" Keany, Arthur Frawley, Mike Wortis, Bob Ingersoll, Larry Mcintire, Ron Liberge and Raymond Miller.
###
Gary Larrabee was a sportswriter for The Salem News from 1971-95 and has written about golf on the North Shore and beyond for more than 50 years. Contact him at gary@garylarrabee.com.
||||