GLOUCESTER — It wasn't just a win for the Danvers High football team Thursday morning at Newell Stadium.
It was a record setting triumph.
In Thursday's 56th annual Thanksgiving Day game, the Falcons' offensive and defensive lines paved the way for a dominant performance. Scoring four touchdowns in both the first and second quarters, they racked up 393 yards of total offense while not even attempting a pass in a 61-12 shellacking of the host Gloucester Fishermen.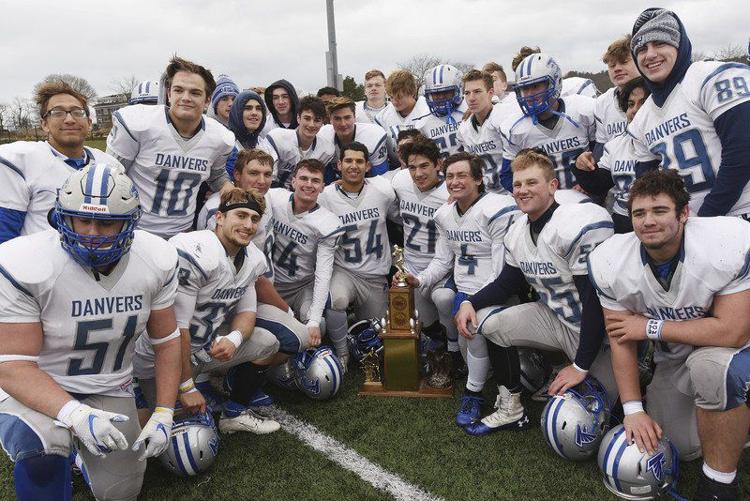 Twin brothers Rich and Russ Canova did a boatload of damage for Danvers (9-2), which captured its first Northeastern Conference title since 2005 with the victory. Rich, a tailback, rushed for 175 yards and five touchdowns on 15 carries while Russ, a fullback, had 100 yards on just two carries and a score of his own .
This marked the Falcons' second straight Thanksgiving Day win over Gloucester, the first time they've accomplished that feat since the 1993-94 seasons, as well as their first win at Newell Stadium since 1993.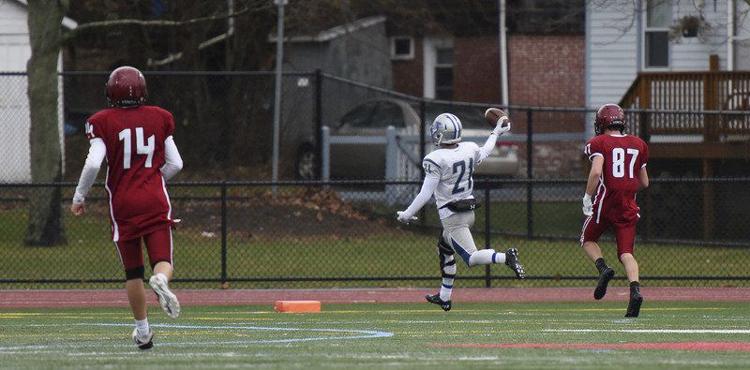 Danvers' 61 points were far and away the most in the series annals, and their 49-point margin of victory was also the greatest by either squad in the history of the series.
"It's a good feeling and I'm proud of the kids. It's something they've been working towards for multiple years," Danvers head coach Ryan Nolan said. "When I got here six years ago, we knew that Gloucester's physicality was the standard for the NEC and we needed to match that. I think we have been able to do that."
For Gloucester, a difficult season came to an end at 1-10 after giving up a school record 440 points in 11 games.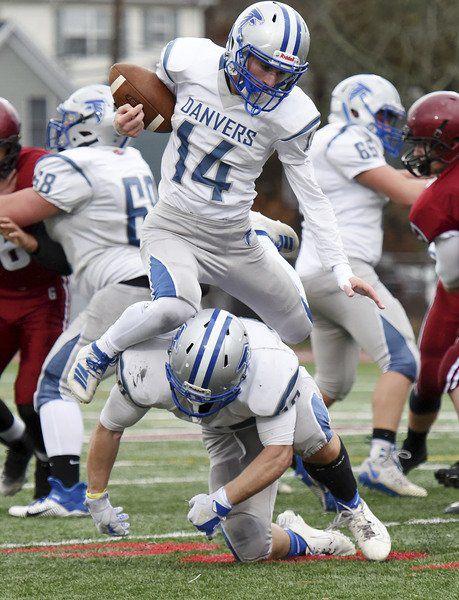 "They're big and physical; we knew that. We just had a lot of trouble fighting off blocks," Gloucester head coach Dan O'Connor said. "Their lines are great. You have to out-technique them, and that doesn't always work because they have technique too to go along with their size and strength."
Russ Canova was also a force at middle linebacker, stuffing Gloucester's rushing attack as the visitors limited the home team to just 73 yards on the day.
"They're both great football players in many ways," Nolan said of the senior twins. "They had great seasons and deserve it for the work they put in. Rich just has great balance running the ball, and Russ is such a physical presence."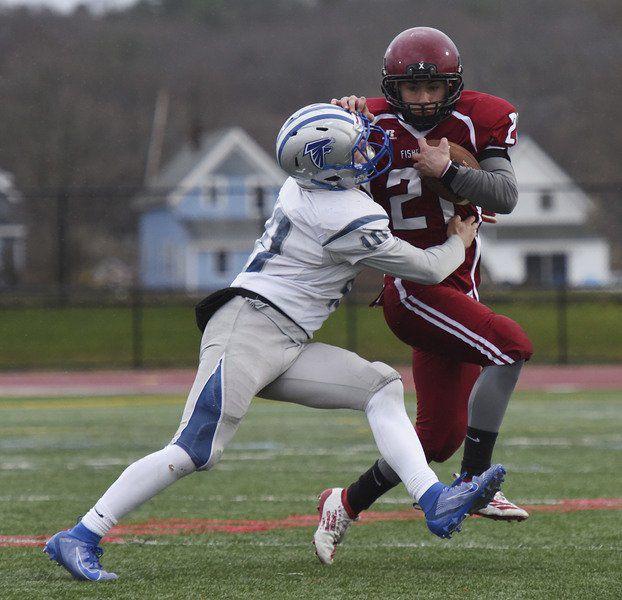 Danvers set the tone early on with touchdowns on its first three drives. After a blocked punt that saw the DHS offense start inside the Fishermen's 10-yard line, J.P. Kelter scored from the eight to make it 7-0 Falcons. 
On the ensuing possession, Russ Canova took a dive up the middle 67 yards untouched to the end zone. Then, after a Kelter interception, Rich Canova then scored a 7-yard touchdown to get the Falcons out to a 20-0 lead.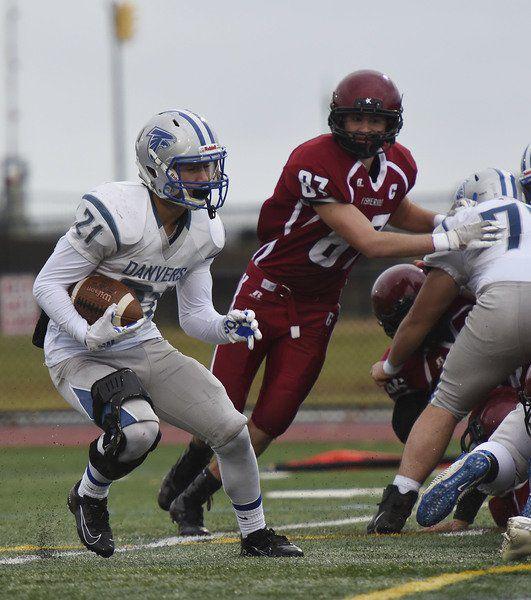 "We run hard and block hard, and we were able to take advantage of our size and strength right away," Nolan said. "Gloucester is a younger team and played hard until the end; it's just tough to play against our line, tight ends and fullbacks when they're blocking well."
Gloucester found some life as Jazayah Sainterling ran back the ensuing kickoff 80 yards for a Gloucester score. It was the first of two kickoff returns from Sainterling in the game.
Danvers, however, responded with the next three scores, two from Rich Canova and one on a 41-yard run up the gut from Jack Strangie to make it 40-6.
Sainterling then ran back another kickoff, this one from 75 yards out. But Rich Canova scored two more touchdowns before the half on runs from 70 and 11 to extend the lead to 54-6 at intermission.
Strangie added a 33-yard run early in the third to cap the scoring and make it 61-12. Due to the lopsided nature of the score, the entire second half was played on running time.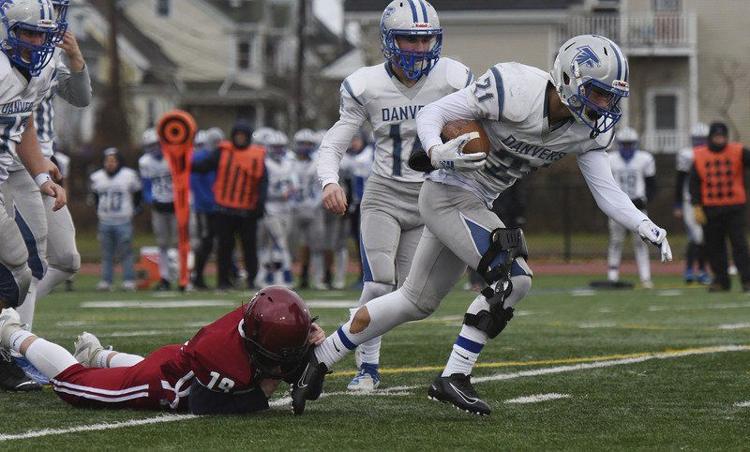 It was an ugly start to the contest as the first quarter saw two incidents after the whistles, leading to five ejections: three from Gloucester and two from Danvers. 
One player was ejected on an incident on the sidelines on the opening drive of the game. With Danvers up 14-0 and on offense again, a melee ensued after a play just over midfield. Both coaching staffs had to come onto the field to restore peace and four more players were ejected, two from each team.
"Emotions run high, it's a rivalry game but it's unfortunate that it got to that point," O'Connor said. "I thought our guys who stayed in the game conducted themselves a heck of a lot better and I'm proud of them for that."
"I think we were a little more reactionary to the stuff going on than we want to be," Nolan added. "Things settled down after that, though. For a minute at the beginning of the game I wasn't sure how it was going to turn out but both teams settled down and played football."