DANVERS — When Peabody High boys soccer coach Stan McKeen first took to the pitch with his new-look club back in early September, he admittedly had modest expectations. 
"Did I think we were going to go 13-5 heading into the (state) tournament? No, to be honest," said McKeen. "Losing the 12 players that we lost last year; talented, skilled players with 6-7 of them being starters, I was hoping to have a .500 record and make the tournament."
Instead, the Tanners' vastly inexperienced bunch not only grinded its way to those 13 wins, but earned themselves the No. 9 seed in Division 1 North. A tough draw meant they'd have to travel to No. 8 St. John's Prep for the sectional opener, but it was a challenge they willingly and anxiously accepted.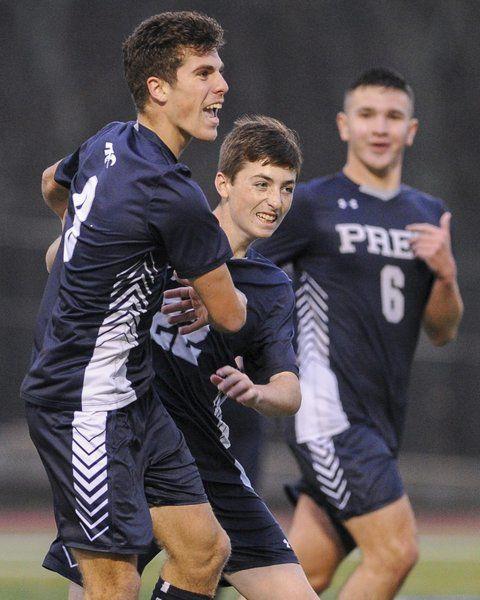 Not three minutes into action Tuesday afternoon on a rain soaked Glatz Field, senior Edward Santos put Peabody on the board first with a well-placed shot. The Tanners continued to impress from there, playing the prohibitive favorite Eagles to a stalemate for the remainder of the opening half.
But the hosts' overall skill and depth eventually wore Peabody down, as the hosts scored three times after the break en route to a 3-1 triumph. 
"We played a great first half, we moved the ball well and seemed to counter everything that they were trying to do," said McKeen. "But in the second half I think we were a little fatigued as the game went on.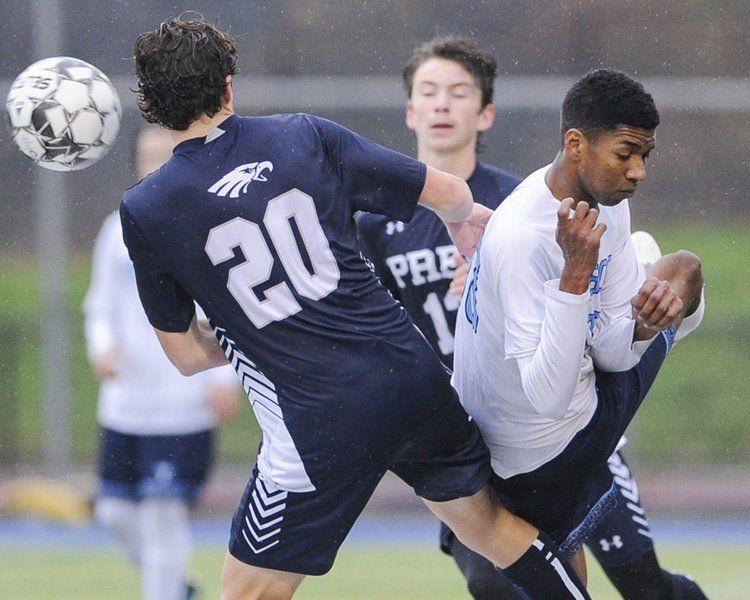 "They're a good team; no question, and we knew it was going to be tough to come in here and beat them. But we gave them a game for the most part and I'm proud of the guys."
Following the surprisingly swift strike from Santos, the teams traded possessions — and scoring chances — until the halftime whistle. Eagles' senior Gabe Najim had a pair of close calls, including a free kick from 25 yards out that dinged off the crossbar, while Ethan Ambrosh and Zach Vlachos nearly connected for a header on another. The Peabody defense, led by Ben Kemp and Nick Sablone, did a tremendous job thwarting chances and keeping the Prep offense at bay, helping their team hold on to a 1-0 lead at recess. 
But just like the Tanners did in the first few minutes of the first half, the Eagles returned the favor in the second as Zach Vlachos punched home a corner kick in the box to knot things up in the 42nd minute. St. John's continued to wear the opponent down from there, getting out in transition and keeping Peabody's defense on the move for much of the frame.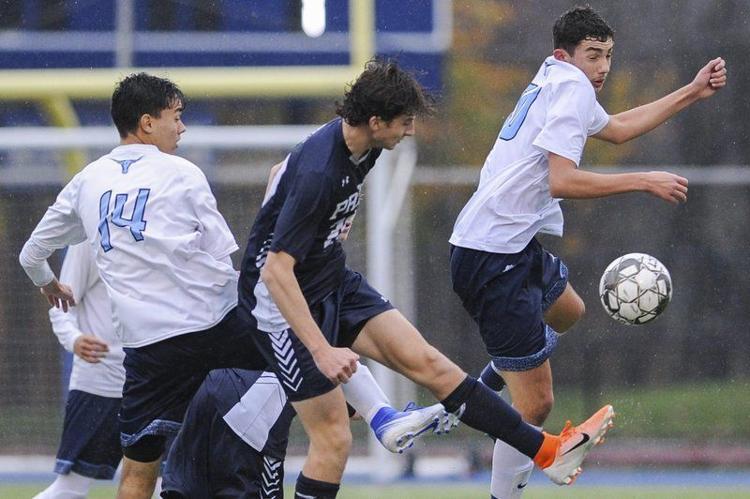 Then, with about 15 minutes to play, Zach Davis sent a through ball upfield to Ethan Ambrosh, who went in alone with Tanners' keeper Dominic Cunha and fired a low, angled shot far post for what proved to be the game-winner.
Owen Siewart added an insurance goal for St. John's Prep with just under seven minutes remaining on an impressive chip shot out of the reach of Cunha. 
"Our season's been a tale of two halves," said Eagles (13-3-3) head coach Dave Crowell, his team advancing to Thursday's sectional quarterfinal against Andover back at Glatz Field at 3 p.m.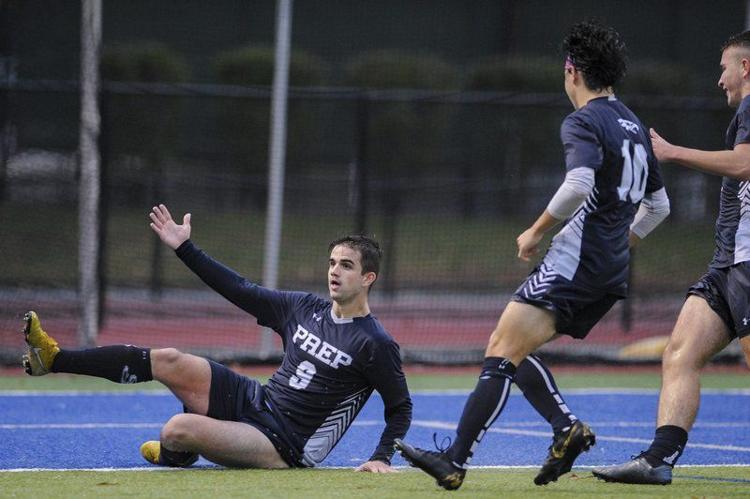 "In the first half we didn't play well, and then in the second half I felt we took over the game and our possession was so much better. We created the chances and scored some nice goals; but hats off to coach McKeen and Peabody. That was a great game."
Though limited, Peabody did have a few opportunities at the equalizer before Siewart's goal sealed things. In particular, freshman and leading scorer Victor Maciel had a pair of well-struck boots, but both were gobbled up.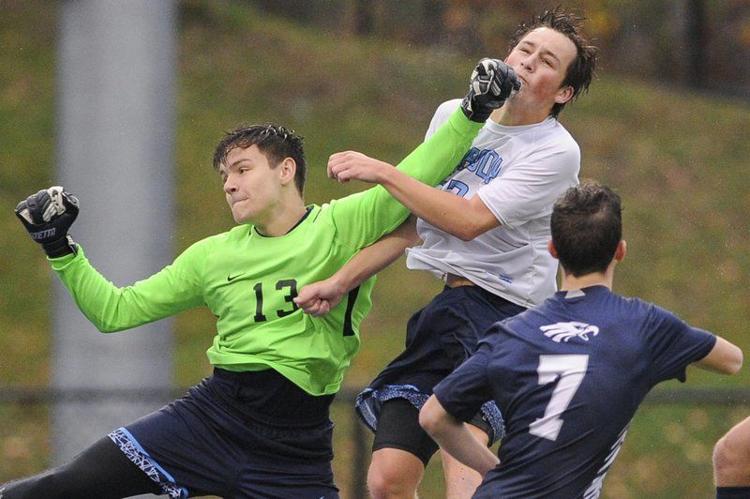 Peabody waves goodbye to soon-to-be graduates Kemp, Will Machado, Maxwell Oliveira, Christopher Fazollo, Kyle Morifs, Oscar Mejia, Enco Gjorga, Cunha, Cairo Muinz-Dalifour, Brian Panzini, Jake Howard, Evan Bazarian and Santos, but will return plenty of talent from what proved to be a strong group of underclassmen.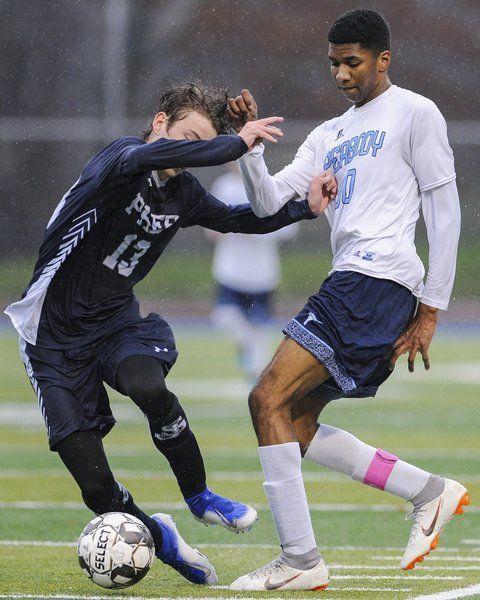 As for St. John's, its quest at another sectional championship continues against the Golden Warriors Thursday, a team that upended top-seeded and previously unbeaten Lynn English Monday evening.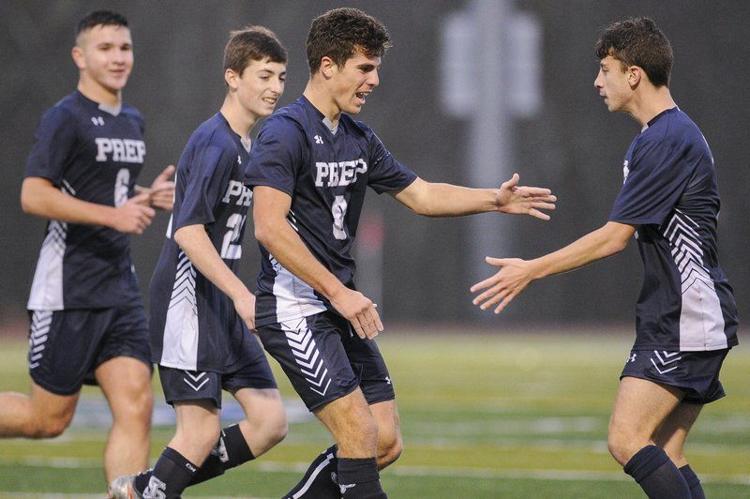 "We saw Andover play the other day; they're big and physical," said Crowell. "We'll have to play a complete game."