MIDDLETON — Like the man himself this tournament is named for, the St. John's Prep hockey team refused to give him.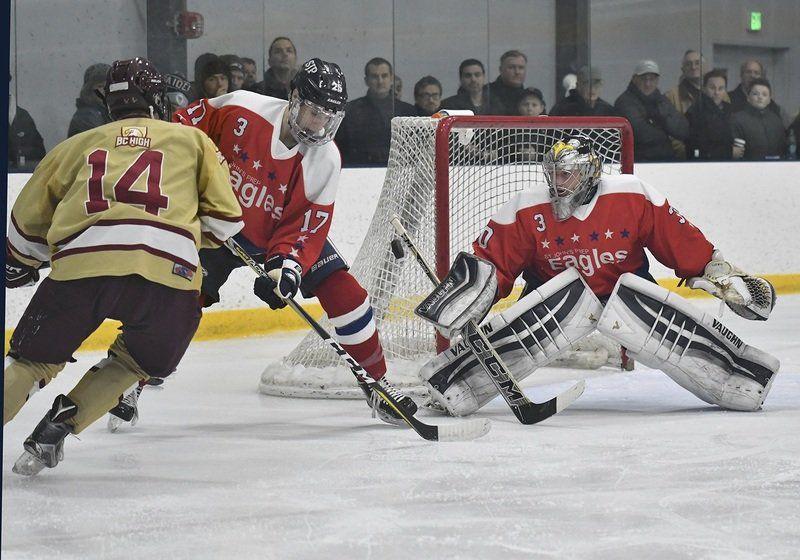 Despite getting outshot by more than a 3-to-1 margin — including 18 blasts that came their way in the final period, as opposed to only four they put on the BC High net at the other end of the ice — the Eagles found a way to persevere. The resolve they showed in the face of, at times, a near-constant barrage only seemed to make them stronger.
And when the final buzzer sounded at the Essex Sports Center Friday night, it was host St. John's Prep that skated off with a 2-1 victory over their Catholic Conference rivals in the opening round of the fourth annual Pete Frates Winter Classic.
Senior goaltender Cam Ludwig was immense in stopping 36 shots and sophomore Brian Carrabes netted both of his team's goals, including the game-winner with 2:38t o play by unloading a bomb from the top of the left wing circle.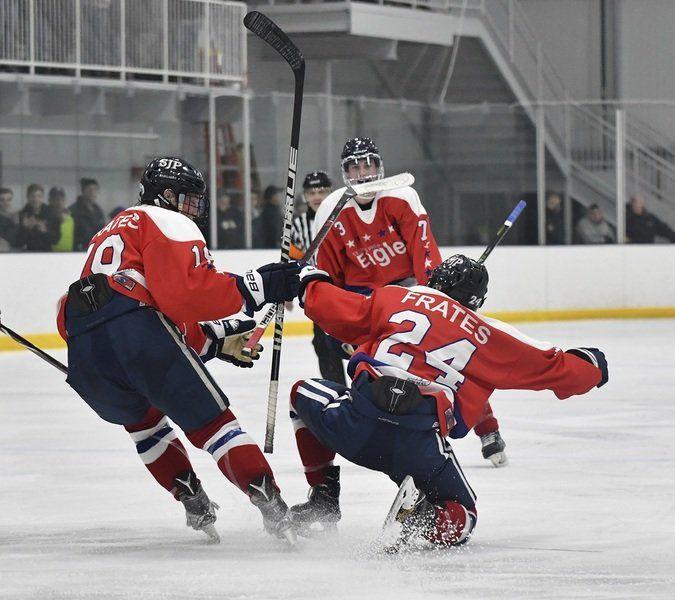 "We talked between (the second and third) periods about 'this is what we play for, we have to play for Pete'," said Carrabes, speaking about former Eagle Pete Frates of Beverly, the 33-year-old who has battled amyotrophic lateral sclerosis (ALS) for more than five-and-a-half years and has become a worldwide face in the fight against the dreaded disease.
"BC High is an excellent team, maybe the best team in the state. They have a ton of depth, speed, physicality, they attack the net well, and I didn't see a big difference between their first and fourth lines," added St. John's Prep (3-0) head coach Kristian Hanson. "So for us to come out with two big points today, that's a pretty good win by the boys."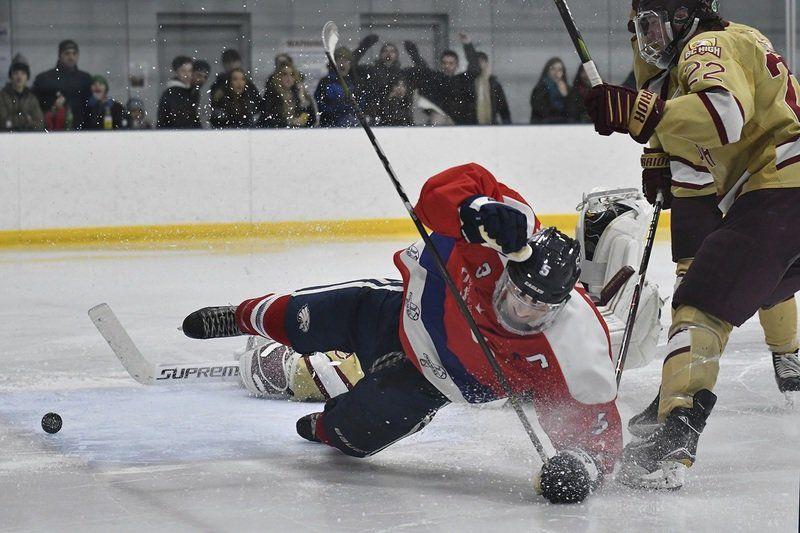 The game was scoreless through two periods before Carrabes connected 46 seconds into the final frame. Off a pass from captain Matty Tighe, he let a slapshot go from along the right wing boards and saw it high BC High goalie Chase Congdon (10 saves) in the shoulder and fall behind him. The junior netminder spun around and tried to prevent the puck from falling into the net, but was unable to do so.
"Great backcheck by Matty there; he set that whole play up," the 16-year-old Carrabes said.
Ludwig, the Eagles' senior goalkeeper from Groveland, was magnificent all evening. He was tested repeatedly, making 11 saves in the first period and 17 over the last 15 minutes.
"Even earlier in the game, he made one save on a 2-on-1 with his right pad, going left-to-right," said Hanson. "We knew coming in that one goal was going to be the difference against these guys. That wasn't less important of a save because it happened in the second period; we needed Cam to be strong all night. He had to be on his game ... and he was."
BC High was finally able to solve him when Peter Kramer connected with a wrist shot from between the circles with a little over nine minutes to play. The visitors from Dorchester kept pouring it on, especially on a third period power play, but couldn't beat Ludwig again.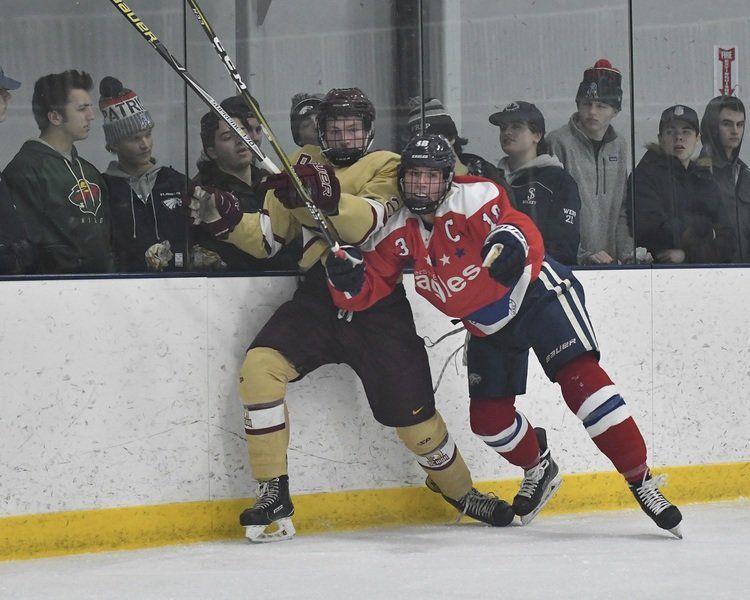 "Getting a lot of shots keeps me warm," said Ludwig with a smile. "We stayed calm and kept our focus throughout. The guys in front of me were great, too, blocking a ton of shots."
Using his outstanding acceleration, Carrabes got to the right place in the right time for the game-winner. After senior defenseman Evan Beers fed him with a pass from the right corner, the first line center wound up and uncorked another blast that beat Congdon over his glove hand.
"At that point, you just want to get pucks on net and see what happens," said Carrabes. "That one worked out well."
BC High pulled Congdon for an extra attacker with about 1:40 remaining and pelted the hosts with shot attempts, but they blocked three would-be chances during that time, including one in which captain Tim Usalis stopped with his chest.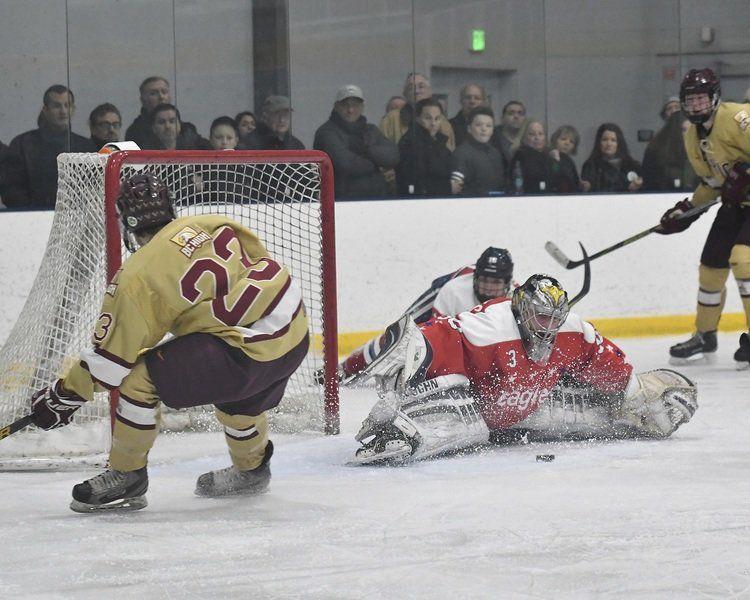 "The guys were basically willing to do anything it took to win this game. If that meant blocking a puck, winning a race to the corner for a loose puck, anything, they did it," said Hanson.
The Prep's reward for winning is a date with unbeaten Central Catholic in Saturday's Frates final (6 p.m.). The Raiders defeated Pope John, 3-1, in Friday's opening contest, allowing their only goal of the season to date with one second remaining while shorthanded two men.
"They're an outstanding team with whom many feel is the best goalie in the state (Matt Pasquale)," said Hanson. "But this is our tournament, and we're going out to win (Saturday)."
St. John's Prep 2, BC High 1
4th annual Pete Frates Winter Classic
at Essex Sports Center, Middleton
BC High 0 0 1 — 1
St. John's Prep 0 0 2 — 2
FIRST PERIOD: No scoring.
SECOND PERIOD: No scoring.
THIRD PERIOD: SJP, Brian Carrabes (Matty Tighe), :46; BCH, Patrick Kramer (Matt Lakus), 5:55; SJP, Carrabes (Evan Beers), 12:22.
Saves: BCH, Chase Congdon 10; SJP, Cam Ludwig 36.
Records: SJP, 3-0-0; BCH, 1-3-0.