BEVERLY — The heat and humidity didn't keep the 418 runners away from pounding the pavement in the Garden City Thursday night.
They braved the conditions to take part in the 52nd annual Beverly Homecoming 5K Road Race that started and ended at Lynch Park. More than half (223) of those harriers call Beverly home.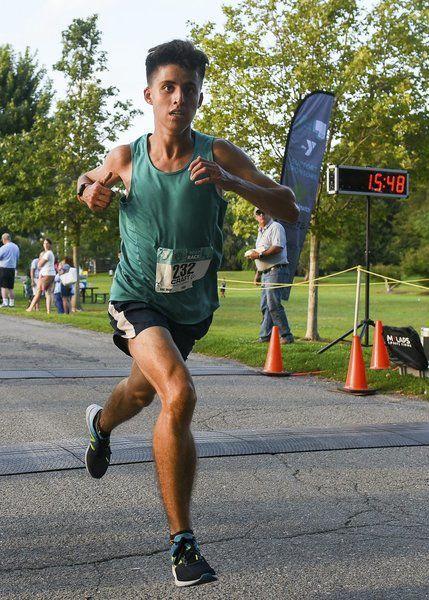 Claudio Rocha of Peabody, and 18-year-old, ran away with the men's competition with a very fast 15:48 time. Dan Chruniak of Beverly came in second in 16:29, and Beverly High track standout Jackson Wood was right behind him in third at 16:39.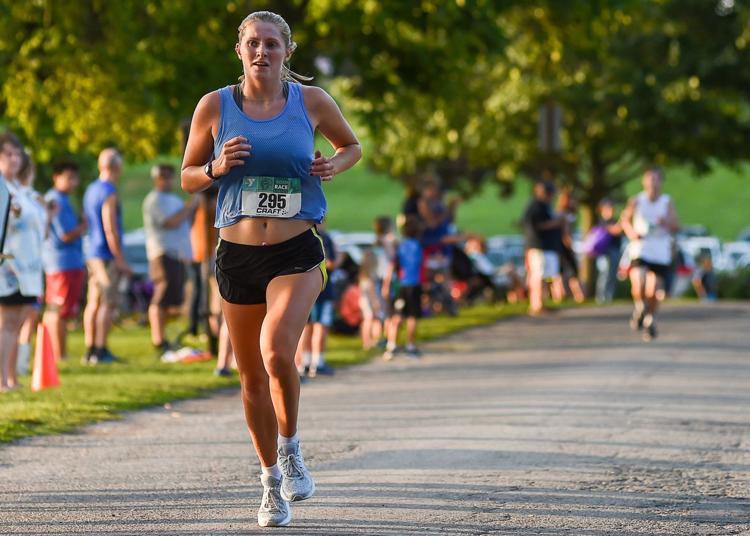 Olivia Horgan of Hamilton was the first female to cross the finish line in 19:11, placing 10th overall. She was followed by Nicole Demars of Beverly in 20:08, and Emily Horgan of Hamilton in third (20:58).
It was the first time running the race for both Rocha and Olivia Horgan. Rocha will be heading to Assumption College soon to run all three seasons of track. Horgan is 20 years old and runs cross country and track at George Washington University.
"I was by myself for a while toward the end, but had somebody up with me for a while," said Rocha. "This is my first time here; it's a nice course."
Chruniak, who is 35 and from Beverly, is very familiar with the course and has run the race many times.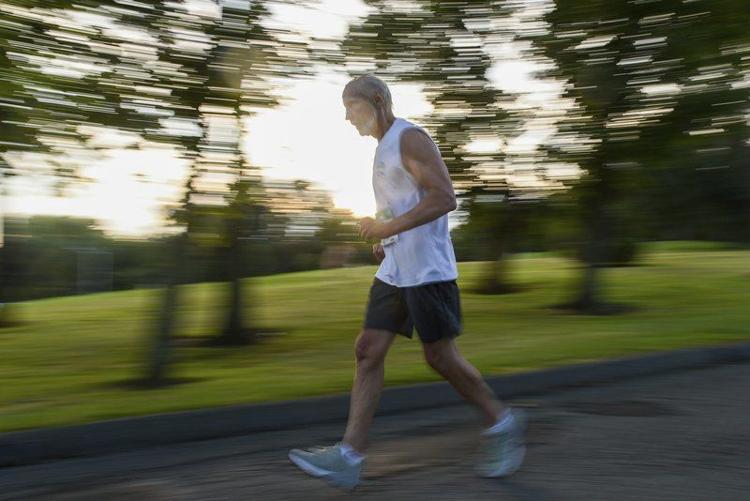 "I was never a threat to Claudio," said Chruniak. "Maybe I could have challenged him when I was a little younger, but he ran a great race. He's a quick one.
"I really like this course because it's relatively flat with a few hills; a good mix."
For Wood, who will be a senior at Beverly High, his quick time surprised him. He has run the course often and used Thursday's race as a training run.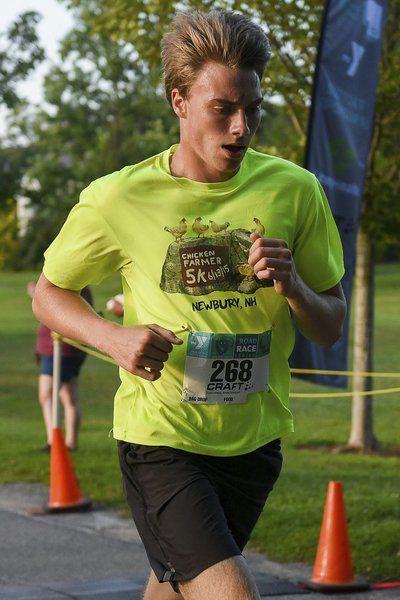 "This was my best (Homecoming) finish by far," said Wood. "I've run here a bunch of times, and my time tonight was about a minute quicker than I've ever done in this race. I'm getting ready for cross country and I think Beverly High will have a very good team."
Horgan was up with some of the faster men and happy to finish as the top female runner. She is also getting ready for her own cross country season.
"The guys up front were pretty quick and I was trying to keep up with them," said Horgan, who was a star at Hamilton-Wenham on their championship teams. "They made me run faster.
"It's my first time here, and I really liked the course because it wasn't too hilly. It's a nice tuneup for me as summer winds down."
There was a large team of men and women from Endicott College taking place, all wearing their Gulls' shirts.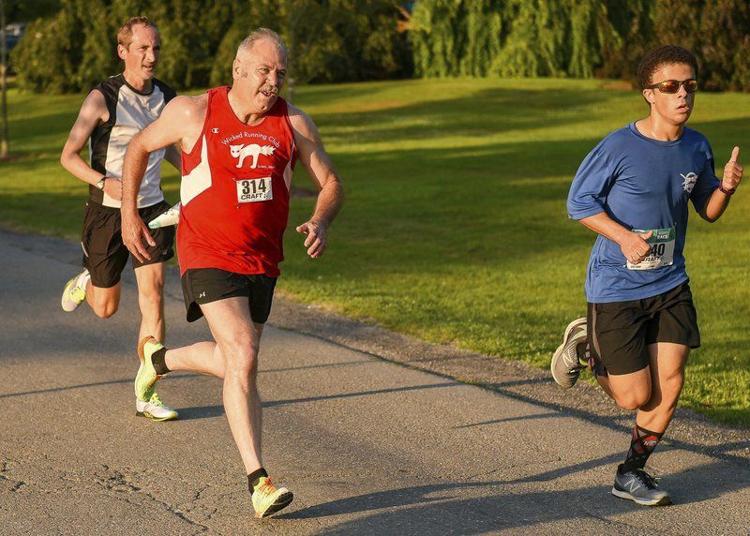 "It was a nice night for a run; a little hot, but we all came out to support an event for a good cause," said Mark Kulakowski, who was 25th overall in 20:57.
It was hard to miss the four Beverly firemen running the 5K in full gear. Jesse Spause had the honor of carrying a large American flag, which further weighed him down.
"We ran at our own pace and met up at the top of the hill to finish together," said Spause, who ran with fellow firefighters Aaron Cole and Matt Hart. "I didn't do it with the team last year, so it was nice to come back — even though it was pretty hot for us."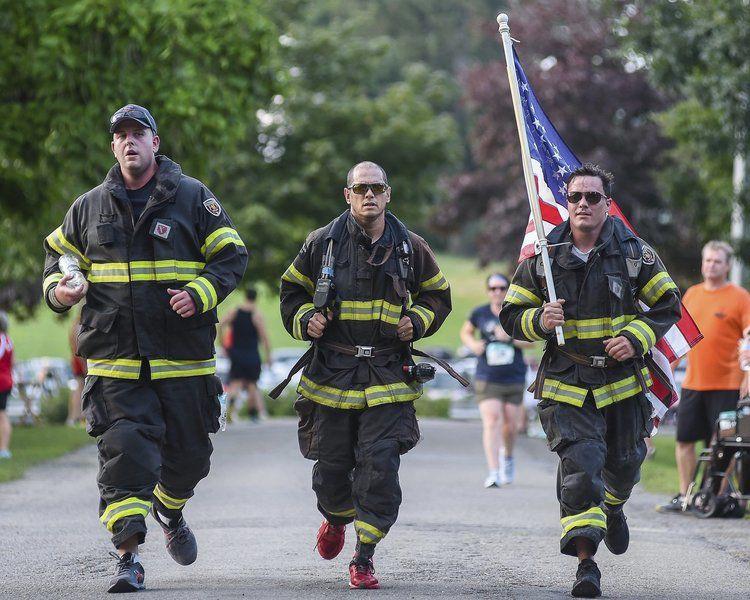 Volunteers were waiting at the finish line with bottles of water as runners crossed the finish line.
"It's a beautiful night after all the rain we had the night before," said race director Carol Meyer. "We've got a great crowd here."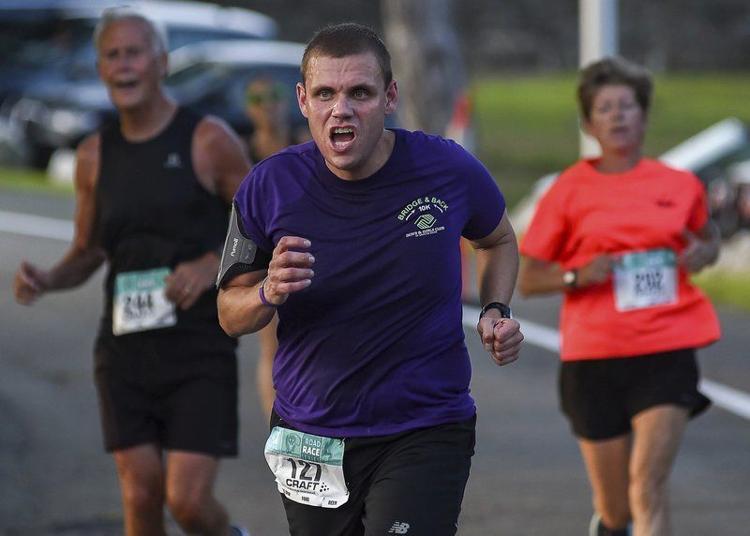 The top 25 finishers were Claudio Rocha, Dan Chruniak, Jackson Wood, Jonah Hulbert, Dan O'Flynn, Alec Walker, John Ayers, Jackson Clark, T.J. Glowik, Olivia Horgan, David DiPietro, Scott Carrier, Sean Richardson, Wyatt Burr, Thomas Aitken, John Lequin, George Lynch, Trevor Henry, Nicole Demars, Cole Youngreen, Nat Shirley, Calvin Barrett, Riley McGoldrick, Michael Whalne and Mark Kulakowski.
Top Three Finishers by Age Group
Females Overall: Olivia Horgan, Nicole Demars, Emily Horgan
Males Overall: Claudio Rocha, Dan Chruniak, Jackson Wood
Males 1-13: Calvin Barrett, Riley McGoldrick, Vance Fabrizio
Females 1-13: Camille Yanofsky, Fiona Long, Sasha Miller
Males 14-19: Jackson Clark, T.J. Glowik, David DiPietro
Females 14-19: Heidi Eberhardt, Garielle Rabito, Elizabeth Leighton
Males 20-29: Dan O'Flynn, Alec Walker, Sean Richardson
Females 20-29: Allegra Egizi, Hayley Mahan, Sarah Andrews
Males 30-39: Jonah Hulbert, John Lequin, George Lynch
Females 30-39: Aime Pope, Vanessa Lee, Nina Alhadeff
Males 40-49: Scott Carrier, Trevor Henry, Chris Nolin
Females 40-49: Melissa Perry, Kira Fabrizio, Danielle Bulger
Males 50-59: John Ayers, Michael Whalen, Tim Harris
Females 50-59: Marielle Yost, Ellen Poveromo, Linda Ford
Males 60-69: Jonathan Silver, Gerard Fallon, William Kobus
Females 60-69: Elaine Howell, Carol Jones, Renie Noring
Males 70-99: Kevin Rich, David Newhall, Roger Martell