Words like 'mediocrity', 'appeased' and 'acceptable' do not enter the athletic lexicon of Kristen McCarthy.
"Kristen is obviously a natural athlete; that puts her a step ahead because of it," said Jodi Cipolla, the Endicott College field hockey coach. "But it's her desire to get better on a daily basis that truly sets her apart. She pushes herself and her teammates to constantly improve. She's not satisfied being average; every single day she's working hard and finding a way to get better."
For someone else to come along and surpass what McCarthy has achieved during her year-and-a-half with the Gulls would require a massive undertaking. The Danvers native shattered the school record of reaching 100 career points faster than anyone else, requiring a mere 35 games to do so.
In just 37 career contests at Endicott, McCarthy has produced an eye-popping 111 points on the strength of 43 goals and 25 assists. Heading into Wednesday night's home clash with Nichols, McCarthy leads the club in scoring with 14 goals, eight helpers and 36 points.
And to think, she didn't even begin playing field hockey until she was a junior at Danvers High.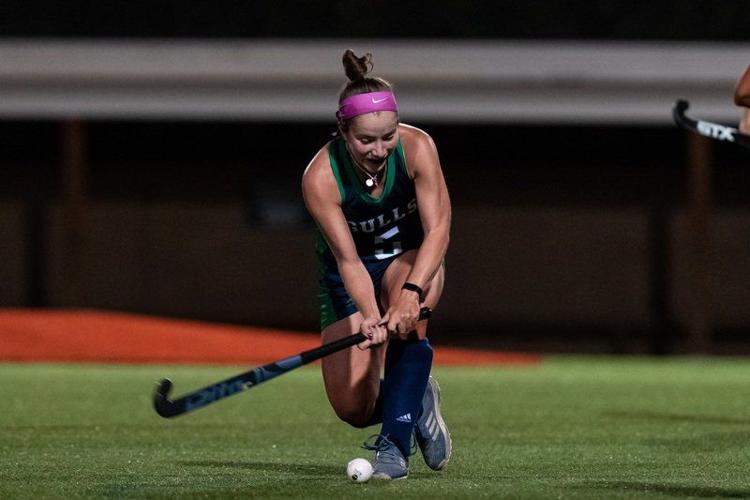 "It all goes back to the teammates I'm playing with," said the 21-year-old McCarthy, a senior who transferred to Endicott last fall after spending her first two years of college at Assumption. "Last year was a crazy year stat-wise for a lot of us," — McCarthy had 29 goals and 17 assists for 75 points — "but that's attributed to the work of everyone on the team.
"I'm just grateful for these moments."
Don't mistake her modesty or unselfishness for lack of confidence, however. The 5-foot-2 dynamo, who already sits fourth on the school's all-time scoring list, is keenly aware of what she can do when she steps onto the turf and how she can help her teammates, and her team, achieve their highest potential.
When the opportunity presents itself, McCarthy can certainly put the ball past any goalie she comes up against. She has four hat tricks this season, including one in the Gulls' most recent victory, a 6-0 whitewashing of Mt. Holyoke. She has scored seven goals in four games this month and is a big reason why Endicott has won six straight and sits at 10-4 on the season, including a perfect 6-0 in Commonwealth Coast Conference action.
Coming naturally to her
But scoring is not her only forte.
"Kristen's a playmaker," said Cipolla, now in her 13th year coaching at Endicott. "She's so incredibly unselfish. It's not only the goals she scores, but just as important are the assists and offensive plays she creates. If you could see the offense she generates out of the midfield up to our scoring circle, it's incredible. She's literally a part of every play."
McCarthy, who has played both center forward and center midfield this season, points to her teammates such as forwards Addi Williams, Sydney Poulin, Jaylin Grabau, Lauren Whitney, Blake Braman and Julie Champigny as being huge parts of any personal success that might come her way. 
"If you watch our games, the ball goes through a lot of people to get it into the net," said McCarthy, a Liberal Studies/Education major who is currently doing an internship teaching at Ayers Elementary School in Beverly. "It all starts in the backfield, where we have so many talented players, and works its way up from there."
Cipolla said there is natural pressure put on her leading scorer from the double and sometimes even triple teams she faces on an almost every-game basis. "Having a reputation as a prolific scorer will do that," she said, "but Kristen has handled it so well. She's changed some things in her game so that she and her teammates are still able to have offensive success."
McCarthy played soccer through middle school and her freshman year at Danvers High, then played volleyball as a sophomore before deciding to see if her ice hockey skills would translate onto the field hockey field. They did — immediately.
In helping the Falcons capture back-to-back Northeastern Conference titles, McCarthy had 25 goals and 32 assists for 82 points in just two seasons. She was named the Salem News Player of the Year and Northeastern Conference MVP as a senior when she had six game-winning goals and put up 11-19-41 totals, scoring a goal or an assist in every one of Danvers' games that fall.
"It came pretty naturally to me," said McCarthy, who had played ice hockey since the fourth grade. "Learning the different rules in field hockey was the biggest thing, such as when to stop and such.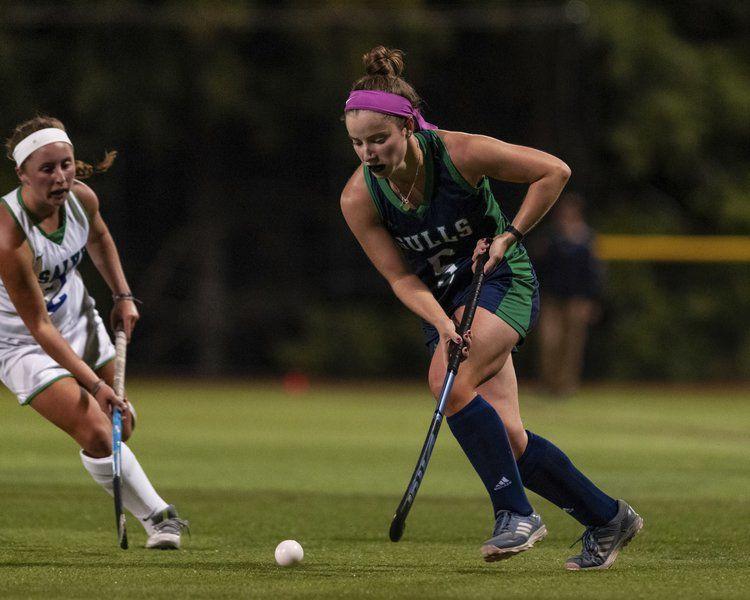 "I joked with my coach (Jill McGinnity) that was going out for the golf team as a senior, just so I could say I played four different fall sports in high school."
Stickhandling drills that she used to partake in at Boston University for hockey paid huge dividends for McCarthy as well. "There was a guy from Russia who taught us, and we'd be on the ice for two hours of stickhandling through pucks and sticks and little lifts," she said. "It really made the transition to field hockey easier."
The perfect fit 
McCarthy played for two years at Assumption, totalling 15 goals, 7 assists and 37 points, before deciding to transfer. Going through the process admittedly made her nervous, but settling in on campus at Endicott in January of her sophomore year and the fact that she had friends from Danvers at the school (and already had a friendship with Champigny) made the transition much easier than she anticipated.
"Everyone was so nice and I felt comfortable right away," she said. "I was really happy I got to have that spring at school and with my teammates before that fall season began."
"As soon as we started communicating about Kristen coming here that spring," added Cipolla, "I knew she'd fit right in and make a huge impact as soon as she set foot on campus. I had followed her exploits locally and even saw her when she was playing at Assumption. She always had a great reputation as not only a player, but as a teammate and person. Fitting in with our system and culture was easy from her right from the start."
Which brings us to the present, where McCarthy and the Gulls are not only hoping to finish strong in their final six regular season games, but parlay their regular season achievements into the conference playoffs and back into the NCAA Division 3 tournament. Last season, the Gulls won the CCC and defeated St. Joseph's of Maine in the NCAAs before falling to No. 1 seeded Messiah of Pennsylvania, 4-0, in the second round.  
"We want to go further than just the CCC tournament," McCarthy admitted. "We want to go back to the NCAAs and go even further. We know we can hang with the big teams this year."
With the possibility of 10 or more games still left in her Endicott field hockey career, McCarthy isn't done scoring. Whether or not she can reach, or eclipse, Emily Sawchuk's Gulls record of 153 career points (63 goals, 27 assists) remains to be seen; either way, the Oniontown native has left an indelible mark on the program forever. 
"She'll leave a huge impact on our record books, certainly," said Cipolla. "But when you talk about her legacy as far as our team's culture and what her teammates will best remember her for, it's what a real teammate and leader she is both on and off the field."
||||